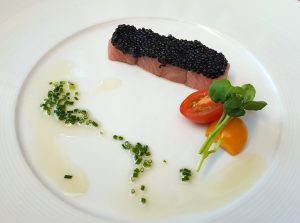 By Christopher Trela & Catherine Del Casale | NB Indy
One year ago this month, Sushi Roku opened at Fashion Island in the spot formerly occupied by Brasserie Pascal (which we still miss).
After dining at Sushi Roku soon after it opened, we were thoroughly impressed with the atmosphere, cuisine, and service. Even Catherine, who admittedly is not normally a sushi fan, enjoyed the experience. We agreed it was probably the best sushi we'd ever had, and certainly the most creative.
At that time, Christopher was blown away by the blue crab tartare with uni and caviar ($30), which practically melts in your mouth. Everything we sampled that day, from the sushi ($7 to $18 per order) to the short ribs ($17), was perfectly prepared and presented.
The restaurant's interior is stunning. Sushi Roku has a 129-seat dining room, 16-seat sushi bar, 15-seat bar with 18-seat lounge, and 40 seats for patio dining.
The interior boasts earth tones, porcelain wood grain floors, stained oak-slat ceiling, warm teak exterior and windows,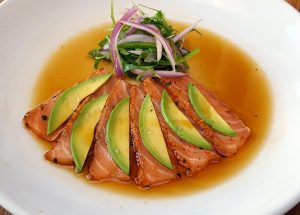 8-foot bamboo forest-inspired wall, and walnut around the sushi bar.
We've returned to Sushi Roku several times, including Restaurant Week, and each time marveled at the creativity and consistency of the dishes.
Last week, we returned yet again for the one-year anniversary media tasting, which introduced several new summer menu items. We're pleased to say that Roku is still rocking our palates.
The new dishes include toru sashimi with osetra caviar and yuzu salt, seared salmon sashimi with avocado, sea bream crudo with herb vinaigrette, fried calamari, and sea bass sliders.
We also got to revisit three signature favorites: hanabi (spicy tuna on crispy rice), Chilean seabass with truffle miso glaze, and white lotus roll with rock shrimp, avocado and asparagus.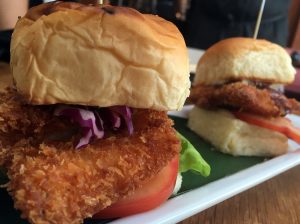 "The seared salmon sashimi has a togarashi crust, avocado and a cilantro jalapeño salad, but the jalapeños are thoroughly washed so that the dish doesn't overwhelm you with spice but gives a nice kick at the end," said Catherine. "This dish practically dissolves in your mouth like butter."
"I'm a caviar fan, so of course I loved the toru sashimi," said Christopher. "The flavors of the caviar and the tuna blended perfectly, and like the salmon practically melted in your mouth."
Fried calamari seems to be on menus everywhere, but naturally Sushi Roku offers a twist on the classic.
"What I love about Sushi Roku's is they thin the batter out so you get the crunch and flavor without it feeling unhealthy or simply getting a plate of crunchy crisps without any of the calamari," said Catherine. "It also has a nice kick to it with the charred jalapeño glaze."
We also tried two Roku cocktails: the Lychee Imperial (vodka with lychee fruit and lime) and Kentucky tea (wild turkey honey, lemon, oolong tea, and mint).
"I think the Lychee Imperial is my new favorite cocktail," stated Catherine. "It's on the sweeter side, so if you usually go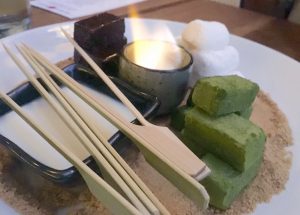 for something more spicy, the Sunset Heat with patron silver, agave, serrano peppers, watermelon and lime might be more up your alley."
We were also pleased to see that the fun S'mores dessert with green tea and chocolate truffles, marshmallow cream, crushed graham crackers and marshmallows, all ready to be roasted over a small flame, is still on the menu.
Something else that pleases us about Sushi Roku: From Sunday, June 26 through Thursday, June 30, the restaurant is donating 25 percent of all sales from its special Anniversary Menu to three local charities: Hoag Breast Center, CHOC Children's Hospital and the Juvenile Diabetes Research Fund.
The Anniversary Menu will feature a la carte specials designed to showcase the sensational sushi experience for which the restaurant is known.
Guests will also have an opportunity to experience half off all sake and wine by the bottle on Thursday, as Sushi Roku Beach offers 50 percent off its entire selection of sake and wine by the bottle every Thursday evening from 5 p.m. to close.
And if you're not a sake fan, you will be after you let Sake Sommelier Eiji Mori and his team walk you through their sake selections. Christopher did a flight of four sakes and loved every sip.
For more information about Sushi Roku, visit sushiroku.com.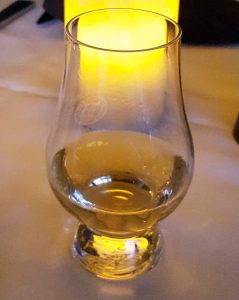 Savoring a Scotch Dinner at Bayside
Last year Christopher had the privilege of sitting with Bayside owner Marc Ghoukassian for one of his restaurant's Scotch dinners. Privilege because Marc knows his Scotch, and has helped put together one of the best collections of Scotches in town.
It was a good learning experience for Christopher, so he was pleased when Marc invited him to a Bruichladdich Scotch dinner last week.
For $57 per person, diners were treated to a four-course dinner, with each course paired with a specific Scotch.
Nearly 50 people attended the Scotch dinner, which began with slow roasted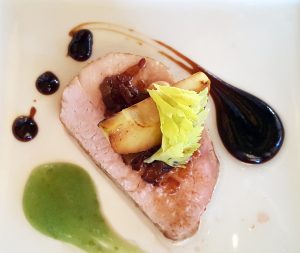 America Kirobuta Pork Loin paired with Scottish Barley, then lightly cured yellowfin tuna tataki with marinated seaweed and cucumber paired with Islay barley Rockside Farm 2007.
That was followed by Angus Beef Rib-Eye with Yukon potatoes and spring vegetables paired with Port Charlotte Scottish barley. Dessert was dark chocolate cake paired with Octomore Edition 7.1.
A representative of the Bruichladdich line was there to walk diners through the Scotches and explain how they were made. More importantly, he illuminated the topic of peat, and what is means to drink a "peaty Scotch."
For those non-Scotch drinkers, a bit of info: peat from Scottish bogs is cut and dried, and used as a sort of firewood. Drying damp malt (used in making Scotch) over a peat-heated fire brings the smoke into the barley grain. The level of smokiness of a whisky is determined by the amount of time the barley grain is exposed to the peat smoke during drying.
Of course, other things such as the type of oak casks used can also impart flavors into the scotch, but it's the peat that gets top billing.
The first two scotches we sampled were unpeated, the second two peaty (the last one was one of the peatiest scotches in the world).
"Wow—the peaty Scotches really made my palate stand at attention," said Christopher. "They also paired well with the food, but are easily drinkable on their own. And speaking of the food, the dinner served as a great reminder of just how good the cuisine is at Bayside. Each dishes was perfectly prepared and plated—an especially tricky feat when you're doing 50 at a time."
Marc plans to host another Scotch dinner in the fall, but no need to wait until then—Bayside has more than 60 Scotches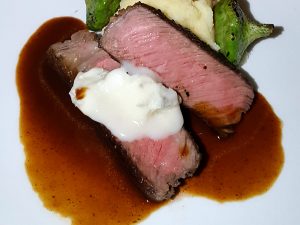 available by the glass.
Consider sipping a Scotch before or after enjoying the Friday night Summer Concert Series that starts June 24 at the Hyatt Regency Newport Beach.
Bayside Restaurant is relaunching its "Dine & Ride" program, a complimentary round-trip shuttle service for patrons dining before the Friday night concerts.
Having used the Hyatt valet once for a concert and waiting 45 minutes for our car, we switched to dining at Bayside and taking the shuttle. The three-minute ride drops you off at the Hyatt's front door, and is there to pick you up within minutes of the concert's conclusion. You also save the $35 valet fee to splurge on dinner at Bayside instead.
And after returning to Bayside, enjoy the Friday Night Jam Session featuring veteran musician Ron Kobayashi and some of Southern California's local guest performers who gather each week to jam. The bar menu as well as specialty cocktails and wines are served during 10 p.m. to midnight.
For more information, visit baysiderestaurant.com.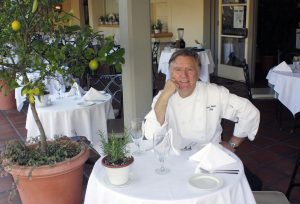 Garden Fusion
Two years ago, Chef Pascal Olhats launched a series of "Garden Fusions" dining experiences at Sherman Library & Gardens in Corona del Mar.
The dinners were such a hit that Pascal repeated them again last year.
Now, Chef Pascal Olhats moves into his third year of presenting the experiential dining events, but the Garden Fusion has new topics, live entertainment, and new horticultural hosts.
The first installment of the new and improved Garden Fusions Dinner will be held on Wednesday, June 29 at 6 p.m. Dubbed "Havana Nights: A Taste of History, Art & Nature," the evening will celebrate all things Cuban.
Garden Director Scott LaFleur will host and preview the upcoming horticultural expedition to Cuba and share a little about the plants he is most excited to see on the Island.
Live music by Dinamicos Del Caribe, a dance performance that's hot hot hot, and an interactive cooking demonstration by resident Chef Pascal Olhats will round out the evening.
Guests will enjoy such appetizers as Cuban chicken spread on garlic toast, empanadas, and fried plantains with mango salsa. Main courses include avocado salad with pineapple & corn fritters, Havana style shrimp casserole, and roasted pork tenderloin with papaya, mango & mojo sauce. Dessert is banana rum flambé over vanilla ice cream & coconut raisin cookies.
Friends members of Sherman Library & Gardens can purchase tickets for $75 per person. Non-members can purchase tickets for $85 per person.
Call Café Jardin at (949) 673-0033 or visit SLGardens.org.