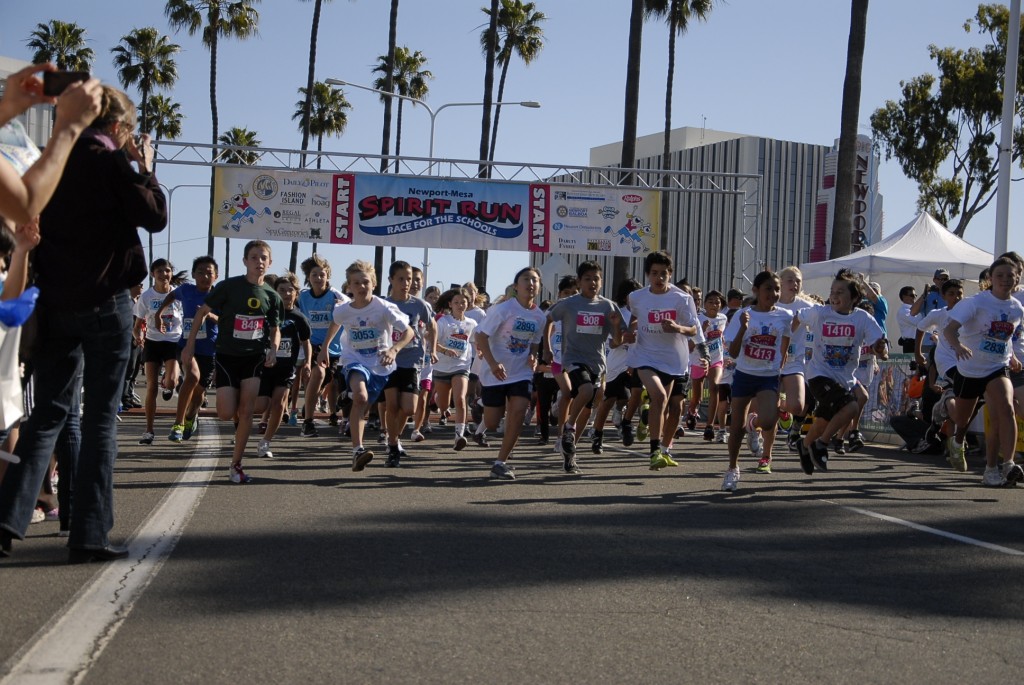 On your mark, get set, go!
The 32nd Annual Newport-Mesa Spirit Run will be held Sunday at Fashion Island. Together with Newport-Mesa Unified School District and local community clubs and non- profits, Spirit Run will spread its "spirit" of youth fitness and fundraising throughout Southern California.
Nearly two dozen NMUSD schools, including elementary, middle, and high schools, will promote, attend, and benefit from Spirit Run's net proceeds.
Spirit Run is working with the Rotary Club of Newport Balboa to ensure all NMUSD students have the opportunity to participate by donating free entries and bus transportation to underprivileged students.
Newport Beach Exchange Club members will promote, through Spirit Run, its Field of Honor displaying 1,776 American flags in honor of veterans, law enforcement, firemen, and first responders. Exchange Club members will march in Spirit Run's Youth 5k holding flags and will advertise in their expo booth the opportunity to dedicate Field of Honor flags.
Newport Beach Sister City Association members and Okazaki Exchange Students will participate in Spirit Run to fund raise for Sister City's Okazaki Student Exchange program.
NMUSD high school sports teams and clubs will run or walk at Spirit Run to raise funds. Newport-Mesa Unified parent booster clubs are fundraising to support CdM Boys Soccer and Girls Softball and Newport Harbor Girls Lacrosse. CdM High's Power Club, which stands for Protecting Our Women's Educational Rights, is fundraising to help the construction of a school in Guatemala by 2017.
"It's more fun to work together with our community partners to promote youth fitness and to fund raise for youth athletics and educational programs," said Diane Daruty, Spirit Run's President and Race Director.
"The Exchange Club of Newport Harbor is looking to the Spirit Run as the preview and kickoff for the Field of Honor which will take place in conjunction with Arms Forces day, the weekend of May 15 and 17 at Castaways Park," said Ken Dufour, Exchange Club Board Member and Spirit Run liaison.
"We are so excited that Newport Beach Sister City Association is partnering with the Spirit Run for the first time," said Connie Skibba, who heads up the Okazaki Exchange.
Blaze Fast Fire'd Pizza in Fashion Island will host its pre-registration day on March 13 from 3 to 7:30 p.m. Race participants can register and pick up their race numbers, timing chip, and t-shirts. On that day, Blaze Pizza will donate 20 percent of its sales for the entire day to Spirit Run.
Registration is also available on line at nmspiritrun.org through midnight March 13, and onsite at Spirit Run beginning at 6 a.m.
For the third year, Spirit Run has been selected as one of nine Southern California road racing events to be included in the Southern California USATF Grand Prix Road Running Championship Series. Inclusion in this prestigious series is certain to attract a very competitive field of adult and youth runners. Spirit Run will reward winners in all races with prizes from Blaze Pizza, Spa Gregorie's, or Baking Betty. And in the Adult 5k, top runners will split a $1,250 cash prize purse.
Spirit Run will continue to give finishers' medals to all youth participants in its youth races.
Spirit Run is proud to host a NMUSD Middle School competition in its Youth 5k. NMUSD middle school students from Corona del Mar Middle, Costa Mesa Middle, Ensign Intermediate, and Tewinkle Middle will compete for their schools to win a Spirit Run perpetual trophy, and individually to win a Blaze Pizza every month for a year. Spirit Run welcomes back the CDM Jazz Band to play at the Youth & Fitness Expo, and NMUSD students to sing the National Anthem and NMUSD cheerleaders to perform before each race.
Newport-Mesa Spirit Run will take place adjacent to Edwards Big Newport 6 in Newport Center at Fashion Island.  The Youth & Fitness Expo opens at 6:30 a.m. and will be bigger and better than ever with breakfast from Plum's Cafe, demonstrations and activities at the Camp Newport Expo, rock climbing, bungee trampoline, and other interactive games, massage, shopping, entertainment, and more.
Race day registration begins at 6 a.m. The first race takes off at 7 a.m.
More race information and on line registration is available by visiting nmspiritrun.org.