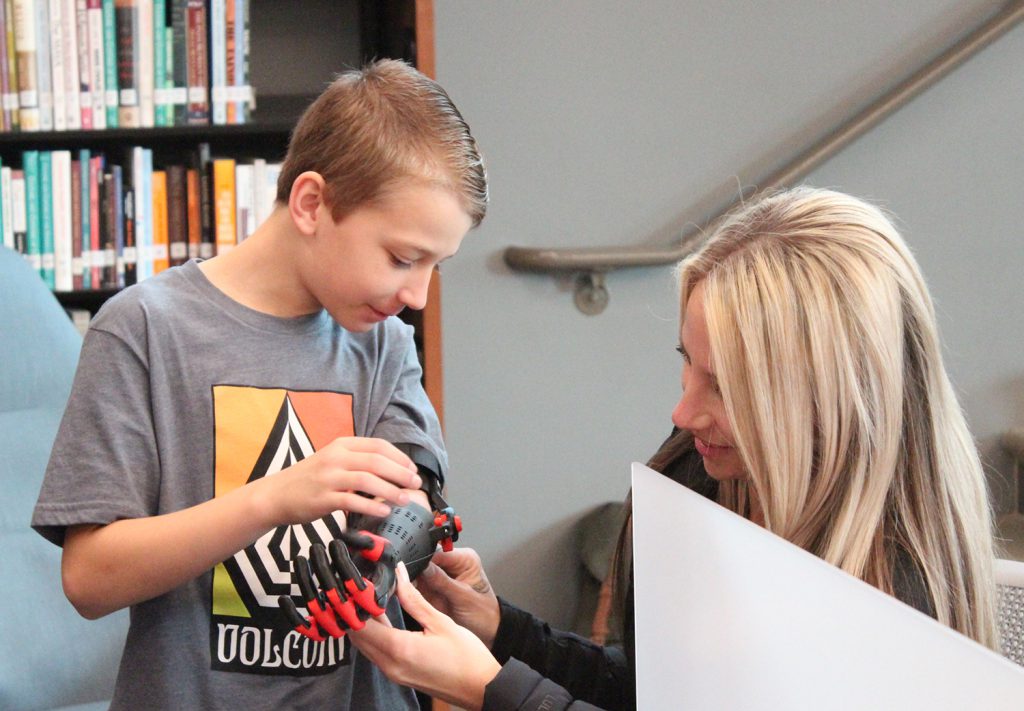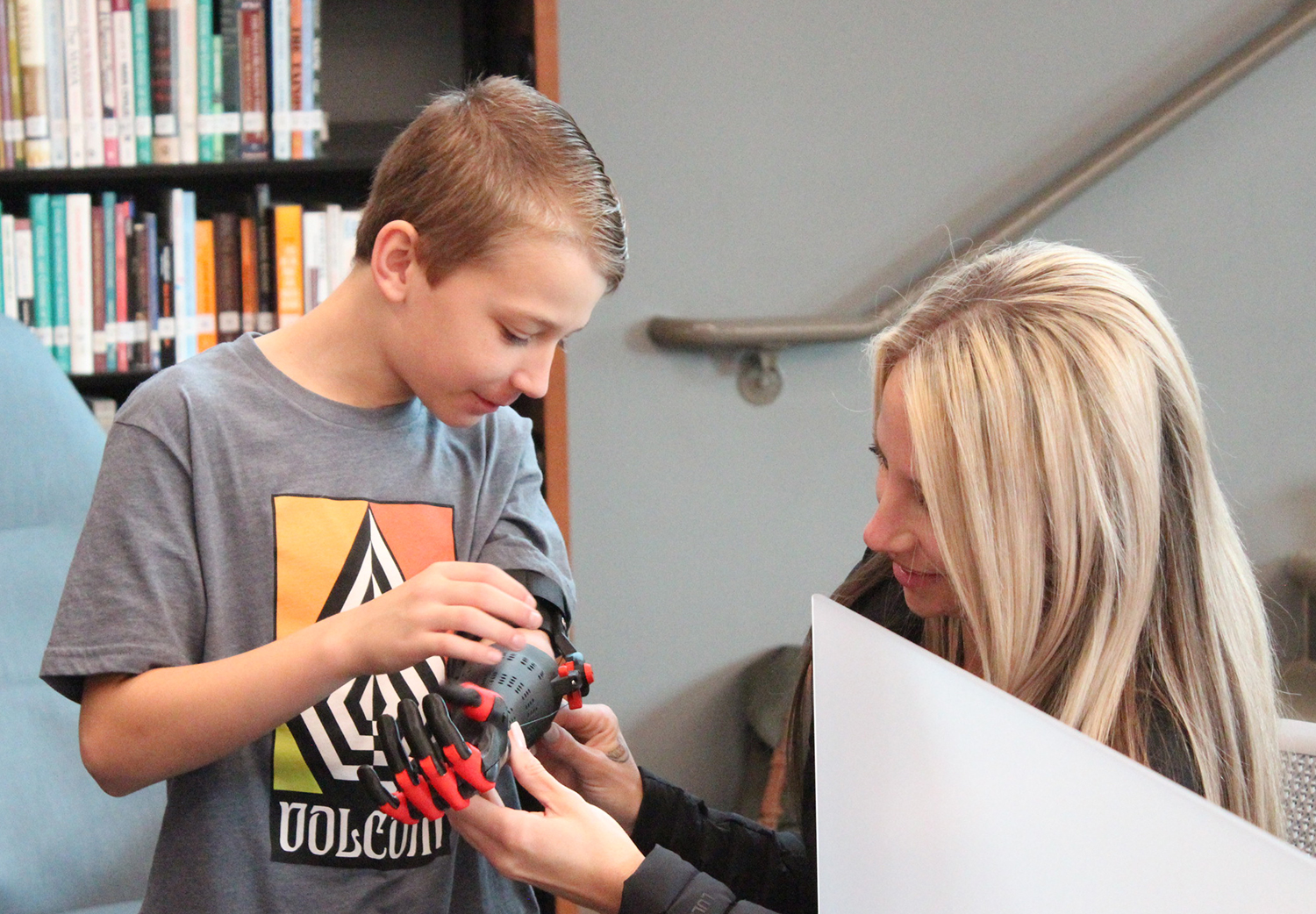 By Megan Forrester | Special to the NB Indy
Two years ago, junior high school student Serena Chao saw a young girl receive a prosthetic hand for the very first time. When she saw the little girl beaming from ear-to-ear in excitement, Chao knew she wanted to be a part of whatever was helping this child's dreams come true.
Chao found out the prosthetics were made possible through an elective at her school, Sage Hill School in Newport Beach. The class, titled 3D Design, Modeling and Fabrication, allows students to print and design custom prosthetic hands for real-life recipients from all across the world.
When Chao was finally eligible to take the class her junior year, she was ecstatic to help brighten the lives of others in her community and elsewhere.
"I think (my favorite part is) just knowing that it's making these little kids happy is so rewarding," Chao said.
The Sage Prosthetics Service Learning Project, which partners with the non-profit e-NABLE to create assistive devices, began at the school in 2016. Science teacher for the course and Assistant Director for Service Learning and Outreach Tanya Lerch wanted students to not only create prosthetics through 3D printing, but to understand software and design their own projects – which is why she transformed the project into a year-long class.
The hard work is paying off, with four seniors in the class receiving the Youth Leadership for Service-Learning Excellence Award through the National Youth Leadership Council in January that gave a $1,000 grant to support the program.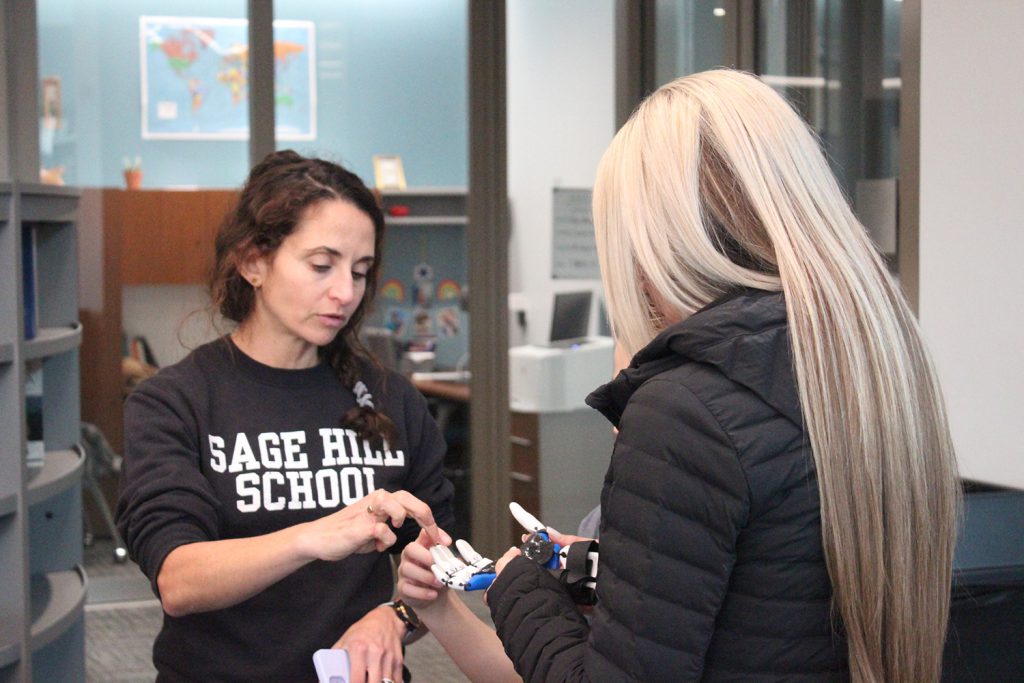 "I just saw how rewarding it was, both for the recipients we worked with and for the students in our class who got to problem solve, work with their hands, have fun with it, learn new skills (and) learn new technologies," Lerch said. "That became something that I really wanted to beef up and really flesh out."
Lerch, who began teaching in New York City where she created one of the first e-NABLE chapters in 2013, introduced the concept to Sage Hill School. What first started with just one 3D printer has led to eight printers, with more than 50 children and adult recipients that have received prosthetics at no charge.
For only meeting three times a week for 20 minutes, students can develop skills in collaboration, geometry and creativity – no matter their education background.
"It's such a playing-field equalizer," Lerch said. "I'll have students sign up for the class who are experts in engineering, robotics or math and they have all this background and other students who (had) Pre-Calculus as their most advanced math class. But all of them are coming from a place where they don't have a ton of experience with this stuff. People really surprised themselves – it gives different students a chance to shine in the math-science fields, where they previously might not have thought that they could."
The prosthetic recipients have come from as far away a Pakistan and Romania, but a majority of the clients live right here in Orange County.
A memorable moment for students and Lerch was in January, when 10-year-old Blake McGraw got his first 3D-Printed arm through Sage Prosthetics. Lerch told the Newport Beach Independent that the realization of this class affecting real people allows students to recognize their work is making a difference.
"This is somebody who is waiting on a device that they're very excited about," Lerch said. "So the consequences are a lot heavier than just you might not get the grade you want. It's actually a person's emotions and their life. So I hope that (students) remember that."
Despite her love of teaching mathematics, Lerch said that working with students on a hands-on project gives them the skills to continue this work in college and even in their careers.
"When I would teach algebra two, it would be really rare that you get a student who's like, 'This is what I want to do for the rest of my life,'" Lerch said. "Most of the time, you're fielding questions, like, 'When am I ever going to use this?' So these are things that are very tangible to them when the skills are useful, and what they can do with them."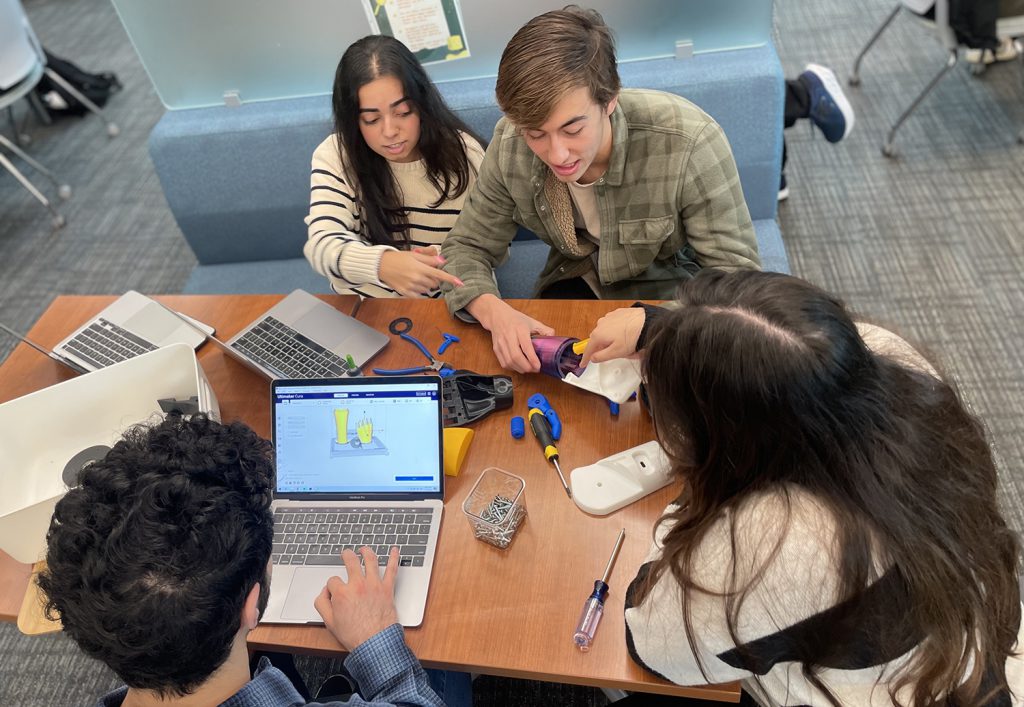 Chao said that she has also gained an immense sense of empathy with just one semester of the class under her belt. The ability to speak one-on-one with recipients, learn their measurements and color preferences all to create a final product that alters their lifestyle has led to unforgettable memories for both parties involved.
"Some of the recipients have gone through bad situations that caused them to not have their hands or arm and I think that this class (helps you) understand that maybe they're not the most excited to receive the prosthetic even though they want it," Chao said. "It can be a little bit hard for them to understand. So I think just having that sense of empathy is so important for this class."
As for the future of the course, Lerch encourages any student to take part in the Service Learning Project and hopes to offer an advanced version of the class as well. But until then, Chao said she hopes all those a part of the class and at Sage Hill recognize the impact their work brings to the world – one hand at a time.
"I think it's such a great opportunity to get a different experience and just help people in the community that need it most," Chao said.
For more information on Sage Prosthetics, getting a custom prosthetic hand and how to start an e-NABLE chapter of your own, visit https://www.sageprosthetics.org.