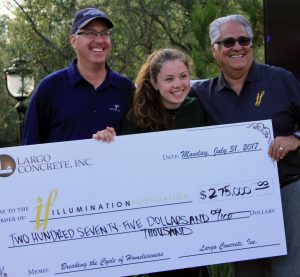 Sage Hill High School senior, Carissa Long, raised $275,000, with the help of her Sage Hill Illumination Foundation Club and the support of her family at a golf tournament at the Pelican Hill Golf Club on July 31.
The funds will help increase behavioral health at Illumination Foundation's Children's Resource Centers.
Last year Carissa established an Illumination Foundation Club at Sage Hill High School in hopes of educating her fellow classmates about the complexities of homelessness. Since then, she has organized various projects and drives for the local homeless population.
This summer she wanted to not only raise awareness, but funds so that the Illumination Foundation's children's centers are able expand their behavioral health program for the homeless and at-risk youth they serve.
The funds are expected to contribute towards additional individual and group counseling and additional behavioral health staff to help address the traumas children with unstable living conditions face daily.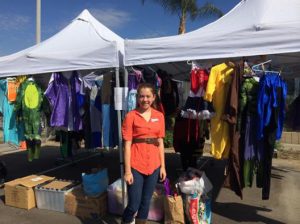 "Illumination Foundation has impacted my high school experience, because I have met a lot of new people both at my school and at other schools through the club. It has given me more chances to help others and give back to the community," Carissa told Illumination Foundation staff.
When she first approached her parents about her goals of raising funds for Illumination Foundation, they were both quick to extend their support. Her father, Ken Long, Largo Concrete, Inc. president, offered to reach out to colleagues and business partners to host a golf tournament. Carissa has been a part of the whole process and coordinated all volunteer efforts for the event, including registration, silent auction and other activities.
Carissa began volunteering at Illumination Foundation in 2014 at a Halloween event where she distributed costumes to the kids in Illumination Foundation's Children's Resource Center and the surrounding community.
Last year, Carissa established Illumination Foundation Club at Sage Hill. Since the club's inception, Carissa and club members have helped organize various drives. Carissa recently partnered with Newport Harbor's Illumination Foundation Club to collect makeup and beauty supplies to help homeless and at-risk teens get ready for their prom.
About Illumination Foundation: Illumination Foundation is a nonprofit dedicated to providing targeted, interdisciplinary services for the most vulnerable homeless clients to break or prevent the cycle of homelessness. To date, Illumination Foundation's housing programs have served 2,500 families and have provided medical and social services to over 29,000 individuals. For more information, visit ifhomeless.org.