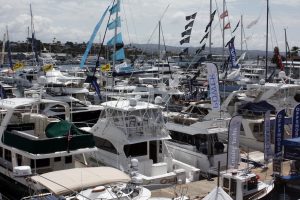 I had the pleasure for the first time to attend the trophy presentation following the Newport to Ensenada race.
This year's race had a substantial increase in participants, and all were treated to vibrant winds allowing for several record breaking finishes.
The boisterous and enthusiastic trophy crowd hooted and howled as the many winners were announced at the elegant Coral Hotel. The hotel staff excelled in accommodating the large crowd of families and racers. Free shuttles on Sunday into town every half hour were an increase to visitors as the nautical attire on the streets and taverns made them stand out from the other tourists and locals.
Many other seasonal sailboat races are coming up, including the Governors Cup, the Leukemia Cup and the Wooden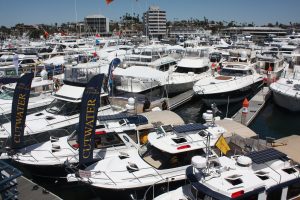 Boat Show. I look forward to covering these events and will share my observations and photos.
I would be ­­­­­­­­­­­­­­­­­remiss to ignore mentioning the start of another superior fishing season. For more than a month, blue fin tuna and huge yellow tail have been landed within weekend range of Newport Harbor.
While the bite dropped off for a short time during rough seas and after the Ensenada Race, a client reported his disappointment that repairs to his sportfisher kept him from a weekend trip just across the Mexican border to partake in landing 100-pound blue fin tuna last Saturday.
I assured him the repairs will be completed this week and he can catch the bite this weekend. I expect this season to match last season as the best in my 65 years.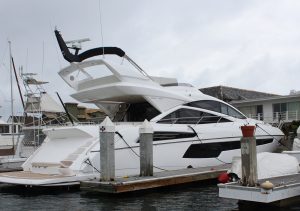 Finally, this weekend is the 43rd annual Newport Boat Show. The owner of the only 68-foot Sunseeker Sport yacht on the West Coast has graciously allowed his state-of-the-art premium yacht, which recently arrived in Newport Harbor, to be berthed for inspection at the show. I was able to board the yacht and get a sneak peek of the superb interior. The beautiful wood finish detail exceeded the Rolls Royce wooden interior trim of fellow workmen of Great Britain. It left me speechless.
The Newport Boat Show features 200 boats in the water and a host of exhibitors on land. Admission is $15 for adults; kids 12 and under are free. Visit NewportBeachBoatShow.com for more information and tickets.
Sea Ya at the Show!
Skipper Steve