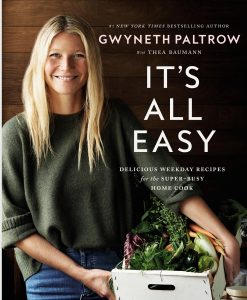 If you are anything like me, life is getting crazier by the minute! Having a child graduating next month seems to have added an endless array of tasks to my to-do list, not to mention that getting a child ready to fly the nest is draining my bank account to drought-stricken California lake status.
Of course, we still have all the usual practices, appointments, and end-of-the-year school projects to contend with as well, which can make having the time to prepare a healthy delicious dinner each night seem like a Herculean challenge.
Apparently, being over-extended is not a problem unique to us common folk, as famous actress and conscious uncoupler Gwyneth Paltrow has dedicated her new cookbook, "It's All Easy: Delicious Weekday Recipes for the Super-Busy Home Cook," to solving just that problem.
Well known for her adherence to a healthy diet, Paltrow contends that taste is never sacrificed in her dishes in order to make them healthy. She believes you can have food that is both healthy and quick, providing a much needed opportunity to slow down and reconnect over a hand-made meal.
In the book's foreword, Paltrow says, "This book is meant to be a road map: a self-help book for the chronically busy cook. With the extraordinary support of my cohort, Thea Baumann, I bring you 'It's All Easy,' and it aims to make your time in the kitchen just that. Although the food in this book tends to be on the healthier side (see the gluten-free, dairy-free dessert section,) we have also included recipes with more standard ingredients (some cheese, some regular flour) because, well, it's just easier. And because we never sacrifice deliciousness, some of these recipes might have an extra step or a special ingredient that might not seem super easy, but trust us, it's worth it…Approach the kitchen with an air of easiness. Because even if life isn't easy – far from it – sitting down and enjoying a good meal with people you really like can be."
Culinary superstore Williams Sonoma agrees, and has chosen "It's All Easy" as the book for the May edition of their Cookbook Club, which will be held on Wednesday, May 18, at 6 p.m.
The cost to attend the event is $75, and includes a culinary demonstration, a copy of the book, generous tasting portions of the featured recipes, as well as a 10 percent in-store discount on the night of the class.
The tasting menu will include Zuni Sheet Pan Chicken, Zucchini Cacio E Pepe, and Chocolate Mousse.
For what it's worth, I actually prepared Zucchini Cacio E Pepe for my family last week, and even my zucchini haters enjoyed it. So, I would suggest taking advantage of that 10 percent discount to invest in a good spiralizer which will help in making the zucchini noodles that are the heart of the recipe.
While the class is focusing on a dinner and dessert combo, the book covers the whole day's array of cooking needs. Its chapters include: "First Thing," for breakfast options, "On The Go," for portable foods, "Pick Me Ups," for snacks, as well as "In a Pinch," "Cozy Evenings," "Summer Nights," "Unexpected Guests," "Something Sweet," and "The Basics."
Perhaps my favorite thing in the book is the section that takes the mason jar salad fad of the last couple years one step further by using mason jars to create portable fresh soups. Simply pack your jar in the morning with your fresh and dry ingredients, as well as spices, and then when it's time for lunch at the office, you need only to pour boiling water into the jar to create a delicious soup.
Are you listening soon-to-be college students? Who needs Cup O' Noodles when a healthy alternative is so easy?
For more information on the Cookbook Club class, or to reserve a spot, please visit williams-sonoma.com, or call (949) 464-2168 for the Crystal Cove location, or (714) 540-1397 for the South Coast Plaza location.
Edie Crabtree is an avid reader, and the mother of three active boys. She can be reached at [email protected]