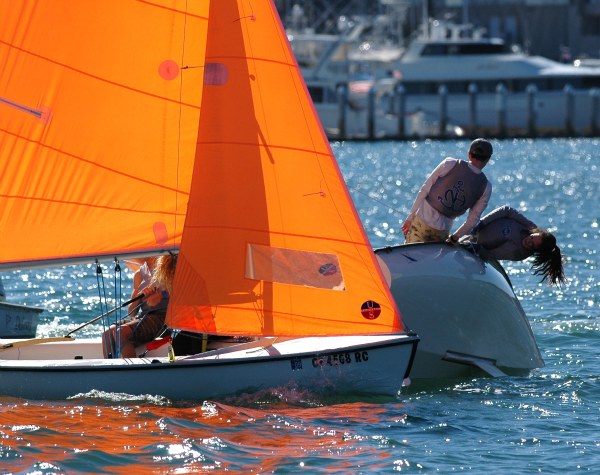 Adams Team Race Classic,  Jan. 28, SDYC (Junior Team Racing, CFJ)
Two Newport Harbor High School teams that traveled to this event finished fifth and seventh in this high school team racing invitational.
Shadden Series,  Jan. 29, SDYC (Juniors, CFJ)
Top local junior sailors competed in this major regional junior event in CFJ's.  Overall light breezes and shift conditions though the first two races, while the wind filled in slightly during the third race.  SDYC's Will Ladow won the event with just 14 points in three races. Local finishers included:
2nd Carolyn Smith, skipper, and crew Bayley Davidson (NHYC)
5th Campbell D'Eliscu and Davis Hanscom (NHYC)
9th Christophe Killian and Dot Obel (BYC)
31st Jeff Tolan and Megan Roach (BYC)
40th Wyatt Russell and Peyton Russell, (BYC)
40th Wills Johnson and Wells Drayton (NHYC)
Upcoming Events
Feb. 4, PCISA SoCal #4 – ABYC (CFJ, High School)
Feb. 4-5, BYC – Sunkist Series #4 (Inside classes Feb 4; PHRF Feb 5)
Feb. 4-5, Perry Series, US Sailing Center, Long Beach (C420, juniors)
Feb. 5, NHYC Winter Series #4 (Harbor 20, Lehman 12, Finn)
Feb. 5, 3:30pm; Super Bowl, Indianapolis (Football game) – Note that Race Committee's at both BYC and NHYC are committed to having racers back at the dock in time to see the Super Bowl kick-off.
Feb. 11-12, BCYC Bogart Series #2 – Avalon and Return (PHRF)
Feb. 11-12, BYC SODA Youth Match Racing Series (Gov Cup 21, invitational)
Feb. 17-18, NHYC/SDYC – Islands Race (Offshore Racing, Catalina, San Clemente)
Feb. 18-19, 83rd Annual SCYRA Midwinter Championships (Various classes, locations; for more information go to www.scya.org ).