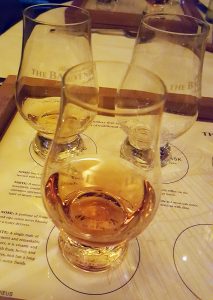 By Christopher Trela & Catherine Del Casale | NB Indy
Wine dinners are nothing new, but lately more restaurants are offering beer pairing menus, and even special dinners with each course paired with scotch whiskey.
We recently had an opportunity to attend a scotch pairing dinner at Bayside and a Porktoberfest beer pairing dinner at Five Crowns. Only one problem: Catherine does not like Scotch.
Problem solved: Catherine attended the beer dinner, while Christopher went to the Scotch dinner.
Bayside Rules Scotch
Bayside owner Marc Ghoukassian loves Scotch, which explains why Bayside has one of the best Scotch menus in Orange County. More than 60 different Scotch brands and vintages are available at the bar.
Marc also began a popular series of Scotch dinners that highlight some of the best Scotch brands in the world.
The most recent Scotch dinner held in October featured The Balvenie, a Speyside single malt Scotch whisky distillery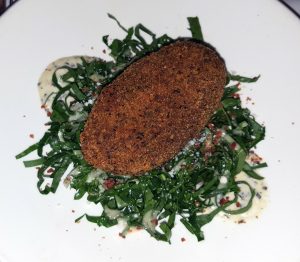 founded in 1892 in Dufftown, Scotland. The brand consistently wins medals at international spirits competitions. Balvenie Scotch is the first single malt ever to win six Gold Medals in one competition at the IWSC, and it's a two-time winner of the Single Malt Trophy.
We began fittingly with oak roasted Loch Etive steelhead salmon-trout with horseradish, dill, crème fraiche, cucumber, and dark rye bread crisp, accompanied by Balvenie 12 Year.
Then we moved on to exotic mushroom crusted wild boar "Scotch egg" with bloomsdael spinach and white truffle aioli, accompanied by Balvenie 14 Year.
Next came port wine braised prime beef short rib with stilton blue cheese, Yukon gold potatoes and broccolini, served with Balvenie 17 Year.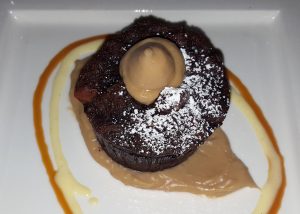 We finished with chocolate hazelnut bread pudding, Tahitian vanilla and caramel sauce, along with Balvenie 21 Year.
During dinner, Balvenie brand ambassador David Laird provided the 50 dinner guests with insights into to the Balvenie distilling process and the fascinating history of the company.
The cost for this Scotch dinner was only $56 per person, a remarkable value considering the fabulous cuisine at Bayside, and the quality of the Scotch.
Look for more dinners like this from Bayside in 2017.
One dinner you can take advantage of this month at Bayside is a special prix fixe menu to celebrate the restaurant's 17-year anniversary.
For $66, diners start with a choice of lobster salad or tuna tartar, either Chilean sea bass or filet mignon as the entrée and a special dessert.  Each guest ordering this menu during November, the anniversary month, will receive a $20 bounce back card that may be redeemed in January 2017.
"We are so grateful to both locals and visitors to the area who have remained loyal to us for so many years," said Ghoukassian. "Chef Paul Gstrein has crafted a menu that appeals to nearly everyone and the $20 bounce back card is just our way of saying 'thanks.'"
For more information, call (949) 721-1222 or visit baysiderestaurant.com.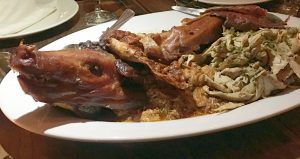 Five Crowns Brings Home the Bacon—and Beer
Catherine loves dining at Five Crowns, and last month got to experience the restaurant in a new way thanks to the restaurant's fifth annual Porktoberfest,
Her notes:
"Five incredible coursers were paired with beers chosen by the director of Firestone Walker Barrelworks, Jeffers Richardson. The menu had headcheese, cornichons, and mustard paired with the Luponic Distortions #3. This rotational beer which changes hops every 90 days has a sweet fruitiness to it that pairs well with the salt of the dish. Also on the menu was a sausage and kale soup and mixed green salad with crispy lardons.
The highlight of the evening was a whole suckling pig with herbs de provence paired with a German style beer called Oktoberfest. I have never seen anything quite like it. Each piece of meat was juicy and cooked to perfection.
To finish off the evening was a chocolate and bacon bomb with fresh berries paired with the Proprietor's Reserve Helldorado 2016, which had a light malt whiskey flavor from the old spirits barrel and strong notes of caramel and oak.
I love to see all the different ways the space at five crowns can be utilized, especially the garden patio. This is an event you don't want to miss next year. Not only do you get a great food and beer pairing, but the director explains all the beers and the processes that went into making them. The addition of live acoustic music makes this intimate dinner a night to remember. It's also a great example of the culinary creativity that sets Five Crowns apart from the rest."
For more information, visit lawrysonline.com/five-crowns.