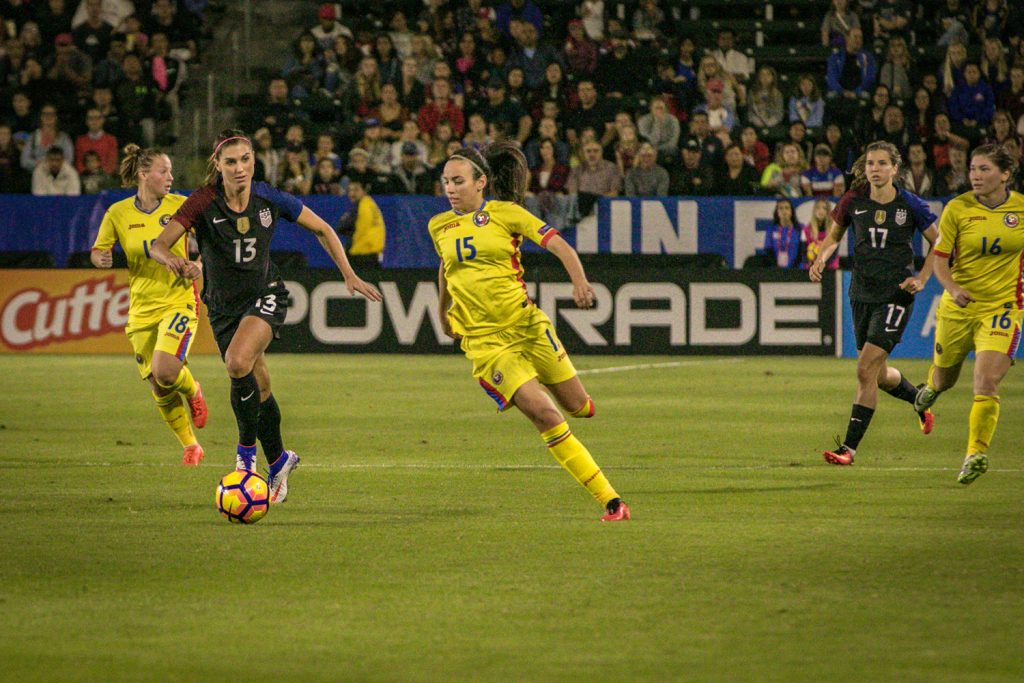 The U.S. Women's National Team finished strong in 2016 with a 5-0 win vs. Romania in front of 20,336 fans at StubHub Center on Nov. 13.
With the win, the team completes 2016 with a 22-0-3 record, marking the third time the team has gone unbeaten in regulation in a calendar year in which it has played 10 or more matches.
The USA went 18-0-4 in 2006 and 13-0-3 in 2013. The penalty kick loss to Sweden in the 2016 Olympics officially counts as a tie.
The U.S. dominated possession from start to finish and out-shot Romania 31-0, but it was Romania who put the ball into its net first via an own-goal from Teodora Meluta, who chested a Crystal Dunn cross into her own goal to give the USA a well-deserved lead into the 20th minute. Dunn got on the scoresheet herself in the final seconds of the first half with a crisp finish between the goalkeeper's legs from 10 yards out.
Christen Press scored in her fourth consecutive game after finishing an excellent pass from Tobin Heath. Press' tally marks her 41st career goal in her 80th cap.
Morgan Brian converted a penalty kick with ease in the 88th minute to mark her second goal in as many games and Samantha Mewis finished the scoring with a header from the top of the six-yard box in second half stoppage time.
Lineups:
USA: 1-Alyssa Naeher; 4-Becky Sauerbrunn (capt.) (5-Kelley O'Hara, 70), 20-Allie Long (3-Samantha Mewis, 70), 2-Casey Short (11-Ali Krieger, 46); 7-Kealia Ohai (13-Alex Morgan, 46), 12-Andi Sullivan, 6-Morgan Brian, 17-Tobin Heath; 19-Crystal Dunn (9-Lindsey Horan, 61), 16-Lynn Williams (8-Julie Johnston, 46), 23-Christen Press
Subs not used: 24-Ashlyn Harris
Head Coach: Jill Ellis
ROU: 12-Roxana Oprea, 4-Ioana Bortan (capt.), 5-Adina Giurgiu (13-Beatrice Tarasila, 79), 6-Maria Ficzay, 8-Ştefania Vătafu, 9-Laura Rus (3-Lidia Havristiuc, 63), 10-Andreea Voicu (19-Loredana Popa, 88), 15-Teodora Meluta, 16-Ana Maria Gorea (2-Andreea Corduneanu, 52), 17-Mara Batea (14-Alexandra Lunca, 46), 18-Mihaela Ciolacu (21-Cristina Carp, 82)
Subs not used: 1-Linda Kajtar, 7-Raluca Sarghe
Head Coach: Mirel Albon