The arts are an essential element of any thriving community, but the arts cannot flourish without patrons who recognize the need for supporting artistic endeavors. Whether it's a generous family like the Segerstroms or a local resident who provides a small annual gift, every contribution counts.
Segerstrom Center for the Arts understands the relationship between business and the arts. Their annual Arts and Business Leadership Awards Dinner, held this year on June 4 in the Samueli Theatre, recognized individuals who create art and support it. 
"Our community needs the arts" said Segertstrom Center Board Chairman Mark Perry when he welcomed everyone to the event. "The arts elevates it and drives the DNA of creativity. And the arts needs business. Business provides finances. We're bringing those concepts to honor three individuals that represent leadership in business and leadership in the arts."
Those individuals are Ambassador Gaddi Vasquez, Karla Kraft (shareholder at Stradling, Yocca Carlson & Rauth) and Avalon Lafosse (a student at Orange County School of the Arts).
Vasquez received the Center's Distinguished Arts & Business Leader Award while Kraft the Rising Arts & Business Leader Award.
Lafosse received the first ever Student Arts Leader Award plus a $5,000 scholarship sponsored by Taco Bell Corporation.
The event was co-chaired by Lupe Erwin (Wood Gutmann & Bogart Insurance) and James C. Cascone (Deloitte), who also co-chair the Center's Business Leadership Committee. The Arts and Business Leadership Awards Dinner also serves as a fundraiser to help make the Center's education and community engagement programs possible and accessible to young people throughout Orange County. This year's event raised nearly $300,000.
According to Segerstrom Center, the Distinguished Arts & Business Leader award pays tribute to an established corporate leader, while the Rising Arts & Business Leader Award honors a young corporate star, both of whom demonstrate exemplary business leadership and consistent, generous support to Orange County's arts organizations. The new Student Arts Leader Award was created to acknowledge and encourage students who demonstrate an entrepreneurial resolve to impact the arts community.
This year's Arts and Business Leadership Awards Dinner included a networking cocktail party, dinner and awards presentation, followed by a performance of Roald Dahl's "Charlie and the Chocolate Factory" in Segerstrom Hall. The evening continued with a post-performance cast party hosted and sponsored by Water Grill.
This year's Arts and Business Leadership Awards Dinner was attended by 250 people. Sponsors included Kia Motors America, Edison International, Yamaha, Taco Bell, Jaimee and Doug Baker, Elite OC Productions L.L.C., Orco Block and Hardscape, and Lisa and Richard Merage.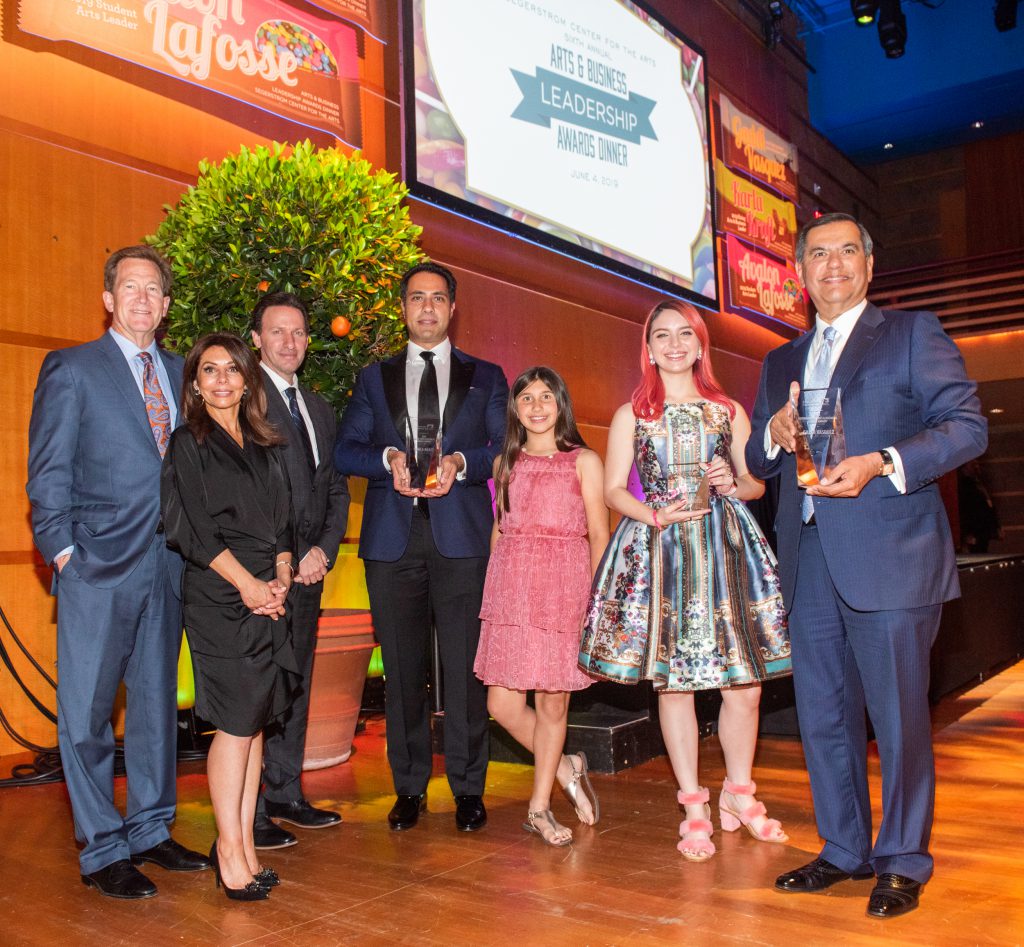 ABOUT THE HONOREES
 Gaddi Vasquez, Distinguished Arts & Business Lead. Having grown up in the barrio, Vasquez' elementary school was bused to a performance of "Madama Butterfly," and from there a lifelong love of the arts was born. Struck by the idea that such an experience could be formative, Vasquez made a commitment to give children like himself the same opportunity and access. Through his position at Edison, he promoted Edison's Symphony in the Park and Pacific Symphony, which brought live performances of classical music to underserved communities in Anaheim and Santa Ana. That potent childhood experience continues to inform his work on the Education Committee of Segerstrom Center for the Arts, where he has served since 2007.
Prior to his executive leadership position with Edison, Gaddi served as the fifteenth director of the Peace Corps. He was subsequently nominated as the U.S. ambassador and permanent representative to United Nations agencies based in Rome.
Karla Kraft, Rising Arts & Business Leader. Kraft is a shareholder at Stradling Yocca Carlson & Rauth, where her practice focuses on complex business litigation. At Stradling, she chairs the firm's class action defense group. Currently, she serves as president of the Orange County chapter of the Association of Business Trial Lawyers and on the board of directors of the Public Law Center, the dean's executive board of the UCI School of Law and the executive committee of the Sonenshine Pro Bono Opportunities Reception.Kraft is a member of Segerstrom Center for the Arts' support group, Angels of the Arts. Her husband is Anderee Berengian (CEO Cie Digital Labs).
 Avalon Lafosse, Student Arts Leader. Lafosse is a junior in the visual arts conservatory at Orange County School of the Arts (OCSA) and the founder and creative director of Art for Relaxation Therapy (ART). An accomplished student at OCSA with a 4.38 GPA, Lafosse is a member of the Visual Arts Leadership, the National Honor Society, California Scholastic Federation, and French Honor Society. She was the 2018 Hugh O'Brian Youth Leadership HOBY award recipient for OCSA and a Dragon Kim Fellow.
Avalon's pieces will be part of upcoming shows at the Josephine Joan Gallery in Fullerton and the Vita Art Center in Ventura. Lafosse intends to continue ART's mission through college and as an adjunct to her professional career.
"I started ART when I was 12 because I wanted to bring art to those in need and help others with a passion for art," Lafosse told the audience upon accepting her award. "My dream is to build an arts community built on shared experience."
Her dream is that ART will someday expand to a national and global program, bringing connection, support and joy through creative expression for children and young adults in need. Visit ART at avijayne.com.Ka.
For more information, visit SCFTA.org.