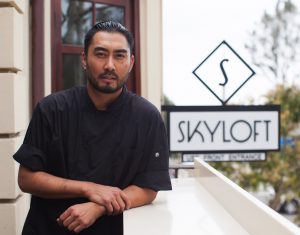 By Christopher Trela & Catherine Del Casale | NB Indy
Skyloft in Laguna Beach made a splash when it opened last November on Coast Highway in downtown Laguna Beach. Christopher went several times and loved the rooftop dining.
The menu was recently retooled thanks to new chef Arthur Ortiz, who comes to Laguna direct from Au Cheval Restaurant in Chicago. The Toronto native became a fan of Southern-style cooking early in his career, and has transferred that love of smoked food to the new Skyloft menu.
This time it was Catherine's turn to attend a special media dinner and sample the new menu.
"If you haven't been to Skyloft before, I highly suggest you check it out—not only are the cocktails and food sensational, but the view from the rooftop alone is worth the trip," said Catherine.
To start, Catherine ordered the Day Spa (skinny) cocktail with Hendrick's gin, St. Germain, cucumber, basil and blackberries,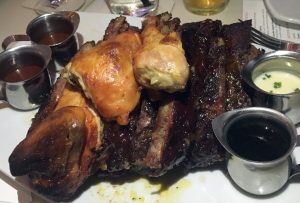 shaken with citrus and raw sugar. She dubbed it "light and refreshing while not being overly sweet."
The first course was a bowl of gumbo ($10), a hearty dish that included pulled chicken, chicken andouille, sausage, bell peppers, okra, garlic sticky rice and cilantro. The rice was not pre-mixed so that diners could add it to the soup as they ate.
Then came Fried Green Tomatoes ($11), which Catherine had never tried before.
"I stand by the statement 'everything is better fried,' and the tomatoes didn't disappoint," said Catherine. "The dish had avocado, chives, buffalo sauce drizzle, lemon dill aioli, pink peppercorns and cilantro. Nothing about it tasted greasy, the flavors all stood out and the tomatoes were crisp and juicy."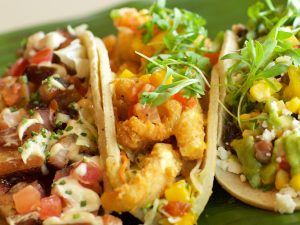 Then came a Fruit 'n Honey Plate ($15) with watermelon, blueberries, blackberries, strawberries, mango, cantaloupe, grapes on the vine, as well as some granola bits made with gluten-free oats, Greek yogurt and agave honey.
Catherine called the All-In family-style platter ($65) a must-have for a table filled with hungry friends. It includes a full rack of ribs, herb roasted half chicken, brisket with mash, lemon herb gravy, au jus, chive butter cream, mac 'n cheese coleslaw, cornbread and whipped honey butter. "The brisket literally falls apart and melts in your mouth," said Catherine. "The cornbread is made fresh and has corn, cheese and a hint of jalapeno. The mashed potatoes are unique in that they include small pieces of crisp potato skins so it's almost like a crossover between mash and a baked potato. "
Skyloft also has a secret locals menu called Artifacts that includes Super Taco concoctions, "Sky Fries" (to which you can add chunks of smoked bacon or a fried egg), Brisket Bowls and more. The Artifacts menu is available on the main level dining and bar.
For a complete list of daily specials including Happy Hour, and a peek at the full menu which includes burgers, sandwiches, salads and entrees (all made with a Skyloft twist), visit SkyloftOC.com.