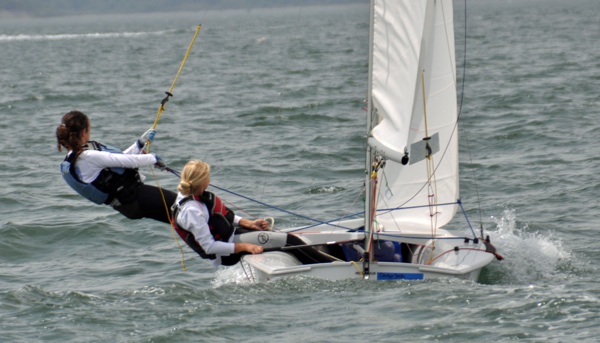 Light winds dominated the third and final day of the 2012 US Junior Women's Doublehanded Championships.  The race committee attempted to get an early jump on the day to no avail, as the weather refused to cooperate.  At the end of the day, Allyson Donahue and Maddie Widmeier were crowned 2012 champs, after finishing second last year.
The regatta concluded with six races in the books.  Each team was allowed to discard its worst score. Donahue (Brigantine, N.J.) and Widmeier (Pipersville, Penn.) eked out a one-point victory over Carolyn Smith and Bayley Davidson, who both attend Newport Harbor High School. Both teams put together remarkably consistent scores throughout the week – Smith and Davidson have sailed this event for several years together.
The top two teams placed outside the Top 7 just once each, and those were dropped from their overall scores. This consistency allowed the teams some breathing room at the top of the leaderboard, if not from each other.
Donahue and Widmeier have sailed together for the past four years, and had a great deal of pressure on their shoulders after finishing second last year.
Widmeier explained how their mental toughness as a team allowed them to lock up the regatta: "Coming off of the fifth race (19th place finish), we said to ourselves, 'Wow, that was horrible,' but we were able to go off to the side, get some food, water, relaxation and get right back in it for the sixth race."
Donahue commented on what it meant to her to win the regatta: "This is definitely the most important regatta we have ever won. We have done well at a lot of the big regattas over the past few years, but have never had a victory until now."
Other local sailors included Clare Dahl and Katie Calder (12th overall) and Greer Wattson (19th overall, crew) in a highly competitive women's fleet.
Smith and Bayley sail for the Newport Harbor and Balboa yacht clubs, respectively.  Smith is the daughter of the late Dr. Nina Nielsen, a former top collegiate sailor at Princeton University and a past sabot champion.
Upcoming Sailing Events:
July 7-8 – Summer Gold Cup – NHYC (Junior Sabot)
July 10-12 – Sir Joseph Porter – LIYC (Junior)
July 13-15 – Junior Olympic Festival – Cal YC (29er, C420, FJ, Laser, Laser Radial)
July 14 – Alamitos Bay to Balboa Laser Race – ABYC/BYC (Lasers)
July 14 – Harbor 20 Mid-Summer Regatta (BYC)
July 15 – All Girl Regatta – LIYC (dinghies)
July 17-22 – Governor's Cup – BYC (Invitational, Gov Cup 21)
July 21-22 – Crew of Two Around Catalina – SSYC (Offshore)
July 22 – Flight of the Lasers – NOSA, NHYC (Lasers)
July 26-29 – CFJ Nationals – BYC (CFJ's)