In little more than two years, SOL Cocina on Coast Highway has carved a niche in the culinary community by serving authentic south-of-the-border cuisine in an upscale, buoyant ambiance.
That's a tribute to Chef Deborah Schneider, whose fresh interpretation of Coastal Mexican dishes has made an impression on the local dining scene.
She continues that this month by introducing new seasonal offerings to her already extensive lunch and dinner menus.
"This is a great time of year to really showcase the season's offerings, and my menu revolves around the philosophy that the freshest ingredients ensure the best tasting, most flavorful dishes," says Chef Deb, who focuses her menu items on sustainable ingredients. "SOL's menu stays true to the simple and fresh Baja style of cooking, with flavorful dishes built around fresh seafood, premium meats, and more than a dozen fresh salsas made daily."
Naturally, I needed to sample these new menu items, so I made a foray to SOL to taste Chef Deb's creations.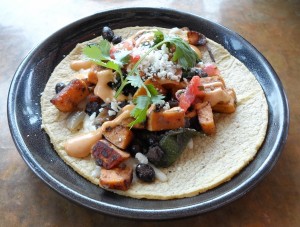 One of the items, Sweet Potato and Black Bean Taco, was a featured recipe in Oprah Winfrey's O magazine. This is a tantalizing tangle of caramelized onion, roasted poblano chile, roasted sweet potato, and black beans, served on a corn tortilla with melted Oaxacan cheese, a drizzle of spicy chipotle salsa and pico de gallo. The taco is vegetarian and wheat-free – and is highly addicting. I could have easily filled up on these for lunch and been happy.
Other new menu items include:
Tacones
A healthy, light burrito stuffed with salad instead of rice and beans. Theirs is made with a mix of organic baby lettuce, Napa cabbage, and radicchio tossed with avocado Caesar dressing, Cotixa cheese, shredded carrots, radish slices, pico de gallo, creamy spicy salsa and sliced avocado, as well as your choice of meat or vegetarian options, all rolled up in a giant chipotle-flour tortilla.
Ultimate Burrito 'Mar y Tierra'
Ultimate is right–this one can serve up to four guests! A large grilled chipotle-flour tortilla, with melted jack and Oaxacan cheeses and black beans, all topped with grilled filet medallions, agave shrimp, crisp bacon, sliced buttery avocado, diced tomatoes, onions, and a spicy salsa. Served open-faced with a steak knife. .
Shrimp Salad 'Esquites'
Juicy shrimp sautéed with extra virgin olive oil on baby wild arugula, tossed with warm grilled corn kernels ('esquites'), fresh-squeezed lemon juice and pico de gallo, pickled jalapeno strips, cotixa cheese, and ground guajillo chiles.
Beer Battered Shrimp Tacos
Shrimp coated with house-made beer batter, deep-fried until crisp, served on a corn tortilla with avocado-cilantro sauce, lime crema, pico de gallo, and cabbage.
Chipotle Chicken 'Desmadres'
The translation of 'Desmadres' is "a big mess," and this is indeed one delicious mess: thinly-pounded boneless chicken breast grilled with chipotles and fresh garlic, olive oil and chopped cilantro, topped with wild baby arugula leaves and a big spoonful of chunky avocado-tomato salad.
Guava Crème Brulee
Guava? Go figure—but it works beautifully! A rich, luscious crème brulee spiked with tart pink guava and fresh raspberries, a burnt-sugar crust and powdered sugar.
And for tequila drinkers, SOL already has more than 70 artisan, premium and ultra-premium tequilas and mescals at the bar, but they've just introduced their very own SOL Single Barrel Reposado Tequila, custom blended at Casa Noble's tequila distillery by partners Rich Howland and Matt Baumayr. The tequila is in limited supply and available only at SOL.
I had a sample shot of the SOL tequila, and it was remarkably smooth. So, I had to try it in a margarita. Absolutely delicious.
I guess you could say that I'm SOLd on SOL's new menu.
For more information, call 949-675-9800 or visit http://www.solcocina.com.
***
Ready for the ultimate foodie event? Here it is: Taste of Orange County, a two-day culinary celebration June 16 and 17 at Verizon Wireless Amphitheatre in Irvine.
This premier food, wine and entertainment festival features more than 50 restaurants and wineries, and is expected to draw more than 20,000 hungry foodies.
This event includes everything from local restaurant tastings to cooking demos from Orange County's top chefs, including a handful from Newport Beach:  Chef Jonathan Blackford (A Restaurant), Chef Matt Briggs (Mastro's Ocean Club), and Chef Pascal Olhats (Brasserie Pascal, Tradition).
Other activities include wine seminars with Master Sommelier Michael Jordan, a Farm to Table dinner with nine top chefs, and many other food and entertainment events.
For more information: www.tasteofoc.com or 855-298-6696) ext. 769.