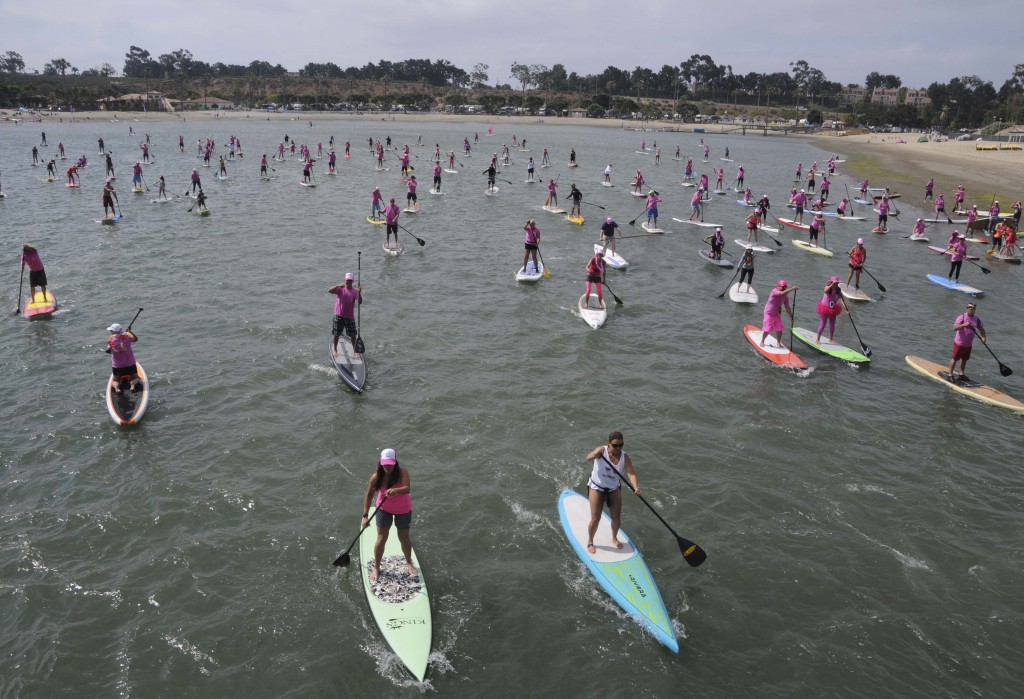 Over 1,000 Susan G. Komen supporters stood up and paddled toward a cure for breast cancer Saturday, during the organization's second annual Stand Up for the Cure.
Among everyone out on the water and in the sand at Newport Dunes was breast cancer survivor, SUP Cure event founder, and Orange County Komen board member, Judie Vivian.
The day is about fun on the water, supporting a great cause, raising awareness and educating people about breast cancer.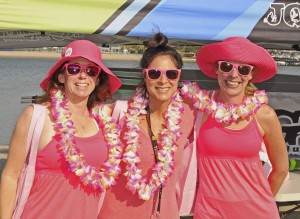 "Don't be afraid, call up Komen and get help," Vivian said. "And do it early."
Vivian caught hers early after going in for her annual mammogram three years ago. After a number of tests it was determined she had breast cancer, she said, and a few weeks later she had a double mastectomy.
She didn't talk about it to anyone for about six weeks, she added.
"I felt ashamed," Vivian said. Breasts are a "naughty" female body part and she didn't want to talk about it at the time.
Finally, after spending some time in Maui with Shawneen Schweitzer, a former national champion windsurfer, but not paddling because of the recent surgery, she finally opened up about it.
"I couldn't face telling her," Vivian said.
But Schweitzer was supportive and told her she should find a way to help get other people comfortable about talking about breast cancer, raise awareness for the disease, and raise funds so people who don't have insurance can get help.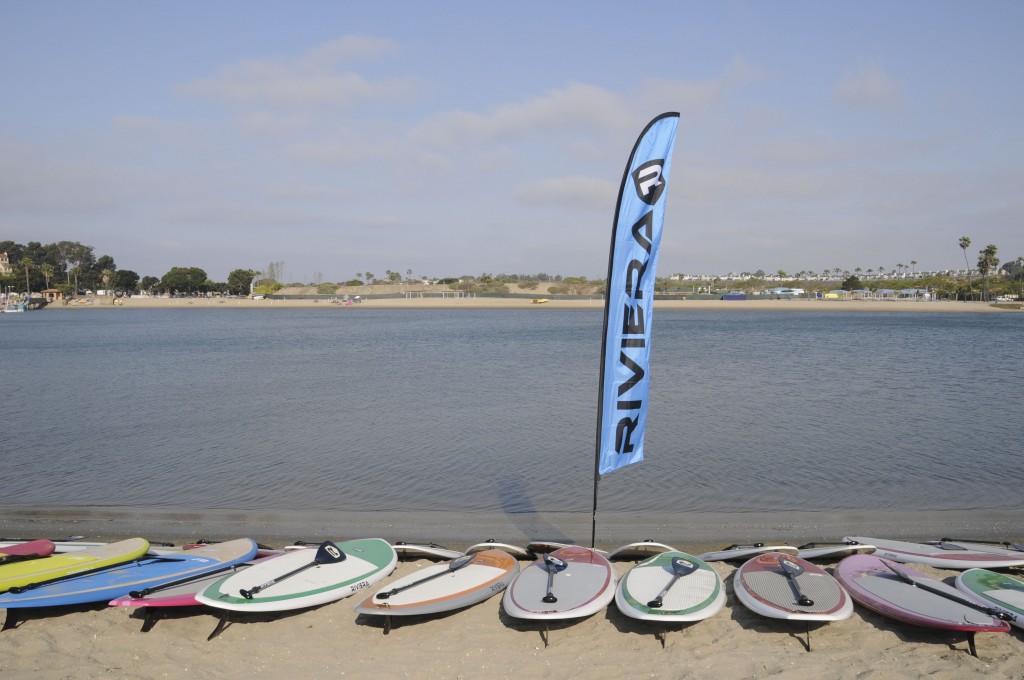 She approached Komen with the idea and they held the first Stand Up for the Cure last year. About 700 people attended the 2012 event, Vivian said, and they raised about $61,000.
This year, more than 1,000 people helped raise about $125,000, which represents 1,000 women in need receiving mammograms.
Another breast cancer survivor and world stand up paddle board champion, Annabel Anderson, was also on the sand and surf on Saturday.
"(The event) is all about coming together to play on the water for a great cause," Anderson said.
The SUP champ won the 2012 Stand Up World Series, held at Turtle Bay Resort in Hawaii, and Rainbow Sandals Gerry Lopez Battle of the Paddle in Dana Point.
But she wasn't always a boarder.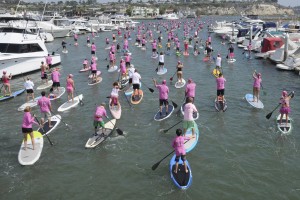 Born and raised in Lake Wanaka, New Zealand, she grew up "quintessentially Kiwi," with an adventurous spirit, but wasn't a surfer or stand up paddle boarder.
In 2000, at 19, the young woman found a hard lump in her right breast that "just didn't feel right," she said. She didn't want to "make a fuss" over it, she said, so she kept quiet about it until she was at the doctors a few weeks later getting her wisdom teeth removed. She told the nurse, who told a general surgeon, who ordered a biopsy. The results soon came back as abnormal.
"It really floored me," she said, especially at 19, when you feel "six feet tall and bullet proof."
"You're caught up in living life," at that age, she added, "you're not thinking about tomorrow, or the future," or long-term health.
She decided to act promptly and three weeks later she had a lumpectomy.
Now she's a poster child for early detection, she said.
"As healthy as you look, make sure your insides are as healthy as your outside," she said.
She has had no more abnormalities since then.
So she got involved with Paddle for Hope in New Zealand two years ago, she said, and through Schweitzer she was connected to the Komen event.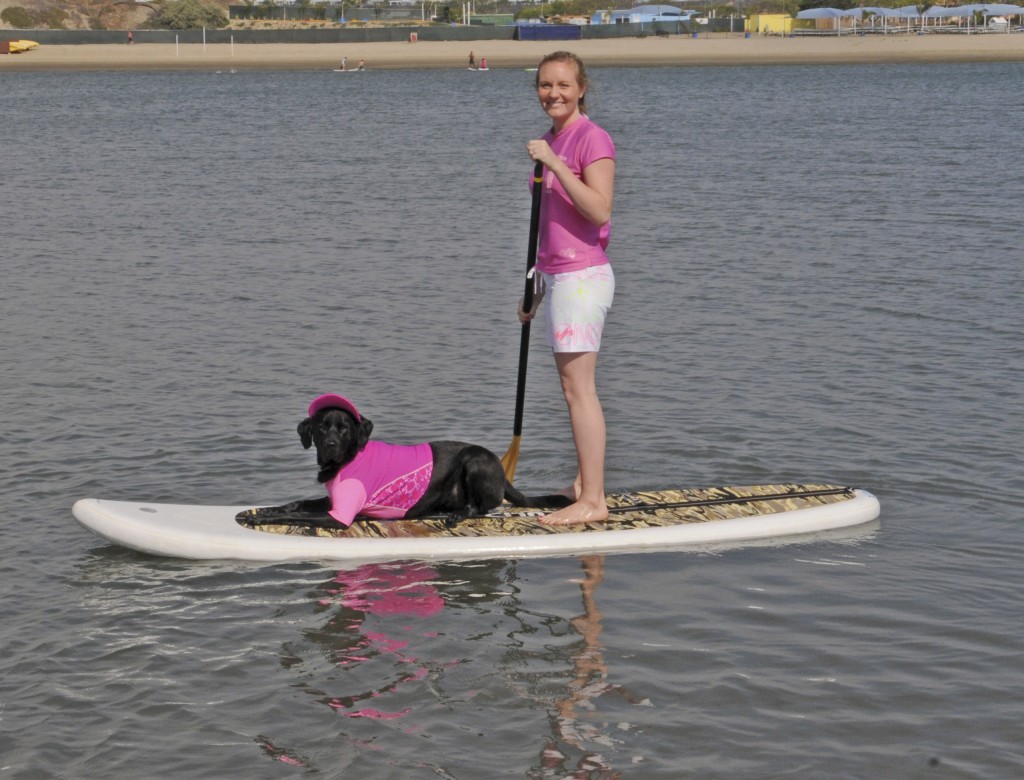 Also on hand from the extreme sporting Schweitzer family was 17-year-old Shelby and her dad, Matt. Shelby started short boarding when she was just 9-years-old and now is a top ranked surfer and her dad is a 17-time world champion wind surfer.
Both Shelby Schweitzer and Anderson said they had a great time on Saturday.
"I never complain about being on the water," Anderson added.
Volunteer doctors from University of California, Irvine, and one of the Komen Clinics were also at the event, performing breast exams. A few exams did raise some concern and the women were instructed on the next step. Counselors were even standing by on the beach, in case any of them wanted to talk.
"We've broken all boundaries by doing breast screenings at the beach," Vivian said.
The event also included UCI volunteer doctors to do melanoma checks, since women with breast cancer and women that stand up paddle board are both at high risk for skin cancer. Other doctors talked about colon cancer and led guests through a "mega colon."
They had a great turnout this year, but they are always in need of more support though, Vivian said.
"We need to reach out to more people and get more women help," she said.
The event organizer, Dan Van Dyck, said their ultimate goal is to make this equivalent to Race for the Cure, also put on by Komen.
"So everywhere there is a Race for the Cure we have one of these on the water," he said.
And what's unique about this event is that it is open to all levels of SUP boarders, he said.
"The amazing thing about this sport is that it's non-discriminatory," Anderson commented. "You can be 4-years-old or 84-years-old, as long as you can stand you can experience stand up paddle boarding."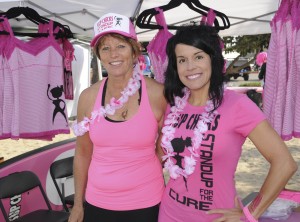 The SUP Chicks group, who have members in Newport Beach, raised $20,000 for the cause, the most of any group at the event. Members range from beginners to experienced.
"We're an organization for women paddlers," said SUP Chicks founder Sabrina Suarez. "We get together, we're fun, we inspire, enable and facilitate, and we care and give back."
SUP Chick organizer Jaecey Suda said their group aims to make a difference in the lives of their members and the community.
"Paddling changes lives," both women said together.
It builds self-confidence, physical fitness, and builds friendships, they emphasized. They also work with a variety of charities for fundraisers and give back to the community, including the Komen Stand Up for the Cure event.
"(The Komen SUP) is an event for everybody," Suarez said. "And it's for a great cause."
For more information, visit komenoc.org or standup-for-the-cure.org.