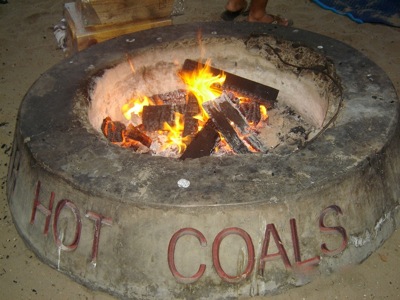 The debate over removing fire rings in Newport Beach will head to the state level next week, with the California Coastal Commission staff recommending that the pits stay put.
The state commission will vote on the issue on Wednesday in San Diego.
Newport Beach applied for a permit to remove 60 fire rings: 33 surrounding Balboa Pier and 27 from Corona del Mar State Beach.
Commission staff is recommending denying the application because removal of the fire rings would deny the public access to a popular form of low cost recreation, which should be protected and encouraged, staff argued, referencing the Coastal Act.
"The fire rings provide the opportunity for the quintessential Southern California beach experience," the report reads.
The report noted that the high demand would shift to other coastal locations, which could create overcrowding and overuse in those areas.
The city is requesting to remove them because of "potential ill health effects to beachgoers and nearby residents due to smoke and particulate matter from fires within the fire rings."
"Commission staff does not dispute that some individuals can have adverse health effects from wood smoke," the report reads, but the city has not proven that smoke from the fire rings is directly responsible for a public health problem.
Specific air samples and tests could not be taken, the city argued, because it would be impossible to determine the source of the particulate emissions.
The 307-page commission staff report also includes letters from experts and community members, and the petition in support of keeping the fire rings, along with all 5,796 signatures and nearly 800 comments collected.
For more, visit coastal.ca.gov and newportbeachca.gov/firerings.