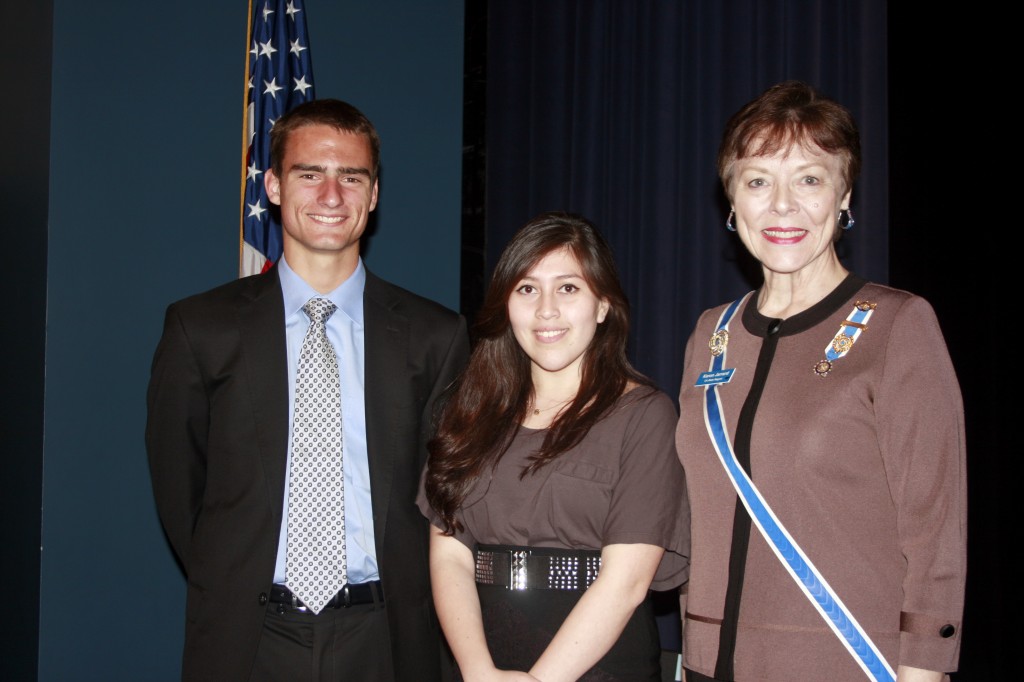 The Newport Beach chapter of Daughters of the American Revolution honored 125 students with outstanding citizenship and excellence in history with awards, medals and scholarships on Wednesday at their 62nd Annual DAR Student Awards.
"This program is one example of this community's effort to build good citizens as we encourage the study of American history," DAR California State Regent Karon Jarrard. "The bonus is, we have fun doing it."
The event was for Newport-Mesa Unified School District, private and parochial schools and was held at the Norman Loats Auditorium at Newport Harbor High School.
On top of the honored students, also on hand were members of the NMUSD school board, teachers and principals and parents and family members.
Among the school officials present were Dr. Robert Barbot, NMUSD interim superintendent, NMUSD board members Karen Yelsey and Judy Franco. Barbot led the national anthem, NHHS junior Cora Tsamados sang the national anthem and members of local, state and national DAR organization handed out the awards.
"We're here to celebrate and honor our students," Jarrard said, along with the community of supportive parents, school staff and teachers, and the local DAR chapter members, who encourage the kids.
The awards event honored students with the DAR Good Citizen and Garrett Senior Class awards for seniors, Good Citizenship medals and certificates for juniors, freshmen, eighth and seventh graders, the Senior Scholarship Essay Award for two seniors, the Junior American Citizen Awards for three first graders, Excellence in American History Awards for fifth graders as well as the fifth through eighth grade winners from the DAR American History national Essay Contest.
The organization's Good Citizenship awards are given to a student who has shown leadership and citizenship within their schools and communities.
The senior winners from Newport Beach schools were Blake Myers from Corona del Mar High School and Ismerai Rodriguez from Newport Harbor High School.
It's quite an honor, both Myers and Rodriguez agreed
"It's a wonderful experience," said Myers, who also earned the DAR Senior Scholarship Essay Award.
Myers said he would encourage younger students to work hard to try and excel in subjects they enjoy, whatever that may be.
"Do what you actually like to do," he said. "Achieve in that way, don't do what you thinks looks good on a resume, actually do what you like to do."
Rodriguez feels her biggest accomplishment is overcoming the odds. As an American immigrant from Mexico she had learn and overcome many hurdles, she said, and in the end being in the top 10 percent of her class and graduating with honors made it all worth it.
"Keep going, don't let others keep you down," Rodriguez said. "Work hard, even if the odds are against you, keep working hard. It will all be worth it in the end."
Myers said he is most proud of writing his school's honor code. The code is essentially a guide to help and encourage students to live honorably, Myers said earlier in the school year when the CdM student group he is a member of, the National Honor Society, was developing the code.
"(It's an) attempt to change the culture and the (way students are) thinking," he previously said.
The Colonel William Cabell Chapter of DAR in Newport Beach "takes pride in encouraging patriotism, assisting with American history education, and being an active part of our community," according to their website.
The local chapter is a part of the National Society DAR and California State Society DAR.
"Our passion is to preserve our past, it is our gift to the future," Jarrard said.
Other Good Citizenship Award winners from Newport Beach schools include: Juniors Kobe Yank-Jacobs and Austen Boyce from CdM, and Brian Morales and Hannah Whitefield from NHHS; Sophomores Andrew Hanson and Christina Nelson from CdM, and Ramsey Hufford and Julia Barney from NHHS; Freshmen Joshua Shirvanian-Wolfe and Elin Wolker from CdM, and John Mooers and Sarah Allen from NHHS; and Eighth graders Alex Pham and Rebeckah DuBois Aujaghian from CdM, Ea Olotoa and Atziri Morales from Ensign, David Collins and Madeline Bubb from Mariners, Jacob Diaz and Emily McCormick from Our Lady Queen of Angels.
Newport Beach winners of the DAR American History National Essay Contest include sixth grade first place chapter winner Juliette Clarke from Newport Elementary, sixth grade second place chapter winner Sarah Henry, fifth grade second place winner Elsa Van Cleve from Eastbluff Elementary, and fifth grade honorable mention Taylor Morales from Our Lady Queen of Angels.
Students presented with the Excellence in History Award from NMUSD schools in Newport Beach include Brynn Dahlberg, Caitlin Purdy, Hannah Hawkins, Hailey Glenn, Sujata Tewari, Brian Seaman, Sara Neiger, Isabella Swart, Connor Spence, Charlie Covina, Ben Kwong, Matthew Dehdashtian, Brooke Hourigan, Grace Burke, Scott Mais, Clay Lobel, Niku Farhangi, Calvin Chai-Onn, John Olmstead, Claire Bacon, Mia Matsunami. And from Our Lady Queen of Angels Jonathan Lefebvre and Noelle Howe.
The other senior DAR Good Citizenship Award and Garrett Senior Class Awards for Graduating Seniors winners were Edith Esparza from Costa Mesa High School, Kaelin Pukke from Early College High School, and Yuri Arriaza from Estancia High School. Pukke also won the DAR Senior Scholarship Essay Award.
Winners from other grades from schools in Costa Mesa include: First graders Ava Burton, Piper Tysee and Ashley Plantenga, all from St. Joachim Catholic School; juniors Eduardo Villegas and Angelica Jesudasen from Costa Mesa High School, Patrick Botero and Danielle Dickey from Early College High School, and Nathaniel May and Brisma Corona from Estancia High School; sophomores Logan Whalen and Sophie Harriman from CMHS, Curtis Whitaker and Dalila Roman from Early College, and Cesar Gasca-Gonzalez and Marisol Davila from Estancia; and freshmen Anuare Magana and Kamren Hamilton from CMHS, Jaime Ozuna and Marissa Walker from Early College, and Jeremy Lawrence and Naomi Beth from Estancia; eighth graders Sean Farhat and Elizabeth Barbaresi from Carden Hall School, Mason Tufuga and Sylvia Catania from Costa Mesa Middle, Alexis Morales and Hannah Swift from C. W. TeWinkle Intermediate, Nathan Lam and Hanh Nguyen from Page Private Schools, Patrick Shannon and Erin Klein from St. Joachim, and Max Tran and Claire Novotny from St. John the Baptist; seventh graders Jacob Schran and Kate Hampton from Carden Hall School, Jose Emanuel Diaz and Karlee Kistler from Costa Mesa Middle, Trevor Brown and Sarah Mack from C. W. TeWinkle Intermediate, Andrew Mance from Page Private Schools, Justin Prentice and Sienna Siemonsma from St. Joachim, Luke Stashik and Emma Chapel from St. John the Baptist.
More winners for the DAR American History National Essay Contest for the Newport Chapter fifth through eighth graders include eighth grade first place winner for the regional and district Jack Stallings from St. John the Baptist School, eighth grade second place winner Jacquelyn Perez also from St. John, eighth grade honorable mention Hanh Nguyen from Page Private School, seventh grade first place winner Ashley Nova from St. Joachim School, sixth grade honorable mention Yvette Soliz Martinez from College Park Elementary School, and fifth grade first place winner Kelsey Bond from Victoria Elementary School.
Fifth grade students presented with the Excellence in History Award from Costa Mesa schools include Kylie Hemming, Saoirse Mulrooney, Max Brennan, Madison Wilkens, Jaida Morgan, Isabella Fonk, Jake Morgan, Zachary Minyard, Sierra Santiago, Samantha Filner, Kennedy Fox, Jackie Olivares, Karla Rodriguez, Kelsey Bond, Julio Bello, Briana Munoz, Ronny Cahuantzi, Jorge Labastida, James McConnaughey, Jacob Muchnick, and John Rogers.