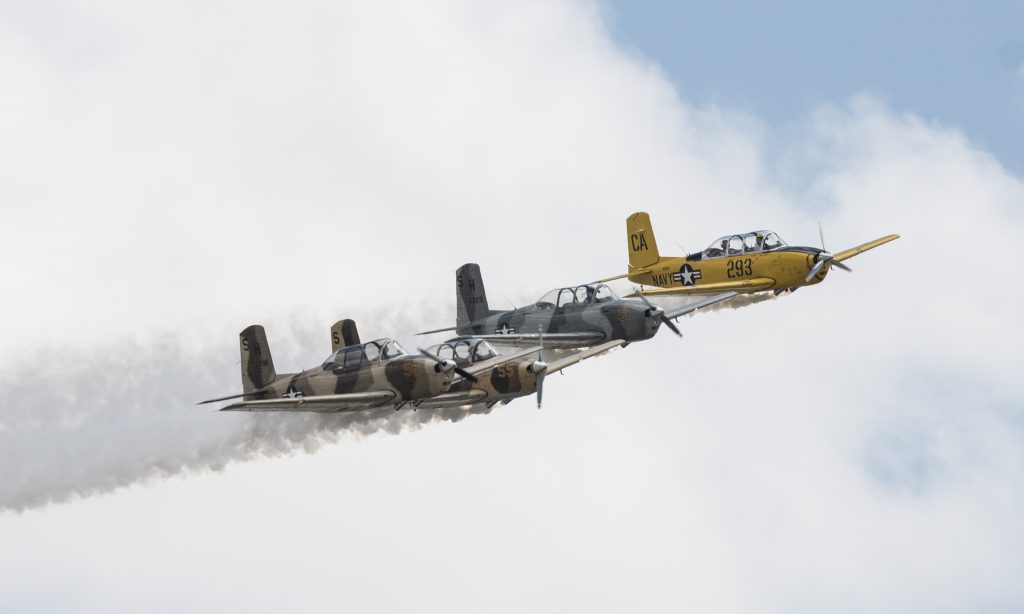 March Air Reserve Base celebrated its centennial over the weekend with an event that took to the skies and beyond.
The 452nd Air Mobility Wing at March ARB held its annual March Field Air & Space Expo at the Riverside base on April 7 and 8. This year's theme for the free, public show was Thunder Over the Empire.
Thrills came from all directions as acrobatic stunt planes looped and dove and vintage World War II fighters and bombers streaked across the sky.
The joy of the day was tempered by the cancellation of the United States Air Force Thunderbirds, the air demonstration squadron, following the recent death of Thunderbird pilot, Major Stephen Del Bagno. He died April 4 when his F-16 Fighting Falcon jet crashed during a training procedure in Nevada. A prayerful minute of silence followed by a vintage plane flyover honored his service during the event.
The lineup included U.S. Army parachute team, the Golden Knights, who demonstrated precision as they reached free fall speeds of up to 180 mph before landing on target.
Other performances included Fastrax, a professional parachute demonstration team, who opened the event to the national anthem, carrying giant American flags down to the ground.
Spectators were thrilled by aerobatic pilot Vicky Benzing's daring routine and a mock battle between a North American F-86 Sabre, or Sabrejet, and a Soviet Mikoyan-Gurevich MiG-15.
A flyover by the silent and ominous B-2 Spirit, also known as the Stealth Bomber, highlighted modern American air power.
A colorful air ballet was performed by Warner Springs-based Sky Sailing team as their Grob G-103 Acro sailplane created red and blue smoke trails across the sky.
On the ground, visitors could view jets and climb through massive bombers and transport aircraft.
For more information, visit marchairshow.com and march.afrc.af.mil