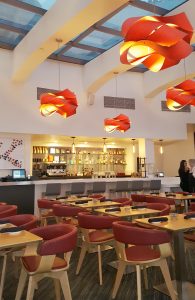 By Christopher Trela & Catherine Del Casale | NB Indy
 Polish actress Helena Modjeska made a name for herself in her homeland before sailing to America in 1876 and settling in Anaheim, where she lived while touring the country performing many of the great Shakespearean roles, including Rosalind in "As You Like It."
She eventually bought property in what is now Modjeska Canyon and had a Victorian home built that she dubbed Arden, after the name of the forest in "As You Like It."
She lived there until 1906, when she moved to Bay Island in Newport Beach and became the town's most famous resident. She died there in 1909.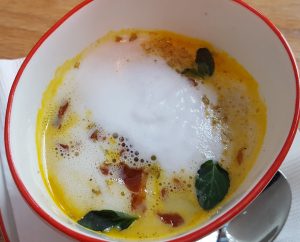 When we learned that The Bowers had opened an exhibit about Modjeska called "As She Liked It," which commemorates the 400th anniversary of Shakespeare's death through an exploration of Modjeska's Shakespearean acting career, we decided to check out the exhibition and have lunch at Tangata Restaurant at The Bowers.
We had not been to Tangata, a Patina Group restaurant, in over a year, so were eager to try Chef Brian Black's cuisine.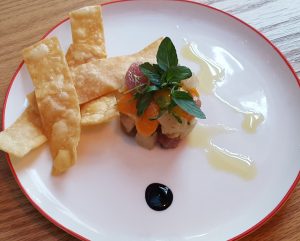 Black, who came to Tangata last year, has an impressive resume. He spent some time at Studio Montage before going upstairs to The Loft. He then went to Michael Mina's Stonehill Tavern at Monarch Beach Resort before coming to Tangata.
"I was very impressed with what Chef Brian Black is doing with the menu," said Catherine. "He uses a marvelous blend of Spanish influenced flavors, with pops of color and great textures in each dish. I really enjoyed the carnaroli, quinoa and faro risotto. It had good sized chunks of butternut squash, vegetarian chorizo, cotija and pepita pesto. It had a little bit of heat to it and wonderful flavor without being too heavy. The use of vegetarian chorizo makes it a dish both meat eaters and vegetarians will enjoy."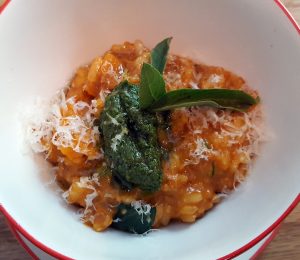 "Another of my favorites was the braised short rib taquitos appetizer," added Catherine. "Most taquito meat ends up being dry, but here it's the opposite, with moist and flavorful short ribs tucked inside a nice crunchy shell. It's served with oaxaca cheese, cilantro, and parsley crème fraîche."
"I agree, the taquitos were a nice surprise—I could have two helpings and make it a meal," said Christopher. "I also liked the beef shortrib barbacoa, and the butternut squash soup.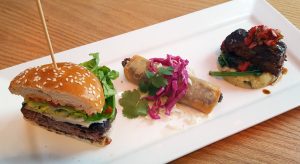 "I also like the tuna tartare with citrus and mint, it had a great blend of flavors including garlic and red onion along with the chopped apples and tortilla chips," said Catherine. "And we were lucky to try the lavender crème brûlée—one of the most unique flavors I've encountered in crème brûlée," noted Catherine.
Prices at Tangata range from $9to $14 for appetizers, $15 to $17 for burgers and sandwiches, and $17 to $25 for entrees. There is also a three-course prix fixe lunch for $21. Considering the quality of the food and the experience, the prices are more than reasonable for this untypical museum café (which also boasts a full bar and nice wine list).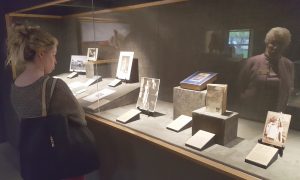 After lunch, we spent some time on the Helena Modjeska exhibit, where a docent revealed some of the stories behind the 60 pieces in the exhibit, which covers Modjeska's stage career and features pieces of costumes, vintage photographs, books and papers (including a telegram to her grandson announcing her death), and other artifacts that come entirely from the Bowers Museum's permanent collection, one of the world's largest collections of Modjeska artifacts.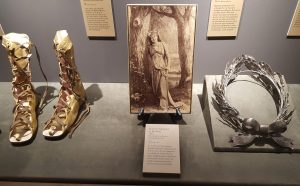 And for those curious about her Newport connection, in 1907 Sam Tustin (for whom the town of Tustin is named) had built a home on Bay Island, but sold it to Helena Modjeska, who lived there until her death in April of 1909. One account has Bay Island briefly renamed in her honor, which would have been a fitting tribute.
For information on Tangata, which at the moment is only open for lunch, visit PatinaGroup.com.
For information on The Bowers and the Helena Modjeska exhibition, which runs through early April, visit Bowers.org.