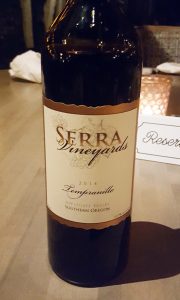 By Christopher Trela & Catherine Del Casale | NB Indy
We've attended many wine dinners featuring famous wines and noted chefs, but rarely have we had as personal and informative (not to mention tasty) an experience like the one last week at a Serra Vineyards dinner at Five Crowns in Corona del Mar.
When we were invited to the wine dinner, we knew nothing about Serra Vineyards except that it was located in Southern Oregon, an AVA unfamiliar to us. However, by the end of the evening, we not only fell in love with the wines, we were ready to hop on a plane and spend a week in Grants Pass and Applegate Valley, where Serra has its vineyards and tasting room.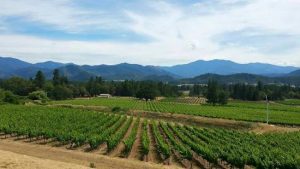 The evening was hosted (make that narrated) by Liz Wan, assistant wine maker at Serra Vineyards, and Tracy Nelson of Five Crowns. They introduced the wines and pairings, but throughout the evening also told stories about Serra Vineyards, the wines, and the Grants Pass area, which we learned features more than 100 small-lot wineries, each making around 2,000 cases or less.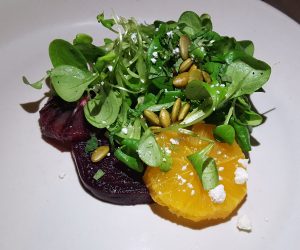 The Serra wines were perfectly paired with six delicious courses courtesy of Five Crowns Executive Chef Steven Kling, who was sent a variety of wines to taste so he could properly pair the wines with his cuisine.
Some of the pairings: 2014 Tempranillo with pollo al diavolo, 2012 Cabernet Franc with mushroom ravioli with brown butter, a 2012 Pinot Noir rose with beet salad, 2011 Pinot Noir with  sturgeon, and a 2012 Cabernet Sauvignon with lamb Barbacoa.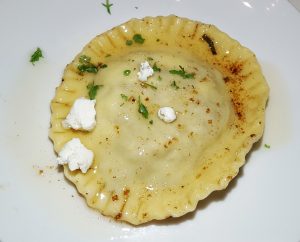 "After experiencing this amazingly well-done wine dinner at Five Crowns I'm ready to visit Southern Oregon and make a long stop at Serra Vineyards," gushed Catherine. "The Rosa Marie Rose had flavors of strawberry, raspberry and cream, with a nice acidic finish, while the Tempranillo – made the traditional way, straight to bottling and no extra measures taken – is now one of my favorite wines. It was smooth and fruit forward, great with food or without."
"In fact, my favorite pairing of the evening was the Tempranillo with the pollo al diavolo with panzanella," added Catherine. "The Tempranillo held up to the spicy kick of the chicken without either overwhelming the palate."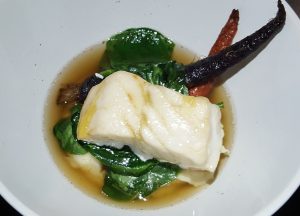 "I was impressed not only with the pairings, but how different the wine tasted on its own and then with the food," said Christopher. "I'm so used to the big and bold California wines that sometimes I forget there are other styles better matched to food. I loved the Cabernet Franc with the mushroom ravioli and brown butter, it was delicate yet hearty—a lively party on my palate. The sturgeon and Pinot Noir pairing was perfect, as was the rose with the beet salad."
"One of my favorite dishes was the Lamb Barbacoa, which was seasoned with oregano and a touch of cinnamon, stuffed inside a warm soft taco shell along with grilled onions," said Catherine. "The meat was juicy and bursting with flavor."
As we savored our cuisine and sipped our wine, we garnered tidbits about Serra and Southern Oregon wines from Liz (we were lucky to nab seats at her table).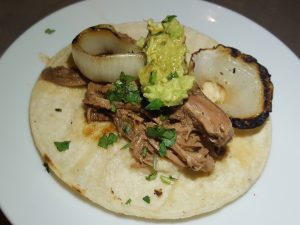 Most of the Serra wines, and many others in Southern Oregon, come from vineyards planted in Rogue Valley and Applegate Valley. All the local wineries are small producers, which means extra care is taken to craft wines that offer the best expression of the terroir.  
Serra makes around a dozen wines, mostly 100 percent single varietals, ranging from 100 to 400 cases per varietal. It's a rustic way of winemaking that perfectly suits the Southern Oregon style. Serra has garnered many awards for its wines, including gold and silver at the renowned San Francisco Chronicle Wine Competition. 
Perhaps Liz (quoting Tracy) said it best: "Wine takes a meal and makes it an experience. Everything slows down, the conversation starts, and memories are made."
In the case of the Serra wine dinner at Five Crowns, we couldn't agree more.
Five Crowns plans more wine diners like this in the future (the Serra wine dinner was $85 per person, prices may vary on upcoming dinners), so visit lawrysonline.com/five-crowns for more information and to be added to their email list for updates.
For info on Serra Vineyards, visit SerraVineyards.com.