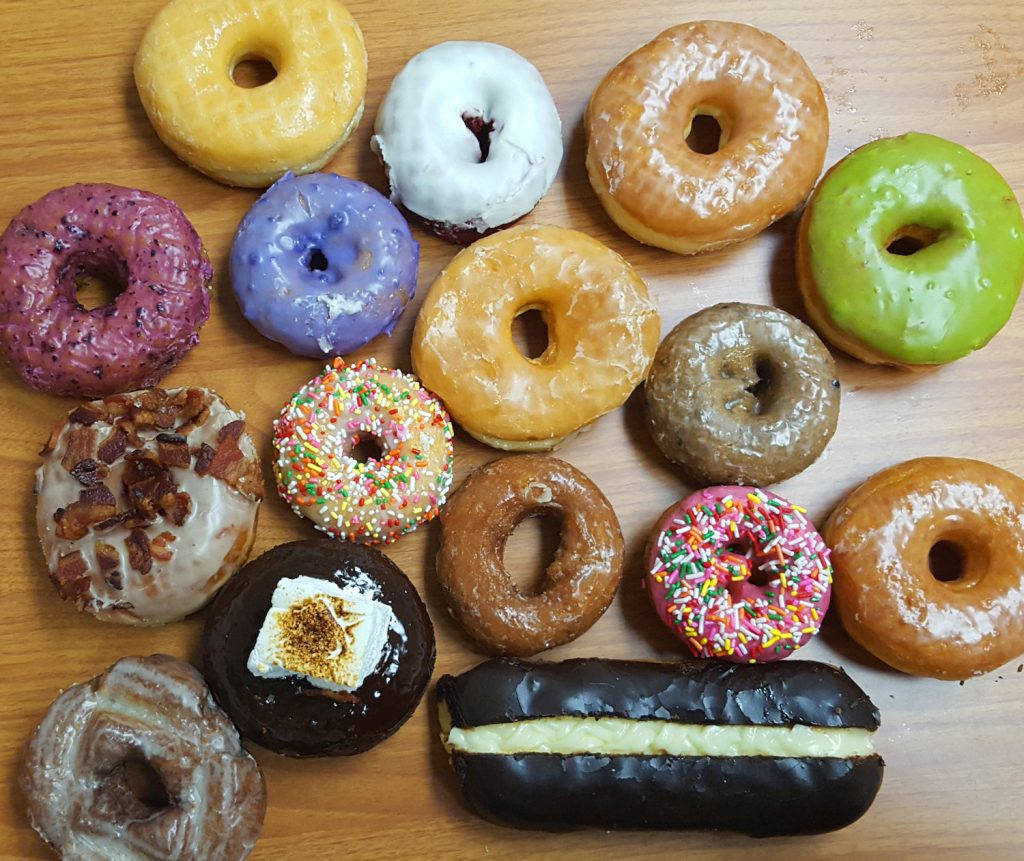 No matter if you spell it doughnut or donut, this popular fried confection is being celebrated on Friday, June 2 on National Doughnut Day.
Not simply an excuse to eat more donuts, National Doughnut Day was created by The Salvation Army in 1938 to honor their members who served doughnuts to soldiers during World War I. Because of the challenge of serving freshly baked goods, Salvation Army volunteers served doughnuts, which became an instant hit with soldiers. The women who made the doughnuts (along with coffee and other foods) were soon dubbed "Doughnut Dollies."
The proliferation of donut shops is a testament to the donut's continued popularity, although donuts have been transformed from simple cake donuts into creative concoctions that have garnered devout followings among donut aficionados.   Count us among the many donut fans that are drawn to unusual recipes, although there's nothing wrong with a classic glazed donut either.
Newport Beach has its share of donut shops, so we decided to do a taste test and purchase three donuts from five different local donut shops.
We chose our shops after careful research, and remembering where we'd had memorable donuts in the past.
Our choices: Seaside Bakery, Dad's Donuts, Dough Boy's Donuts, City Donuts, and Sidecar Doughnuts.
Our goal was to get a glazed from each shop to compare, plus an unusual or signature recipe from each, and a colorful creation to add to a photo op.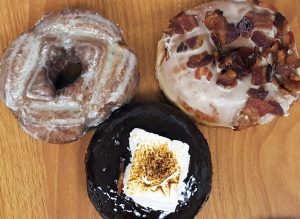 The glazed donut test:
"I like the one from Dad's—it's light and sweet," said Catherine. "My other favorite is the one from Seaside, it's thicker with a nice glaze and not too sweet."
"Since Sidecar did not have a glazed donut, this old fashioned is a great substitute—it's sweet and not too soft," said Christopher, who has been a fan of Sidecar since their days in a test kitchen when they'd open their back door on weekends and serve free donuts. "I love the maple bacon donut, still my favorite doughnut in OC. And I don't know anyone else that does huckleberry. The smore's donut is a clever concept, although it's difficult to eat and has an unusual kick to it."
"Sidecar is the holy grail of donut shops with their unique flavors and beautiful presentation," agreed Catherine. "And where else can you actually watch them making the donuts while you're ordering them. They are the most expensive donuts around, but worth it."
"I also liked the apple sauce donut from Dad's on Balboa Island," said Christopher. "Not quite as good as the apple pie donuts from the Julian Pie Company, but a lot closer."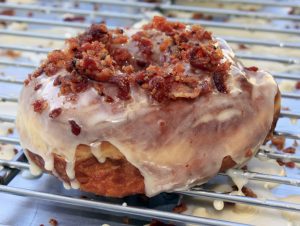 "Seaside Bakery is the spot to be at 2 a.m. when the bars close," noted Catherine. "They are known for their ham and cheese croissants. There's a line out the door and some may wonder if it's worth it, but this is my top pick for your donut needs whatever time of day or night, since they're open 24 hours."
"You know, donut fans can find something to like about any of these donut shops," stated Christopher. "And you know what they say—a donut a day keeps the doctor away."
"A donut a day means more trips to the gym, and our taste test means an extra hour on the stair stepper," replied Catherine. "But, it was worth every calorie."
Looking for websites for the donut shops? Only Sidecar Doughnuts has one: sidecardoughnuts.com.
You can find the others on Yelp and Facebook.