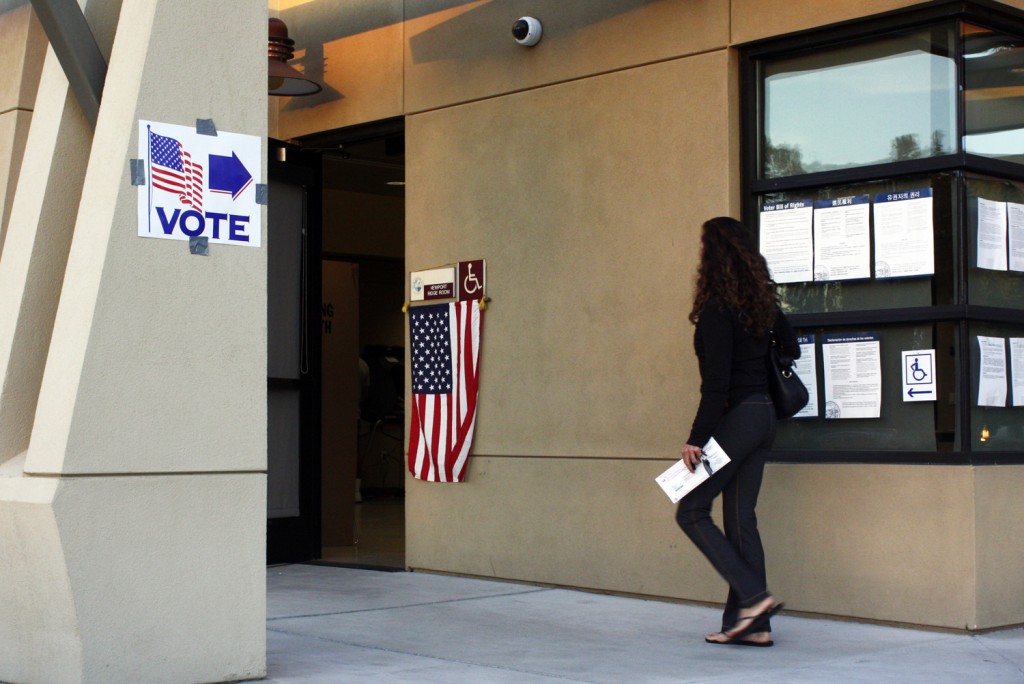 Thousands of Newport Beach residents visited the voting booths Tuesday and cast their ballots for city council members, Measure Y and more.
Self-dubbed "Team Newport," Marshall "Duffy" Duffield, Kevin Muldoon, Scott Peotter and Diane Dixon, swept the election, according to the unofficial results from the Orange County Registrar of Voters.
"Super happy all of the team made it in," Duffield wrote in an email. "We will be all ears and do what the majority wants instead of the other way around."
In possibly the most watched city council race, Duffield beat out incumbent and current mayor, Rush Hill, winning 66.7 percent for District 3.
In the city's only three-way race, Muldoon came out on top with 50.4 percent for District 4, Tim Brown followed with 37.1 percent and lastly Roy Englebrecht with 12.5 percent.
Corona del Mar's District 6 was tight, with Peotter squeaking by Mike Toerge with 51.2 percent of the votes.
Running unopposed, Diane Dixon received 100 percent of the 14,721 votes reported.
All of these figures were the latest reported by Thursday morning.
Results are still unofficial until additional vote-by-mail ballots, paper ballots and provisionals cast at the polling places are all counted. On Thursday morning, there were an estimated 135,540 ballots left to count for the entire county.
As early results came in on Tuesday night, Duffield immediately had a big lead over Hill. By 10:15 p.m., when only 19 precincts out of 74 in Newport Beach had finished reporting, Duffield led with 65.2 percent. His lead gradually increased throughout the night.
It hasn't really sunk in yet, Duffield said.
"I'm very happy the election is over," Duffield said. "The process is very daunting to say the least."
"I was very nervous the last couple of days with the 'What  if this, what if that?'" he added.
"I'm very grateful for all the support from so many people in our city," he said.
Incumbent Hill expressed disappointment and said the election was telling.
"It was not quite what we had hoped for!" Hill wrote in an email. "I guess it proves big money and nasty politics can shape the policy of even the great cities of the world. Too bad it has now begun in Newport Beach."
The District 6 race, however, was much closer. Toerge was in front early on, with  51.7 percent of the votes by 10:15 p.m. The two were evenly split by 11:40 p.m. By 1 a.m., Peotter's numbers had surpassed Toerge. As of Thursday morning, Peotter kept his lead with  8,824 votes and Toerge not too far behind with 8,399 votes.
"The residents chose 'Team Newport' because they don't want business in usual with incredible long term debt and living beyond our means," Peotter wrote in an email. "We hear them loud and clear. We will pay down long term debt and live within our means."
"We had a message that resonated with the voters that they wanted more fiscal responsibility with the resources of the city," Peotter noted, giving the civic center and city hall, what he calls "Taj-Ma-City-Hall," as an example of what not to do.
"We look forward to working with the rest of the city council to carry out the wishes of the voters, starting the getting rid of the bunnies," Peotter wrote.
Toerge did not respond to an inquiry seeking comment.
Muldoon also had a strong lead early on Tuesday with 49.5 percent by 10:15 p.m.. He held onto the lead throughout the night as it steadily increased.
"I'm honored to have the voters of Newport Beach elect me as their next councilperson for District 4," Muldoon wrote in an email.
His opponents, Englebrecht and Brown, ran honest campaigns, he said. He looks forward to working with them and other civic leaders in an effort to serve the residents, Muldoon added.
"Well in fight promoter jargon I lost by Unanimous Decision (Tuesday), coming in third in a three person race," Englebrecht wrote in an email.
He acknowledged the more than 2,000 votes he did receive and thanked his supporters.
On a positive side, Englebrecht said, Measure Y failed.
"As the only candidate who voted for and endorsed No on Measure Y, the resounding win for No on Y helped to take the sting out of losing," he said.
Brown did not respond to an inquiry seeking comment.
On Tuesday, Newport voters also shot down Measure Y (see accompanying story).
Newport Beach City Councilman Keith Curry was beat out by Huntington Beach Mayor Matthew Harper for the 74th Assembly District spot. As of Thursday morning, Harper had received 59.1 percent of the votes.
Fellow NB City Council member Leslie Daigle was also defeated in her run for Orange County Water District director for District 5. She lost to Steve Sheldon, who earned 57.2 percent, Daigle followed with 27.6 percent.
Voters also chose three members of the Newport-Mesa Unified School District board. Along with Costa Mesa residents, there were 141 precincts reporting.
Charlene Metoyer won with 68.4 percent over Michael B. Collier. Incumbent Walt Davenport received 56.6 percent of the votes and beat out Lisa Manfredi and Fidel Mora, who came in with 23.3 and 20.1 percent, respectively. Vicki Snell was also re-elected with 68.8 percent of votes choosing her over Steve Smith.