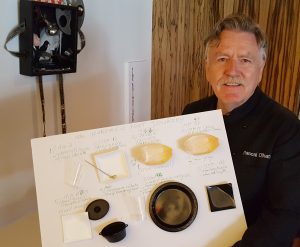 By Christopher Trela & Catherine Del Casale | NB Indy
Celebrity Cruises docked at the Newport Beach Film Festival last week as one of the Festival sponsors, and we're glad they did. Not only did the luxury cruise company serve superb wines during the Festival's opening night gala celebration, but they provided some of their VIP guests a rare opportunity to experience a food and wine – and movie – pairing in the Port Theater on Sunday afternoon.
According to information from Celebrity Cruises, one of the activities on their ships is "A Taste of Film" where passengers are "taken on a multi-sensory journey as they enjoy a specific cultural, culinary or destination-based film, while dining on cuisine that brings the movie's scenes to life through guests' taste buds."
Naturally, we love that concept, so we were fortunate to be invited to attend Celebrity's cinema and cuisine affair at the Port and experience a similar event, albeit on dry dock. Celebrity Cruises screened the film "The Hundred-Foot Journey," about a feud between two restaurants located across the street from one another—one operated by an Indian family, the other a Michelin-starred French restaurant.
While watching the film, we dined on an elegant eight-course tasting menu prepared by the one and only Chef Pascal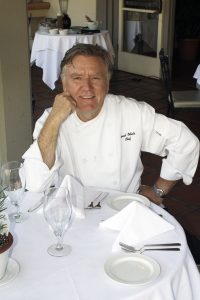 Olhats, whose Café Jardin is down the street from The Port (he also had a documentary about him screened at the Film Festival).
The menu featured food inspired by the on-screen cuisine, which meant an intriguing mix of French and Indian dishes. Among the dishes: lobster bisque with uni and spices, curried masala chicken with naan, barbecued sweet corn, baked breast of quail, and other delights. Each course was paired with wine.
Not only were we impressed with the dishes, but they arrived at almost the same time as they were shown in the film—served by white-gloved wait staff who promptly and efficiently kept wine glasses filled in between courses.
We'd love to see more of this type of event at the Port, and judging by the packed theater, so would audiences. Chef Pascal and Celebrity Cruises proved to be a perfect pairing.
For more information on Celebrity Cruises, visit celebritycruises.com.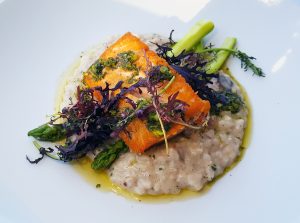 "Cinderella" Cuisine
The musical "Cinderella" closes at the Segerstrom Center this weekend, which means it's the last time you can order the "Cinderella" menu at Leatherby's Café Rouge.
Executive Chef Ross Pangilinan creates a themed menu to match each musical that comes to Segerstrom Center (with courses named after the songs), so we were looking forward to seeing – and tasting – what Chef Ross concocted this time. As usual, we were thrilled with his offerings.
The three course menu starts with a choice of "In My Own Little Corner" agnolotti, ricotta filled pasta and pecorino,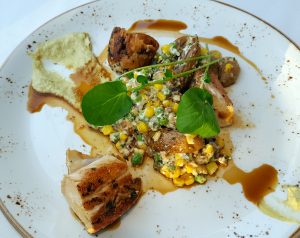 or "Your Majesty" salad with parmesan-lemon-anchovy dressing. Both dishes were excellent (the wonderful combination of flavors in the dressing elevated the salad beyond simple lettuce and croutons).
For entrees, you have a choice of "Bill of Fare" herb roasted chicken breast, cabbage, corn, bacon, peas, potatoes and chicken jus, or "The Search" wild salmon, forest mushroom risotto, asparagus and chives.
"The salmon is cook perfectly, and the risotto is a nice accompaniment, but I think the "Bill of Fare" is one of the most creative chicken dishes I've ever had," stated Christopher. "The ingredients are again a perfect combination of flavors and textures."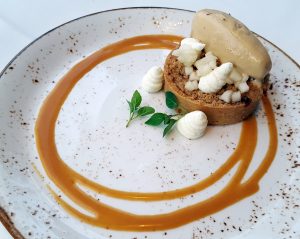 Dessert options include "A Lovely Night" apple tart with salted caramel ice cream, and "The Prince is Giving a Ball" house made ice cream.
The "Cinderella" dinner was a perfect way to start a fairy tale evening. We strolled next door to Segerstrom Hall and thoroughly enjoyed "Cinderella," which actually began life as a made-for-TV musical many years ago. It was revived several times on TV before finally making its way to Broadway.
The plot almost follows the traditional "Cinderella" story line, although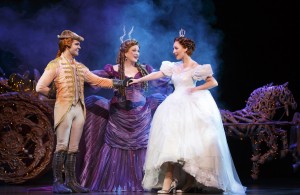 the step sisters are not quite as wicked as usual, and there are several side stories that all blend together at the end.
The music by Rodgers and Hammerstein is delightful (although not as memorable as some of their other hit shows), and the costumes (and on-stage costume changes) dazzling.
For info on Leatherby's Café Rouge, visit PatinaGroup.com.
For tickets to "Cinderella," visit SCFTA.org.