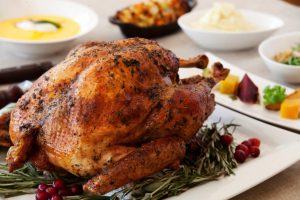 Compiled by Laura Wise | NB Indy
Thanksgiving is only a few days away, and Newport Beach restaurants are gearing up for a busy dining day. From fabulous prix fixe menus to gourmet buffets, here's our annual roundup of places to dine this Thanksgiving.
Back Bay Bistro
Back Bay Bistro offers a festive gourmet buffet featuring slow roasted turkey, holiday sides, and more, in a waterfront setting with three seatings from 9:30 a.m. to 4 p.m. For those who wish to enjoy their Thanksgiving meal in the relaxation of their own home, Back Bay Bistro is offering Thanksgiving To-Go. Call ahead by November 21 to reserve your professionally prepared whole turkey and a selection of favorite holiday sides. The Thanksgiving buffet is $52 for adults, add $5 for endless champagne or mimosas, and $25 for children under 10. Thanksgiving To-Go orders are $155 for complete holiday dinner, serves 4-6. For reservations, call (949) 729-1144 or visit NewportDunes.com/BackBayBistro.
Balboa Bay Resort – Waterline
Join Waterline for a waterfront Thanksgiving dinner. Enjoy a three-course menu carefully crafted by Executive Chef Rachel Haggstrom, choice of indoor or outdoor seating, and beautiful views of Balboa Bay available from 1:30 to 5:30 p.m. Reservations are required. $90 per person, $45 per child. Visit BalboaBayResort.com or call (949) 630-4145.
Bayside Restaurant
Bayside Restaurant gives thanks for its Newport Beach customers with a special Thanksgiving dinner, served 1 to 8:30 p.m., with live entertainment from 4:30 p.m. to 8:30 p.m. The three-course menu is $55 per person and $26 per kid (12 and under). Leave the prep, cooking and cleaning to the expert Bayside team so you can simply enjoy your loved ones. A la carte menu also available. Call (949) 721-1222 or visit BaysideRestaurant.com.
Bistango
Join Bistango, the sister restaurant to Bayside, for an artfully creative dinner during its special holiday service hours. Enjoy the holiday with a traditional three-course Thanksgiving dinner for $47. Children's menu is $22. The regular dinner menu is also available. Reservations available from 1 to 8 p.m. Live music from 5 to 9 p.m. Call (949) 753-5222 or visit Bistango.com.
Bungalow
The Bungalow in Corona del Mar is serving a three course thanksgiving feast from 1 to 9 p.m. The dinner is available in three price points depending on entrée: $49, $59 and $69. All three options include a choice of starters and dessert. Visit TheBungalowRestaurant.com.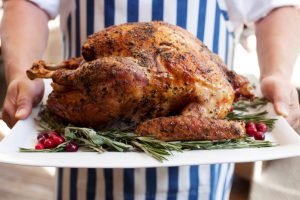 Fashion Island Hotel – Bountiful Brunch
Thanksgiving Brunch served in the beautiful Fashion Island Hotel Ballroom from 10:30 a.m. to 3:30 p.m. offers an irresistible cornucopia of traditional holiday dishes prepared and served in elegant style. Live music and children's craft activities are featured for a day that's made for the whole family. $80 per adult, $20 per child ages five to 12. Free for children four and under. Reservations available by calling (949) 760-4913.
 Fashion Island Hotel – Oak Grill
New Executive Chef Brittany Valles will be celebrating her first Thanksgiving repast at Oak Grill this year. She and her team will be preparing a four-course dinner from 4 to 9 p.m. $90 per adult, $35 per child ages five to 12. Free for children four and under. Reserve a spot online OakGrillNB.com or call (949) 760-4920.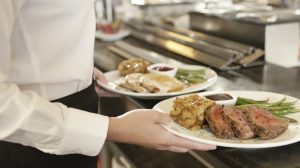 Fleming's
Fleming's knows Thanksgiving is the turkey's big moment, but they also know their guests are steak-obsessed too. So even on Turkey Day you can enjoy their Sliced Beef Tenderloin or another selection from the menu of prime steak. Reservations begin at 11 a.m. for a three-course Thanksgiving feast. There is also a children's menu. Adult menu is $49 and children's menu is $19. For reservations call (949) 720-9633 or visit FlemingSteakHouse.com.
Five Crowns
Celebrate Thanksgiving like royalty with warm hospitality and an unforgettable atmosphere. Reservations are available with seatings from 11 a.m. until close. The festive menu boasts the classic Oven Roasted Free Range Turkey with stuffing, mashed potatoes, gravy, buttered Blue Lake green beans and housemade cranberry compote. For those spending the holiday at home, Five Crowns offers the traditional prime rib dinner to-go. Orders must be placed 48 hrs. in advance. To place a Thanksgiving To-Go order or to make a reservation for parties of five or more guests, please call (949) 760-0331. reservations for parties of fewer than five guests can be made by visiting TheFiveCrowns.com.
 Pelican Hill Resort
Spend the holidays enjoying the very best that Pelican Hill can deliver. For Pelican Hill dining reservations, email reservations@pelicanhill.com, visit pelicanhill.com, or call (877) 576-1345.
Thanksgiving Ballroom Brunch – Executive Chef Jean-Pierre Dubray creates an exquisite Thanksgiving brunch buffet with classic dishes, accompanied by live entertainment and children's activities from 10:30 a.m. to 4 p.m. Reservations recommended. $128 per adult; $65 per child under ages 5- 12.
Andrea Ristorante – Enjoy a rustic Tuscan holiday menu in the dining room or on the ocean-view terrace from 4 to 10 p.m. for $145 per adult, $205 per adult with wine pairing.
Pelican Grill – Chef Marc presents a delectable four-course California grill menu from 11 a.m. to 10 p.m. plus live entertainment. $120 per adult; $180 per adult with wine pairing; $60 per child.
Coliseum Pool & Grill – A classic California breakfast buffet is available from 7 a.m. to noon. From noon to 10 p.m., a Thanksgiving à la carte dinner menu features turkey specials. Breakfast buffet for $60 per adult and $30 per child.
Provenance
Provenance features a seasonal menu presenting Napa Valley-inspired meals made with pure ingredients mostly grown from the restaurant-owned garden. Their three-course Thanksgiving prix fixe menu is available from 12:30 to 7 p.m. Thanksgiving menu is $51.50 per person. Provenance is also offering a to-go menu featuring classic Thanksgiving dishes. Items are priced a la carte. All to-go orders must be placed by 5 p.m. on Friday, November 16 and picked up on Wednesday, November 21. Visit ProvenanceOC.com for full menu options. Limited seating, reservations are mandatory (949) 718-0477.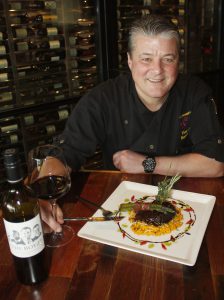 The Winery
Enjoy traditional turkey or one of Chef Yvon's creations on Thanksgiving Day. A special three course pre-fixe menu is available from 12:30 to 8 p.m. for $64.95. Enjoy one of five starters such as Roasted Butternut Squash Bisque, Scottish Smoked Salmon or Pumpkin & Ricotta Ravioli, the select one of five main courses including Traditional Maple Glazed Free Range Turkey, King Salmon, or Grilled Beef Flatiron Steak with black truffle mashed potatoes. For reservations call (949) 999-6622 or visit TheWineryNewport.com.