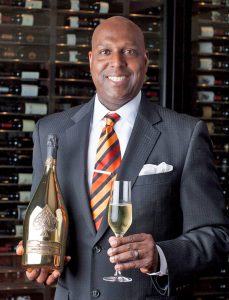 Whether you're enjoying a traditional Thanksgiving feast with friends or a special holiday dinner at a fancy restaurant, you can make your meal even better by pairing food with the perfect wine. Wine is also a wonderful gift to give your host, your boss, or your spouse.
But what is the perfect wine? It depends on the occasion, and the cuisine. There are a lot of options when it comes to wine, and selecting the proper varietal can enhance any culinary experience—and make you an amateur sommelier when you give wine as a gift. 
For holiday wine advice, I consulted several of my favorite wine experts, including William Lewis, a partner in The Winery Newport and a sommelier par excellence.  
"For a traditional Thanksgiving dinner with savory stuffing and a lot of flavors on the table, a medium dry Riesling or Pinot Noir is perfect, but before we even get to dinner, start with champagne," says Lewis. "Champagne bubbles get the palate ready. Prosecco has lighter bubbles and is on the sweet side. A cuvee is more complex, more rich, yeasty. It goes with richer foods."
If you're dining at The Winery, Lewis says that the Babcock Santa Rita Hills 2015 for only $55 is a good value for a central coast pinot and goes well with turkey.
Holiday culinary traditions in Newport Beach would not be complete without a visit to Five Crowns. The restaurant's famous Prime Rib dinner has been on the menu since the English-themed restaurant opened in 1965, and is served with au jus, Yorkshire pudding, whipped cream organic horseradish, and your choice of creamed corn, creamed spinach, or mashed potatoes.
Five Crowns Sommelier Tracy Nelson has a couple of suggestions on the perfect wine to air with this dish.
"A Châteauneuf-du-Pape, our Chateau de Beaucastel ($175) would be a wonderful pick. The berry fruitiness of the wine would highlight the flavor of the meat while the acidity would complement the creamed horseradish sauce. This wonderful Rhone blend also has an undertone of thyme which just ties it all together. And, if our Prime Rib is so good you forgot to take a drink, this wine is so delicious you can savor it all on its own."
Nelson also likes the Grgich Merlot paired with the prime rib. It's $85 on the wine list. "The tannins are firm and present but not overwhelming, with a velvety texture that nicely parallels the texture of the meat. All the bursting ripe blackberry fruit with its hint of espresso just enhances the rich meat."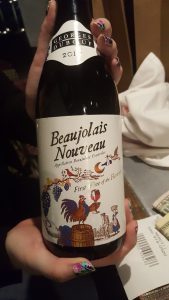 For the perfect value wine to bring to the dining room table at Thanksgiving, try the 2018 Beaujolais Nouveau, which was just released and is available at Moulin in Newport Beach for $12 per bottle.
"The wine is made entirely from Gamay grapes hand-picked in the Beaujolais province of France and is bottled just weeks after harvest. Its simultaneous release on the third Thursday in November is cause for a nation-wide celebration," says Laurent Vrignaud, owner of Moulin. "Because this wine is best enjoyed young, it's the perfect bottle to open with Thanksgiving Dinner. It's a bright and fruity-forward wine that pairs well with roasted turkey and tart cranberry sauce."
And finally, we come to Tobin James Zinfandel, my go-to wine for the holidays—or any occasion.
Tobin James makes several different zinfandels, but is renowned for the Fat Boy Zin—a big, jammy, over-the-top wine that has been rated as the number one zinfandel in the world by consumers on the Vivino website.  
According to Claire Silver, Tobin James co-owner, the Fat Boy is perfect for turkey, turducken and event ham (as long as the ham is not too salty).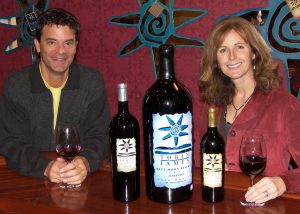 "Our petite sirah is also perfect with meat and heavier or rich stuffings," said Silver. It's very versatile."
The Pavilions on Bayside Drive carries a variety of Tobin James wines, including the Petite Sirah (around $20 per bottle) and Reserve Zinfandel (around $25), another excellent zinfandel that is half the price of the Fat Boy, which can be found at Hi-Time in Costa Mesa, a cork's throw from Newport Beach.
"Wine is meant to be shared," noted Silver. "It makes life more fun. There's nothing better than hanging out and enjoying a fine wine."