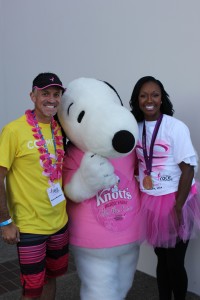 Last Sunday, nearly 20,000 supporters, breast cancer survivors and families from Orange County and beyond filled the streets in Fashion Island at the 23nd Annual Susan G. Komen Orange County Race for the Cure.
The largest race of its kind in California, and Komen's largest annual fundraiser, Race for the Cure raised funds for local breast health initiatives, education and research.
This year's theme "Race for Impact, Race for Breakthroughs, and Race for Futures," inspired hope for a world without breast cancer.
This year's fundraising goal of more than $2 million is expected to be reached when everything is totaled at the end of October, which is Breast Cancer Awareness month.
"We are so proud of all of our committed supporters who tirelessly work to help the fight against this devastating disease," said Lisa Wolter, executive director of Komen Orange County. "It's inspiring to see men, women and children from Orange County and beyond join together in Komen pink to help us raise the funds necessary to continue our work of providing life-changing breast cancer treatment, education, and groundbreaking research."
Carmelita Jeter, the fastest woman alive, attended this year's Race for the Cure to support the cause. She sounded the
horn for the last race of the day and signed autographs for race participants at the Komen breast health booth.
Another official Race starter was Snoopy, who kicked off the Kids One-Mile Fun Run and Family Walk, presented by Knott's Berry Farm.
"I speak on behalf of the entire Race committee when I say that this year's race was a huge success," said Doug McKay, 2014 race chair and the first male chair in the history of this event. "Seeing all the participants come out with their friends and families to support the fight against breast cancer proves that we are all in this together."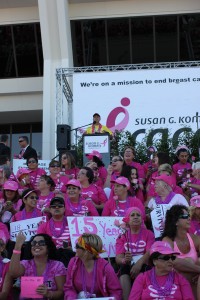 The 23nd Annual Susan G. Komen Race for the Cure by the numbers:
The Race featured more than 16,000 registered participants.
Of the registered participants, more than 1,200 were breast cancer survivors.
There were 637 teams, the largest being the Chase and JP Morgan team with nearly 600 team members.
More than 1,300 volunteers from Orange County and all over the world helped at booths, water stations and on the course.
Carla Cammack was the top individual fundraiser, having raised $15,298 to-date for this year's Race.
The top fundraising team was Bank of America/Merrill Lynch Team whose team fundraising total is currently at $22,874.
Jon Harding won the 7:15 runner's start 5K, with a time of 16 minutes; John Redmond won the 9:45 5K with a time of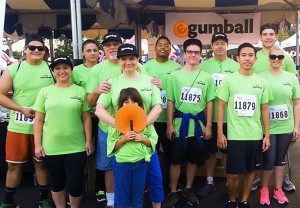 18 minutes. Top finishers of the breast cancer survivors were Judy Pickett for the 7:15 5K with a time of 21 minutes; and Michelle Lewis for the 9:45 5K with a time of 27 minutes.
For more information on Susan G. Komen Orange County, please visit komenoc.org or call 714-957-9157.