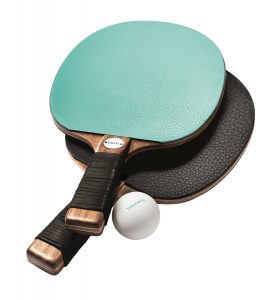 Tiffany just unveiled a new line of luxury items that are creative, witty and downright charming. Tiffany calls this Home & Accessories Collection its special take on modern life, with each piece in the collection "a unique, artisanal object that blends form, function and quality to create easy, effortless style."
These items include a paper cup in sterling silver ($575), a ruler in sterling silver and American walnut ($450), AM / PM pill box in sterling silver ($500), crazy straws in rose vermeil, sterling silver and vermeil ($350), a first aid box in sterling silver ($600), ttable tennis paddles in leather, American walnut and silver (set of two, price available upon request), and other unique items that make perfect and unusual gifts this holiday.
So why did Tiffany create this collection?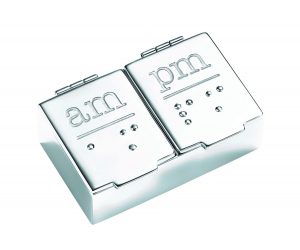 According to Reed Krakoff, Chef Artistic Officer for Tiffany & Co., "Tiffany has always been a place where people go to discover extraordinary, timeless gifts and accessories for themselves and loved ones. With these new designs, we are re-establishing our leadership in this area. I think what makes the Tiffany Home & Accessories Collection unique is that it incorporates the best quality, craftsmanship and design with a level of functionality and practicality that allows you to use these things every day. And that's a concept that I think is at the heart of American luxury – a sort of effortless, off-handed, understated luxury that is in your life every day as opposed to something precious that you put on a shelf and take out only for special occasions."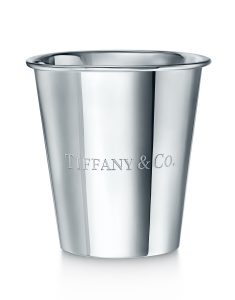 "I think what makes a life beautiful is when you live with things that are both functional and incredible to look at," added Krakoff. "The concept of American design is that form follows function. That's an idea that's essential to this collection. Our archives are full of objects that embody this spirit, such as a sterling silver pill box in the shape of a Chinese takeout food carton, a sterling silver gardening spade, a hip flask shaped like a fish, or, from back in the rotary phone days, a sterling silver telephone dialer that a lady could keep in her purse and pull out to make a call without endangering her manicure."
Bottom line, said Krakoff, is that "A home is beautiful when it incorporates someone's personal style in a comfortable, livable way, when you can really feel their essence in the space. That whole idea that luxury doesn't equal formality is so important."
For more information, visit Tiffany.com. You can also visit the Tiffany store in South Coast Plaza.