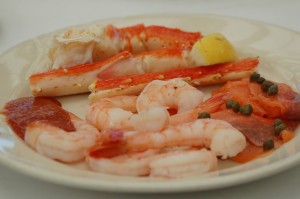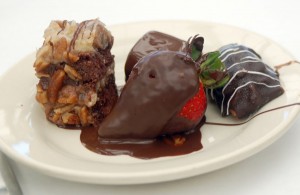 Back Bay Bistro at Newport Dunes is one of those restaurants where it's easy to linger longer than usual thanks to the relaxed atmosphere and the picturesque setting on Newport's Back Bay.
Add the element of Sunday brunch to the mix, and time nearly stands still, particularly when you're returning to the buffet line for yet another nibble of French toast.
It had been a while since I'd been to brunch at Back Bay Bistro, so when my assistant Catherine mentioned she wanted to sample a Sunday brunch in Newport, I knew just where to go.
We arrived at Back Bay Bistro without a reservation—not exactly the smartest thing to do considering the popularity of the brunch. However, our hour wait turned into 10 minutes when a reservation cancelled and we were ushered to a table.
"This is not what I expected," said Catherine as she surveyed the restaurant. "I like the floor-to-ceiling windows—they create an open and relaxing atmosphere, and we have a great view of the bay while dining indoors."
"The patio is fun too, but sometimes the boats are a bit noisy, so this is perfect," I agreed as our server brought us our first mimosa—a simple concoction of sparkling wine and orange juice.
Catherine and I hit the buffet, where we discovered a generous amount of basic breakfast dishes along with mini Belgium waffles, an omelette station, and much more.
"This is great," smiled Catherine as we went down the line, loading out plates with French toast, sausage, bacon, breakfast potatoes, shrimp, crab legs, salmon, and other goodies.
Catherine and I made a trip to the omelette station, where she ordered what she dubbed a "meatza" version cheese, ham and bacon bits. I went the healthy route and had a veggie version with spinach.
"This is delicious!" declared Catherine as our server topped off our mimosas.
"I see you already made a trip to the dessert station," I noted.
"I had to sample some of the pastries, including this cannoli filled with strawberry cream and chocolate chips."
We returned to the dessert station to check out the chocolate fountain.
"I like this—the chocolate hardens after you dip the strawberries, so it's not as messy as other chocolate fountains I've encountered," said Catherine.
We dipped an assortment of fruit, marshmallows, and Oreos in the fountain, then lingered at our table to leisurely finish our desserts while sipping our mimosas.
"I can see why Open Table diners voted Back Bay Bistro one of the top 50 brunches in the U.S.," I said as we left the restaurant. "It's a great value and a great location."
Brunch is served Saturday and Sunday from 9 am to 2 pm.  Saturday is $26 for adults and $13 for kids 10 and under, while Sunday brunch is $37 with all-you-can-drink champagne or $32 without (kids are $16 on Sundays). Back Bay Bistro is also open for lunch Wednesday through Friday, and dinner Wednesday through Sunday. For reservations, call 949-729-1144, or visit BackBayBistroNewportBeach.com.
***
Tamarind – England's highly touted Indian restaurant (Michelin rated 10 years in a row) – opened its first U.S. location (dubbed Tamarind of London) nearly a year ago in Crystal Cove Promenade on Coast Highway. I attended one of the opening events and sampled a few dishes, then returned a month later to try more menu items. I found the cuisine good but inconsistent, and had not been back this year.
That changed earlier this month when I learned that Tamarind's Executive Chef, Alfred Prasad, was in town to tweak the menu and would be splitting his time between the two locations.
I went back to Tamarind to sample some of Chef Alfred's new menu items, and was reminded of the stylish décor and exhibition kitchen, which had not changed since the restaurant opened.
The dishes I sampled changed my opinion of the restaurant. The dishes were still exotic and authentic, but more approachable for American taste buds not used to the spices and styles of Indian cuisine.
"Our philosophy is to make innovative Indian cuisine accessible to the mainstream U.S. diner, as it is one of the most culturally diverse food types available," noted Chef Alfred.
Accessible is a perfect word to describe the cuisine. From the canapés of cheddar and cilantro naan or the cottage cheese fritters with ginger and paprika to the soft shell crab and butter chicken, everything I tried was bursting with flavor without overpowering my palate.
Small plates are $7 to $12. Entrees range from $14 to $29. For reservations, call 949-715-8338, or visit TamarindofLondon.com.