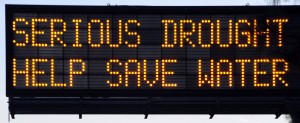 Mayor Pro Tem Diane Dixon invited residents of her Council District 1, which includes West Newport, the Peninsula, Lido Isle, Bay Island and Newport Island, to a town hall last Monday evening.
Attendees got an update from utilities general manager George Murdoch on the city's water conservation efforts, were introduced to new police officers patrolling the peninsula on bicycle, and got an update on the July Fourth weekend in Newport Beach.
In April, Governor Brown gave a statewide mandate to cut back on water usage on all residential outdoor irrigation due to drought situations.
The city of Newport Beach was apportioned a reduction of 28 percent in water use compared to 2013.
"We had a 22 percent reduction in May when measurements began, yet sadly it stayed at 22 percent again in June," said Murdoch, "It's a good start, a pretty good reduction, but nothing to shake a stick at."
Murdoch told residents they should receive a postcard in the mail detailing their property's specific landscape watering days.
The postcard states that city water customers must follow a set, outdoor water use schedule. Lawns and landscapes can only be irrigated a maximum of two days per week from April through October and one day per week from November through March.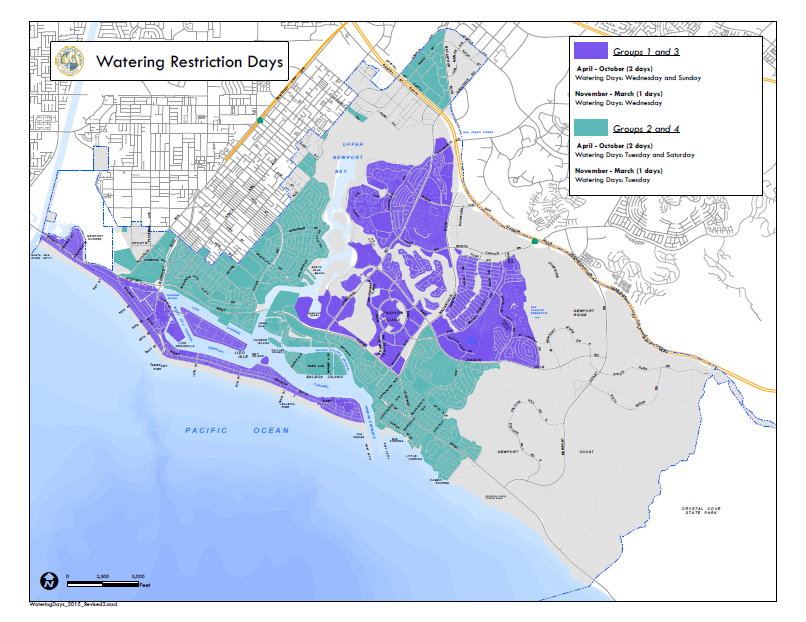 Other water restrictions include no landscape watering between 9 a.m. to 5 p.m. to keep water evaporation at a minimum. Washing down driveways and sidewalks is prohibited. And using a hose to wash a vehicle is prohibited, unless the hose is fitted with an automatic shut-off nozzle.
To help residents monitor their water usage, the city will send out meter readings every month starting in August, but billing will continue to be on a bi-monthly basis.
The meter readings will also be available online, as well as on an app for smartphones at the end of August.
Residents that qualify as low water users with water usage below 20 HCF (hundred cubic feet), can file online for a relief from compliance.
To learn more about the 2015 drought emergency water restrictions visit newportbeachca.gov/trending/projects-issues/conserving-water.
***
Four NBPD bicycle officers joined the Peninsula Community Police Unit earlier this month. Two of them, Sergeant Brandon Rodriguez and Officer Monica Aguilar, attended the Town Hall meeting and brought their two-wheeled vehicles with them.
Sergeant Rodriguez has been with the department for 14 years. Officer Aguilar began as a cadet in September 2004 and was then hired as an officer in August 2006, giving her 11 years on the force.
"It's important to have fixed faces on the job, so the officers can get to know the community – the business owners and residents." said Chief of Police Jay Johnson during the meeting. "
"Sergeant Rodriguez is one of the nicest and friendliest sergeants you'll ever meet in law enforcement," added Johnson. "And you'll be seeing more and more of the officers patrolling the peninsula as they introduce themselves to the businesses."
Though the officers don't have to be on bikes the entire time, according to Rodriguez he has already clocked around 100 miles in six days while on duty.
The bicycles the officers ride are standard all terrain with multiple speeds. But once purchased by the department, they are specially outfitted with police equipment such as lights and sirens. They also have saddlebags with additional equipment and storage space.
All officers on a bicycle are fully-uniformed and fully-equipped to perform regular police duties, stated Crime Prevention Specialist Jennifer Manzella in a follow-up email.
"We have some electric bicycles as well as the more traditional versions in our fleet," continued Manzella, "Both types are available to the Peninsula Unit. The electric bicycles tend to be used when officers want to cover a larger area, or an area where they need to share space with motorized vehicles and the extra speed is an asset. Most of the time, they use the regular (manual) bicycles to cover smaller areas."
Due to crime and quality of life issues voiced by the local community, Dixon was successful in adding the extra police force to the budget for her district that went into effect on July 1.
The two other veteran officers transferred to the peninsula unit are Officer Mike Striek and Officer David Sagera.
Chief Johnson explained that instead of waiting to fill the peninsula positions through the long process of hiring, the department decided to select four senior police officers already on the force and use the money from the budget to back-fill the positions left open from the process.
Chief Johnson stated it normally takes 18 months to hire a new officer. Six months is spent on recruitment that includes a background process and testing. Another 6 months at the academy and then 6 more months in training before they can actually come out into the field.