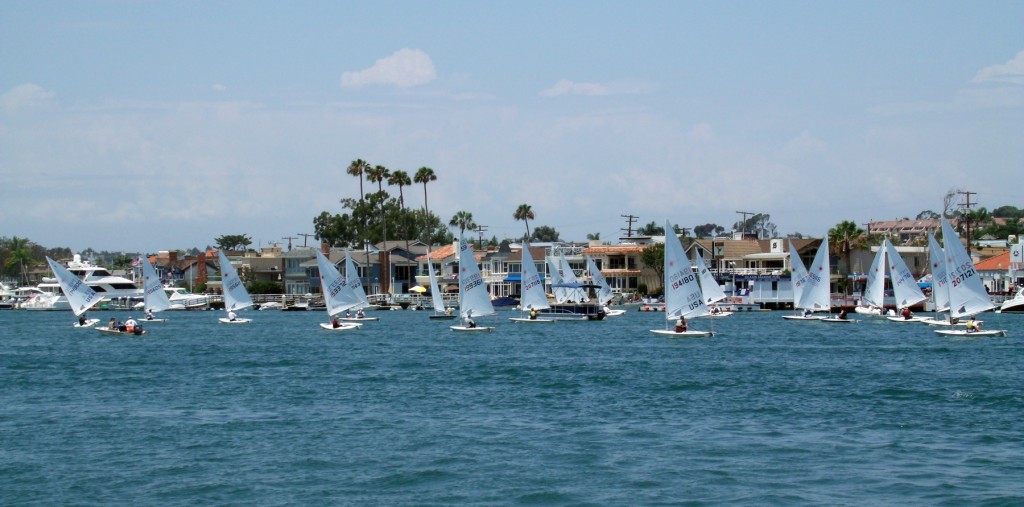 The summer sailing season shifted into high gear last week when laser sailors from all over Southern California raced in the Flight of the Lasers on Sunday. This annual regatta is always fun for the small light weight and fast dinghies.
The day before the race, we had a steady afternoon of rain, thunder and lightning. The weather forecast for Sunday was similar, except the foul weather started after the race—although that may have, kept some sailors landlocked.
There are numerous trophies awarded in the race. First across the finish line was Christian Rosene out of Balboa Yacht Club. First Parent/Child was Jason and Jacob Artof from Del Rey Yacht Club. First married couple was Steve and Anne Schupak out of Newport Harbor Yacht Club,(which was also the host club). Dave Tingler was Oldest Skipper from Lido Isle Yacht Club and Kelsea Cook/Claire Rosene were Youngest Girl from BYC, along with Pierce Hemphill/Sebastian Nodland as Youngest Boy from the same club.
Speaking of Balboa Yacht Club, this week they are hosting the International Governor's Cup with local, national, European and Down Under teams in ocean-going sloops especially designed by BYC member, designer and skipper Alan Andrews.
Balboa and Newport Harbor Yacht Club Teams will have Newport Harbor and Corona del Mar High School students competing. If you have the time, heading outside the harbor as part of the spectator fleet is time well spent.
The finals are tomorrow and our local sailors could use your support. I would venture to say that many of these young and seasoned crews will be representing their home countries in the next Olympics.
This is one more of many examples of the international fame of Newport Harbor and our local sailors.
Some of the coming regattas will be used to see who qualifies for our Olympic Sailing Team.
Sea Ya,
Skipper Steve