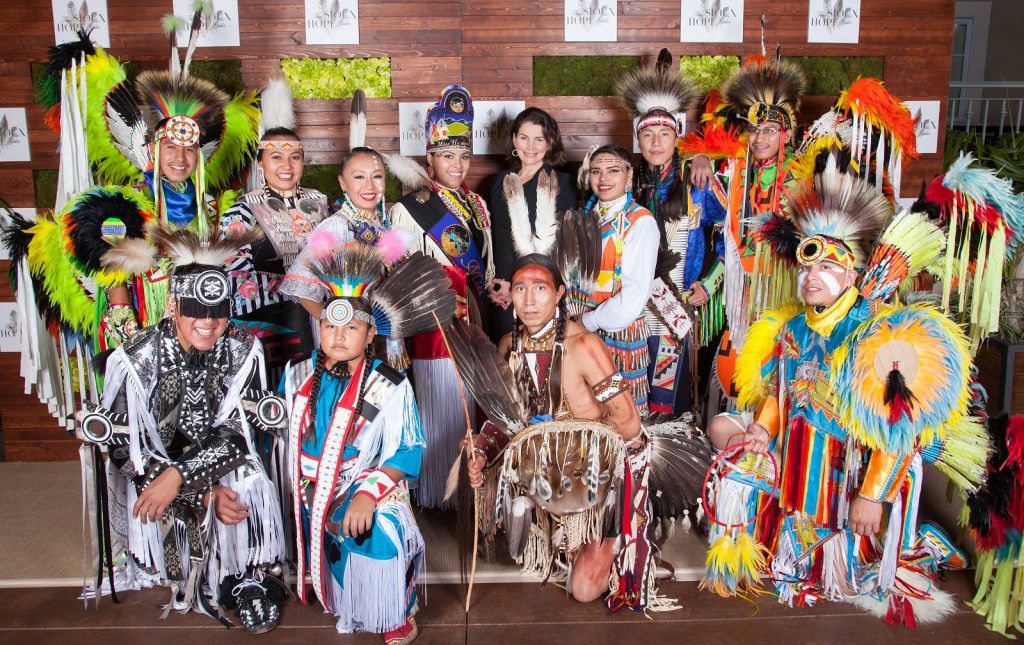 Charity events come in all shapes and sizes, but you may not find one more sincere, more interactive, more heartfelt, and more colorful than the True Sioux Hope Gala held Nov. 12 at the Balboa Bay Resort.
As the inaugural gala to support the True Sioux Hope Foundation, the True Sioux Hope Gala's goal was to raise awareness and money for the Oglala Lakota Sioux Tribe of Pine Ridge, South Dakota, the second largest Native American reservation in the United States and the poorest place in the country.  
Why hold a gala for a community more than 1,000 miles from Newport Beach?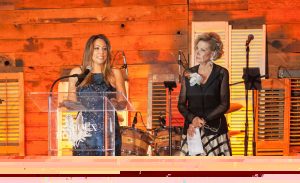 The answer is True.
Twila True, a Newport Beach entrepreneur and philanthropist, is a member of the Oglala Lakota Sioux Tribe and wanted to find a way to help her people, her home. She created a foundation, sought out fellow philanthropists, and spearheaded what she hopes will become an annual gala event.
Her instincts were correct: nearly 350 people attended the gala, which might more accurately be dubbed a culturally immersive experience.
Many members of the Oglala Lakota Sioux tribe made the journey from Pine Ridge to Newport Beach. Their role was to display and sell handmade items from jewelry to apparel, to dance in full regalia, and to be part of a drum circle. This helped to make the gala more personal, and reminded attendees of the cultural heritage of the Oglala Lakota Sioux tribe.
"I could not bring you all to Pine Ridge, so I brought Pine Ridge to you," True told the audience as they were seated for dinner.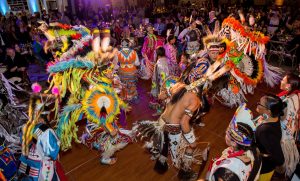 "What you see here tonight are not entertainers or performers, they are people I called and said there are people here that love your culture. For many of them, this was their first time in an airplane. For some, it is their first time off the reservation."
Assisting True was local philanthropist Donna Pickup, co-owner of the Balboa Bay Resort. Actress and human rights activist Julia Ormond, a United Nations Goodwill Ambassador, served as special guest host alongside True and Pickup.
"Pine ridge Indian Reservation is the poorest community in the United States," Ormond reminded the audience. "Unemployment is at 19 percent, the average household income is $3,500. Teenage suicide rate is 150 percent higher than the national average, infant mortality is 18 percent, average life expectancy for a man living on the reservation is 47, for a woman it is 52. How many of us today would be alive if we were born in Pine Ridge? True Sioux Hope provides critical aid and support needed to rebuild and empower tribal members to improve lives in this culturally rich community."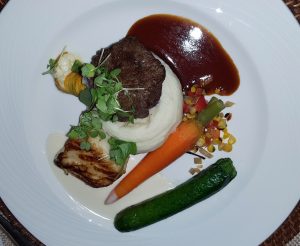 During the course of the evening, guests enjoyed a cocktail reception and a three course dinner featuring a duet of pan seared filet mignon and roasted Chilean sea bass, and a dessert of wojapi tart, a traditional Native American dish.
The gala featured live music, traditional Sioux dances, an artisan market, silent and live auctions, an opportunity drawing, and speeches by Twila True, Former Tribal President Bryan Brewer, ASU Special Advisor to the President, American Indian Initiative, Bryan Brayboy, Twila's own children, and Tribal guests.
Brewer, who was born and raised on the reservation, addressed the crowd and noted that after he graduated high school, he joined the military and served two tours of duty in Vietnam. "I am a combat veteran,' he said to a round of applause. "The Lakota people, we love our country. Yet the United States has violated every treaty, never honored them. We should be the richest people, but out of 526 tribes, we are the poorest. We cannot meet the needs of our people. With poverty comes issues."
Brewer cited poor housing, unemployment, drugs and alcohol, and other issues that are affecting his tribe.
"I wish I could tell you how great it is, how our children are thriving, but I can't, I have to be realistic," he said. "It's hard to talk about these things, we are rich in our culture but our community needs healing."
Brewer noted that he has two Indian names: Returns Victorious (which he got after serving in Vietnam), and Red Buffalo Boy. He called True to the stage and gave True her first Indian name: Future Helping Woman.  
True to her Indian name, Twila True and her Gala raised more than $450,000 in cash and sponsorships to help the Lakota Sioux Tribe improve their future.
 "From our committee members to our sponsors to our staff and all the guests who came to lend their support, I thank you all from the bottom of my heart," said True. "Your time, generous financial donations and, most importantly, your compassion and commitment to our mission have made such a huge difference in the lives of these people, my people, who often feel neglected and forgotten. I truly cannot thank you enough."
The True Sioux Hope Gala committee consisted of Dana Chou, Jessica Cline, Katie Collins, Alison Cottrell, Debra Gunn Downing, Massy Farzine, Susan Franklin, Summerly Horning, Susan Karas, Deborah Keillor, Irene Martino, Sheila Melillo, Lourdes Nark, Kay Patel, Urvashi Patel, Angie Ripullo, Crystal Strait, Wendy Tenebaum, Nancy Wong, and Linda Young.
Sponsorships for the Gala were provided by Alan and Twila True, Dick and Donna Pickup, Summerly Horning, South Coast Plaza, Linda and Burton Young, The Tenebaum Family, Tarsadia Foundation, Milan Panic, Laura & Jesse Turley and Jodie & Paul Pani, Pacific Hospitality Group, Rutan & Tucker, LLP, Silvergate Bank, Jerry and Yvonne Conrad, MonsterLoans, Nancy wong, Ted and Lourdes Nark, Friedmutter Group, FBR Capital Markets, Irene and Lucio Martino, Eduardo Byndura, Mr. and Mrs. Hal Cassriel, and Sally and Randy Crockett.
For more information, visit truesiouxhope.org.