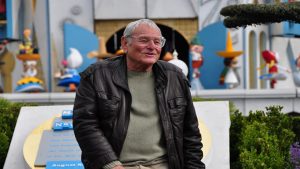 Growing up in Orange County means growing up with Disney. Over the years, I've made countless trips to Disneyland, watched "The Wonderful World of Disney" on TV, and viewed numerous Disney-produced animated and live films.
That's why I'm looking forward to Tuesday, April 26, when two Disney-related programs are featured.
First up at 4:45 p.m. is "The Whimsical Imagineer," a look at the career of Disney legend and imagineer Roland Fargo Crump and his work with Walt Disney.
According to the bio on his website, Crump was born in 1930 in Alhambra, and joined Walt Disney Studios in 1952 with little art instruction but lots of ambition. His job title was "In-Betweener" in Animation. Moving to assistant animator, he contributed to "Peter Pan," "Lady and the Tramp," "101 Dalmations," "Sleeping Beauty," and other Disney classics.
In 1959, he joined show design at Walt Disney Imagineering, and became one of Walt's key designers for some of Disneyland's groundbreaking new attractions and shops, including The Haunted Mansion, Enchanted Tike Room and Adventureland Bazaar. He also served as key designer on the Disney attractions featured at the 1964-65 New York World's Fair, including It's a Small World, for which he designed the Tower of the Four Winds marquee.
When the attraction moved to Disneyland in 1966, Crump designed the larger-than-life animated clock at the entrance.
Crump contributed to the initial design of the Magic Kingdom at Walt Disney World, developed story and set designs for NBC's "Disney on Parade" in 1970, contributed to EPCOT Center, and participated in master planning for an expansion of Disneyland. He officially retired from The Walt Disney Company in 1996.
In 2004, he was honored with the Walt Disney Legends Award, which acknowledges those outstanding individuals who helped create the magic of Disney.
Once the program at Edward's Big Newport with Crump's film ends, make your way to Regency South Coast Village for the 7:30 p.m. program of Disney Rarities.
This annual event (now in its 7th year) is hosted by Academy Award nominated producer Don Hahn and director/producer Dave Bossert, who promise to showcase a variety of rare clips from the Disney vault, and share stories and insights behind the clips.
For details and tickets, visit NewportBeachFilmFestival.com.