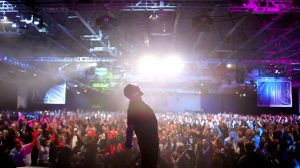 I love the Newport Beach Film Festival—such an amazing mix of movies, documentaries and short films.  We get to travel the world without leaving Newport Beach.
We also are exposed to interesting people through the many documentaries in the festival. One of those people is motivational speaker and author Tony Robbins, who is profiled in the film "Tony Robbins: I Am Not Your Guru."
I was conflicted when given the opportunity to review the movie, which walks through his six-day seminar called "A Date with Destiny," that screens April 22 and 28.
Tony does impact a lot of people, but I have sometimes struggled to understand some of his tactics. But then, who am I to judge? In the movie, you see people move through difficult situations and difficult lives, so even if his method is controversial, it seems to work and isn't that what matters?
Tony has been leading seminars as a motivational speaker for 30 years, moving people away from their limitations, their stories, their patterns.  Tony believes we get what we tolerate, not what we want.
Tony in this film shows an inside view of not only what his participants go through for six days, but also what Tony and his staff go through.
I found myself loving yet resisting him as Tony pushed people beyond their comfort level.  Tony also shares his own pain from growing up with an alcoholic and abusive mother and how this has impacted his own decisions, and how it shaped him to become one of the most popular motivational speakers of our time.
As much as there is controversy over his techniques, you can see through this film the impact he has on people's lives.  Tony is all about getting people to be real, to drop the rules and the roles they play, to make them uncomfortable so it gets to the core of who they are.  From there they get to reshape their lives, their values, their relationships and their life purpose.
With this film you will get to see all the sides of Tony and the people he impacts.  The tears flow, the stories unfold and the humanness he explores and encourages is on full display.
The impact Tony has on people is pretty remarkable.  I do not always agree with how he talks or how he treats people.  However, this is what people are wanting, and it works.  If you want to see Tony in all his glory, this film is for you.
Reach Dr. Shelly Zavala at DrZavala.com or [email protected].