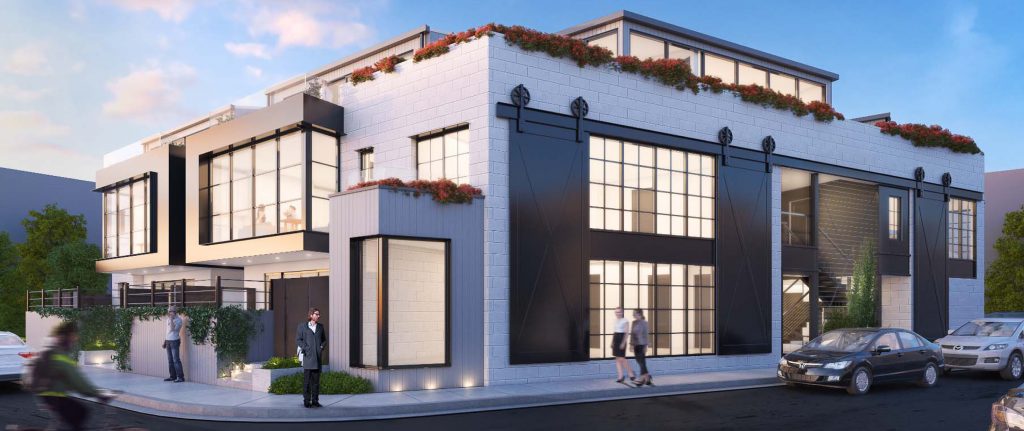 A property in Cannery Village on the Balboa Peninsula that has been home to sail makers since the 1960s is on its way to becoming something new, yet still historically familiar.
Newport Beach Planning Commission on July 20 unanimously approved Ullman Sails Lofts mixed-use and residential project located at 410 and 412 29th Street.
The applicant is a local developer, Berk Properties, and the property owner is Cannery Sail House, LP.
They voted 6-0 (Commissioner Lee Lowrey recused himself) in support of the project, which includes demolishing the existing vacant 9,600-square-foot commercial building. The new mixed-use structure would include 1,145 square feet of retail/office floor area, one 2,360 square foot dwelling unit and three residential dwelling units ranging from 2,485 square feet to 2,515 square feet.
Constructed in 1948, the building has been occupied by sail makers since 1960, most notably by Ullman Sails since 1972. It's been vacant 2012, explained city Associate Planner Makana Nova.
The design incorporates building materials that are consistent with the neighborhood and are "reminiscent of the historical nautical and marine uses of the area" and the Ullman building. It also incorporates large rolling "barn style" doors at the façade.
The project consists of the "redevelopment of an under-utilized and aging commercial lot" that is in line with the goals and policies for Cannery Village.
Commissioners were supportive of the project, with just a few concerns voiced, primarily about parking and landscaping.
Chair Peter Koetting raised some issues about parking for the retail and if it will exacerbate the current situation.
It's a small tenant space so staff feels that it's appropriate, Nova said.
This is a difficult area that is changing, Commissioner Bill Dunlap said. That area never had any parking to start with, so the Palling Commission will have to carefully consider future projects for the neighborhood.
"Are we cramming a lot in this zone?" Koetting asked. "And running out of parking? Even by permit and meter?"
There are a lot of uses in the area that demand parking, plus staff for the local businesses, he pointed out. Staff would need to park on the street or in nearby municipal lots, Nova replied. Koetting appeared doubtful of the answer.
The existing use generates a demand of 39 parking spaces, if fully occupied as it stands today, added Deputy Community Development Director Brenda Wisneski. This project has a demand of 15 parking spaces, so there is an overall reduction.
Commissioners approved a conditional use permit, which was necessary to reduce the required retail /office parking by four spaces (from the required five) as the applicant requested.
No parking is provided on site, so all the parking demand for the completed building when it's occupied will be on the street, Nova pointed out.
The existing unused driveway along Villa Way will be closed to create two additional on-street parking spaces
Street parking is generally available throughout the Cannery Village neighborhood and a city metered parking facility is available nearby, Nova noted. It's fully parked for the residents and their guests with on-site parking garages and carports.
The other main concern among commissioners was the lack of landscaping.
"I'm surprised we don't have additional landscaping, Koetting said. "When you go around the area, you do find some street trees… It's unfortunate that this area isn't going to get softening."
Along 29th Street the setback is zero feet, Nova pointed out, so the building does "hug" the property line closely, which is fairly common, she added. There are "small pockets" of landscaping, she noted.
Project architect, Chris Brandon of Costa Mesa-based Brandon Architects, Inc., said that the narrow sidewalks have public utility poles, making it difficult for landscaping and leaving no room for street trees.
"We're trying to accommodate, as best we can, on our property, some pockets," of landscaping, Brandon said.
Koetting also requested better quality renderings of what the building will look like.
"It's a very interesting design and a very well conceived idea," getting the units and elevators all in the property, Koetting commented.
He also suggested adding solar panels on the roof, which the architects agreed they are trying to incorporate as best they can into the project
"I think this is a great design," Commissioner Kory Kramer said. "This is one of the better ones I've seen. I think it fits perfectly within the Cannery Village and you've maximized the potential of that site, not an easy thing to do."