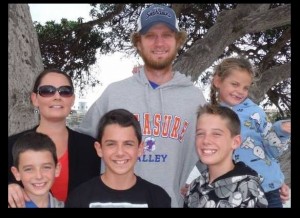 "Many universities have 5K races during homecoming to raise funds for the university, a crucial need, but we wanted to support an important alumni cause," explained Joel Gackle, director of Alumni and University Relations at Vanguard University. "One thing students and alumni most appreciate about their time at Vanguard is the community aspect where they really get to know each other by serving together and giving beyond themselves. We wanted to do the same by giving back with our 5K."
"Five years ago, a then five-year old healthy daughter of two of our married alumni got an infection that went to her brain, leading to dozens of seizures a day," Gackle continued. "It was incurable and irreversible, and we decided we could help by bringing the community together to support them and raise funds to help.  The little girl's name was Mercy, so we called the 5K The Annual Run for Mercy."
Gackle, who also oversees career services at Vanguard and is in charge of the 5K, said funds raised from the Second Annual 5K Run for Mercy were donated to an alumna who is a social worker in the Bay area. The alumna's son was born with a rare genetic brain disorder that will cause lifelong developmental challenges and many needs for the family.
"Last year there was couple who met at Vanguard, graduated, married and had two beautiful daughters under the age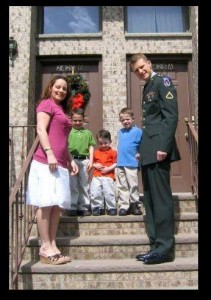 of five when the mother got sick with a lung infection," Gackle said. "Her condition worsened until she needed a double lung transplant and a heart transplant. When she finally received the transplants, her body simply couldn't handle any more. She passed away and the funds raised were dedicated to helping the father raise their daughters."
"Unfortunately, there is no lack of alumni who need support, whether it be a disaster, health concern, or other pressing matters," he added.
This year the 4th Annual 5K Run for Mercy, held Jan. 30, raised funds for Nathanael Harrington, an alumnus who attended Vanguard for two years, and after 9/11 happened he felt called to join the military.
He began serving as a Chaplain Assistant in the Army. After only two years of service, he was diagnosed with Huntington's Disease, an incurable, terminal disease that causes breakdown of nerve cells in the brain. Nathanael received an honorable discharge due to the diagnosis.
Nathanael, his wife and sons moved to the Pacific Northwest, where they then had a daughter.
In 2013 he felt God calling him back to Vanguard to finish his degree and he and the family moved back. He finished his Bachelor's degree in Religion, with emphasis in Pastoral Leadership, and returned to Washington, where he continues to serve.
"He knows he has limited time," Gackle said. "When we called and asked if he would be willing to be the recipient this year, he sobbed on the phone and said it's such an answer to their prayers and makes them feel so cared for. It's such a great cause; he's a father, husband, a veteran, and an alumnus."
For further information, visit vanguard.edu/5k.
Cindy can be reached at [email protected].