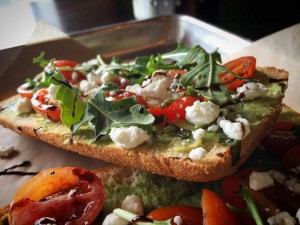 By Christopher Trela & Catherine Del Casale | NB Indy
Nearly two years ago, Sessions West Coast Deli opened its first location on the Balboa Peninsula with a menu of gourmet sandwiches and breakfast items.
We've been to Sessions several times and love their food, but wondered if they'd ever expand their breakfast offerings.
Guess what? They have, in a big way.
Last weekend Sessions rolled out a newly expanded breakfast menu that includes breakfast burritos, gourmet toasts, and a host of other morning treats.
For example, there's a Morning Zephyr, which adds eggs and bacon to the restaurant's signature Summer Zephyr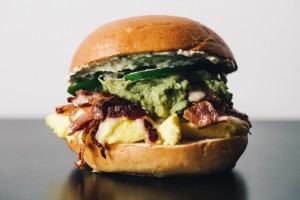 sandwich. There's a breakfast burrito stuffed with scrambled eggs, jalapeno jack cheese, carnitas style pork, potato mash, pickled onion, habanero puree, guacamole, and lime crema.
And for those who cannot go without their morning toast, how about Avocado Toast with avocado, marinated cherry tomatoes, goat cheese crumbles, arugula and balsamic reduction on toasted ciabatta?
Want coffee with your breakfast? Sessions serves coffee beverages using Newport's own Kean Coffee.
A few other items we like: Green Eggs and Ham with ham, Swiss cheese and scrambled eggs on toasted brioche, then finished with fresh arugula that has been tossed with housemade fresh basil pesto; Full Monty of ham, Swiss cheese and scrambled eggs on French toast with wild strawberry jam and sprinkled with powdered sugar; Nut and Honey toast with herbed ricotta, walnuts and rosemary sprigs, drizzled with honey, on toasted ciabatta; and the Gringo burrito with scrambled eggs, white cheddar cheese, avocado and roasted potatoes on a flour tortilla, served with homemade tomato salsa and roasted tomatillo salsa.
"As the first 'West Coast Deli' in the country, we have the flexibility and freedom to enhance our menu based on our guests' desires and needs. This gave way to the addition of breakfast burritos and gourmet toasts, both of which satisfy an important demographic we see early in the day," commented Matt Meddock, partner in Sessions West Coast Deli.
Translation: surfers, joggers, bikers and beachgoers flock to Sessions.
Sessions is at 2823 Newport Blvd. There's also one on Coast Highway in downtown Huntington Beach. Visit sessionssandwiches.com for details.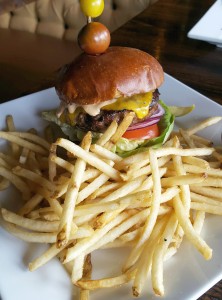 Restaurant Week Musings
We've been out trying various Restaurant Week menus, and have found new favorites while returning to familiar haunts.
We had lunch ($10) and dinner ($20) at Campus Jax, a redo of JackShrimp that closed last year. Located in the old Hogue Barmichael's space on Campus Drive near John Wayne Airport, Campus Jax has a simple menu that includes many of the signature JackShrimp dishes, including shrimp in Jack sauce with bread for dunking, jambalaya, gumbo, and other tasty New Orleans-style treats. We plan to return after Restaurant Week ends.
Christopher had the lunch menu ($15) at The Bungalow, and was impressed with his Bungalow burger and fries. Many people think of The Bungalow as a dinner destination, but their lunch menu offers myriad reasons to do some daytime dining.
Christopher also had the dinner menu ($40) at Sushi Roku, and was reminded how awesome the food is there. From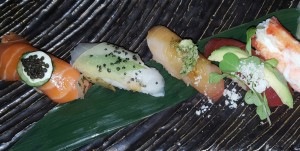 the beautiful and tasty sushi to the tempura to the price-but-worth-it crab tartare with caviar ($32), Sushi Roku rocks.
And finally, we dined at The Winery Restaurant, which has a $50 Restaurant Week menu that offers a good intro to the cuisine of Chef Yvon Goetz. The short rib dish has become a signature item, but Christopher is stuck on the bacon-wrapped venison, which last time came perfectly prepared (and went perfectly with the Tobin James Silver Reserve Syrah we brought).
Newport Beach Restaurant Week ends Sunday, Jan. 31. For details, visit DineNB.com.