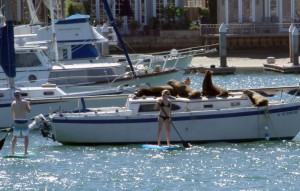 The day after we left the Potomac and Chesapeake Bay waterfront (where we were visiting relatives), it snowed. That's hard for us to believe with the heat wave we had last weekend. Newport Harbor had almost as many boats cruising as an August Sunday.
Speaking of Sunday, last Sunday so many inland trailer boaters escaped the heat that the Dunes closed their trailer boat launch ramp to arriving boaters before 1:00 p.m. So sorry!
The day before we flew to the East Coast, I skippered a Tiara sportfisher from Redondo Harbor to San Pedro to fill the bait tank with cured Sardines. I returned so the owner (later that evening) could motor out to the Cortez Bank and deck the Bluefin Tuna that hasn't left since arriving last July.
I was pleasantly surprised to pass several Gray Whales migrating south, with one a half mile outside the Redondo Harbor. Thousands of Porpoise cruised beside the yacht and surfed the wake as we cruised along at 20 knots.
Many times after surfing they would jump completely out of the water. As I was on auto pilot, I tried to snap a photo but my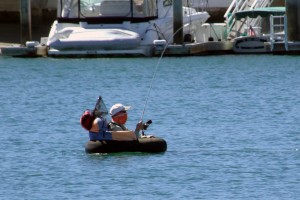 camera hesitates before snapping the shot which was very disappointing.
That day it was 80 degrees and I was shirtless working on my tan.
The next day we landed at Reagan Airport in Virginia and it was 0 degrees. That night it snowed almost a foot, which it did several times more in the next two weeks we were there.
Last Friday I was sea-trialing in 75 degree temps and even though it was a weekday, scores of locals were bay cruising. Last weekend's heat only increased the volume. After seeing hundreds of yachts surrounded by ice in their berths, I sure do appreciate the uniqueness of year-round boating in Newport Harbor.
The Harbor 20 fleet has been quite active with numerous weekend regattas and our local high school and colleges are practicing on weekdays every afternoon. It's no wonder that our sailing youth excel around the country, and our rowing and sculling teams are some of the best. Newport Harbor you're the greatest!
While the Cortez Bank continues producing Tuna, from Dana Point south, large numbers of Bass and Yellowtail are continuing to be landed. I haven't heard too much about the White Sea Bass but they should be active soon.
Remember, from North Laguna to just before Dana Point, there continues to be a moratorium on fishing. Lobster has ended but another good sign of a healthy population has been steady catches along the coast, Catalina and San Clemente Island.
 Sea Ya,
Skipper Steve