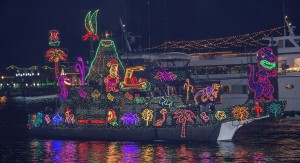 As you read this we are about to commence the third night of the Newport Harbor Christmas Boat Parade. The theme of "Seas the Holidays" couldn't be more appropriate. The organization and supervision of the Commodores of the Newport Chamber has been superior, as always. This event has been referred to as one of the 10 best holiday events throughout the United States. I encourage every family to witness and participate in this Christmas event.
For those in the parade the greeting and excitement of the children from the residential docks and public areas will melt the orneriest Grinch into a Santa supporter big time.
The tremendous hours of boat preparation and decorations are commendable, and the glee of the shore and boating spectators prove the effort is worthwhile. It doesn't take a yacht to participate judging by the dozens of smaller trailer boats and inflatables.
There are three nights left so load up friends and family and arrive early as parking spaces are at a premium.
Last week I was in Alabama checking out the boating scene along the Alabama River adjacent to Montgomery, different as night and day. I saw a replica Sternwheeler decorated for the holidays. The Sternwheeler was available on Saturday and Sunday evenings for dinner cruises.
Except for the landing for the Sternwheeler, there were no homes or businesses along the lazy river. It was a shock to our system to observe the locals following the slow moving river, walking and talking in the same manner.
While peaceful, upon contemplation, our community is filled with activity and resurrection. The four blocks of the peninsula from Marina Park to the new business-condominiums east of the Crab Cooker testify to that. This area and the Cannery area will be a public serving benefit to that area and Newport Harbor.
I suspect the next area to reinvent themselves will be part of the bayfront Mariners Mile area. There seems to be renewed attention in this area. Look for announcements soon to come.
Sea Ya,
Skipper Steve