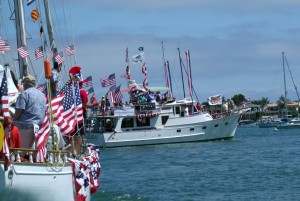 The Fourth of July had an abundance of yachts of all sizes enjoying and celebrating one of the busiest boating days of the year.
We entered the Old Glory Boat Parade put on by the American Legion Yacht Club. The crowds ashore and on their docks were quite appreciative and supportive as the parade cruised the perimeter of the harbor. The youngsters seemed to have the most spirit while the adults nodded approvingly.
During this time of year there are sailboat races almost every day. Balboa Yacht Club is a two-time winner of the Rose Cup, the U.S. Youth Match Racing Championship skippered by Newport Beach's Christophe Killian and crew.
B.Y.C. also hosted the Harbor 20 Mid-Summer Regatta last weekend. At the time of this writing the results had not been posted.
This Sunday, July 19, Newport Harbor Yacht Club will host the annual Flight of the Lasers, previously called the Flight of the Snowbirds, which were 12-foot Sloops very popular in Newport Harbor from the 1930s to the 1960s when the laser became the dinghy of choice.
The lasers are raced internationally and in the Olympics.
At the last Wooden Boat Festival at B.Y.C. the elderly owner of his restored Mahogany Snowbird showed me a newspaper clipping of Snowbirds being raced in the 1932 Los Angeles Olympics. The gentleman noted that for the Olympics an extended mast and larger sail were used for a speedier rig.
The Flight of the Lasers has numerous trophies including Youngest, Oldest, First Girl, and more. If you're cruising Sunday, please give the lasers wide leeway so their wind is steady in this very large and competitive regatta.
Sea Ya,
Skipper Steve