Whittier Trust Company hosted a private reception and tour for their clients and VIPs at the Hilbert Museum immediately following Chapman University's Economic Forecast Update on Thursday, June 21.
President Emeritus Jim Doti, Ph.D., has donated a collection of art to the Hilbert Museum, which include some of the top names in California art. Remarks were made by Dr. Doti, Mark Hilbert and Newport Beach resident David Dahl, CEO of Whittier Trust.
"Whittier Trust has long admired and respected the important work of Chapman University and the exceptional efforts of Dr. Doti. Dr. Doti and the University have enriched the lives of so many and the 40th anniversary of the Chapman University Economic Forecast is testament to their staying power," said Greg Custer, executive vice president in charge of Whittier's Orange County office. "Coupling this highly anticipated event with the new Hilbert Museum tour and reception showcases our shared value of developing young people. Hilbert Museum is an important addition to Orange County's cultural blooming."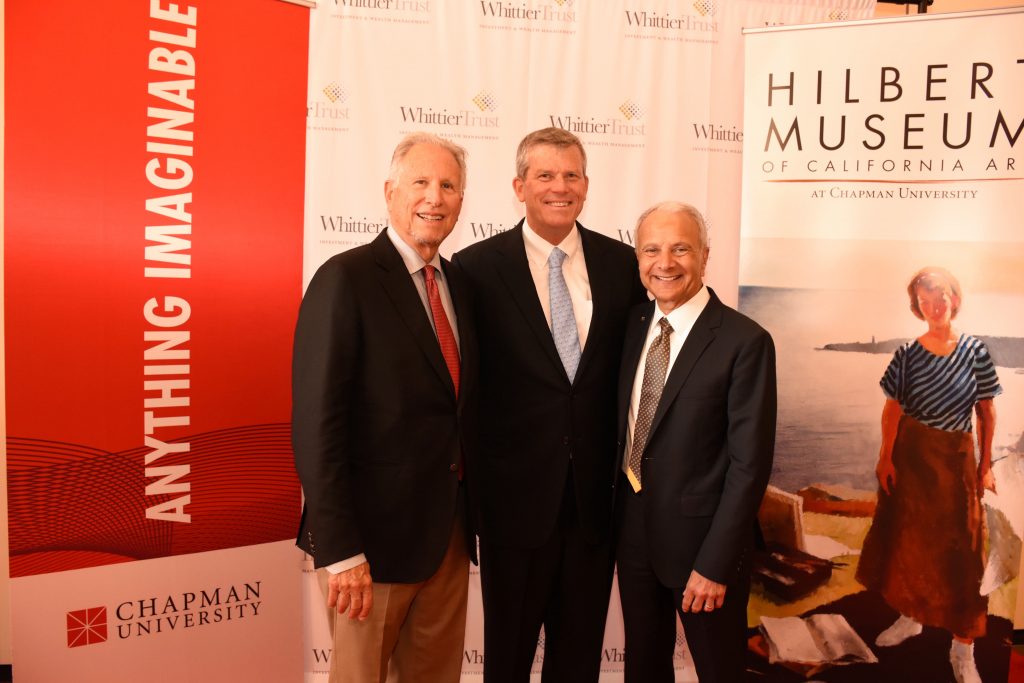 "We are delighted to welcome Whittier Trust to the Hilbert Museum and to host this wonderful reception following the Chapman University Economic Forecast Update. As a friend of Whittier, I'm so happy to be able to show off our beautiful museum here at Chapman, and to introduce our guests to the works of some of California's finest artists, "said Mark Hilbert, founder. "The museum focuses on the California Scene movement in art, from about 1930 to the present day, and our current exhibitions include Westways magazine cover art from the Automobile Club of Southern California and the unique and dazzling landscapes and movie concept art of Disney artist Eyvind Earle.  As a special treat, we also have on exhibit a dozen fine-art pieces gifted to the museum by Jim Doti, president emeritus of Chapman University and Forecast presenter, from his own collection of California art."
Whittier's interns from Chapman University and other students were in attendance at the event where harpist Liza Wallace, who has worked with Sir Elton John, performed. Tray passed appetizers of ginger shrimp, coconut chicken, mini egg rolls, sundried tomato and gorgonzola bruschetta were served with chocolate covered strawberries, mini éclairs and lemon bars, wine and craft beers.
Among the Newport Beach residents spotted at the event: Shirley Pepys, Donna Bianchi, and Renee Pepys Lowe.