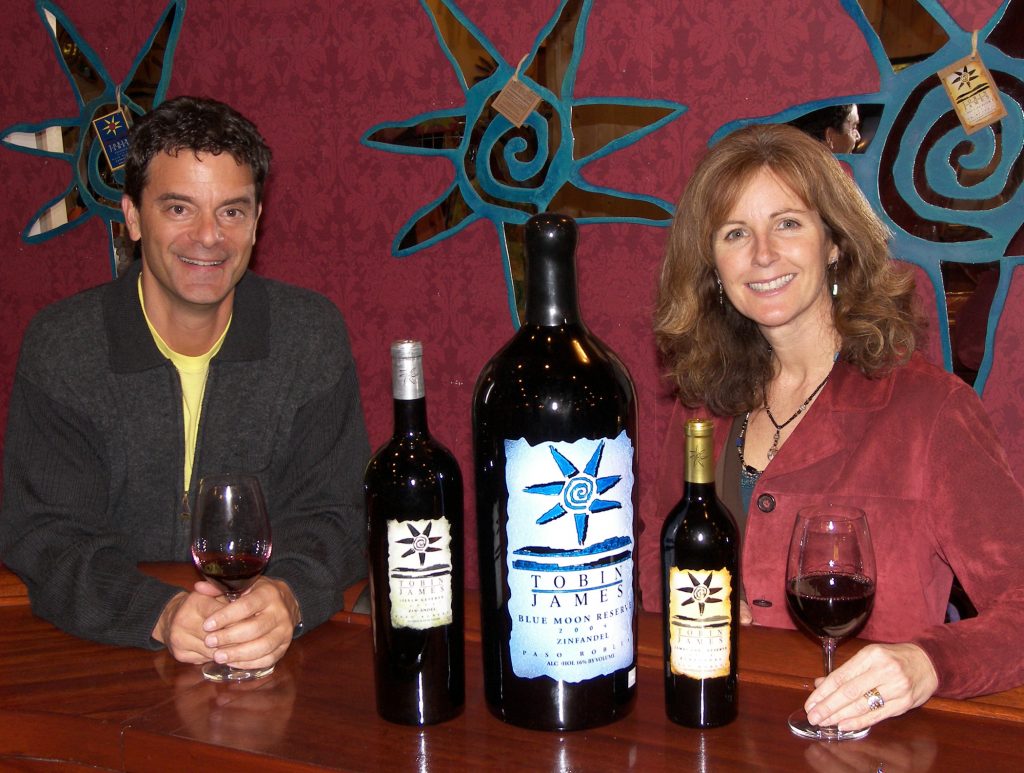 By Christopher Trela & Catherine Del Casale | NB Indy
Next weekend, we head north for our annual Paso Robles pilgrimage to sample some of what we consider the best zinfandel in California—and probably the world.
Vintage Paso: Zinfandel Weekend is March 17-19, a time when more than 100 wineries offer special zinfandel tastings and events that highlight the big, jammy wine that put Paso on the map.
No trip to Paso would be complete without a visit to Tobin James Cellars, which this year celebrates its 30th anniversary of making outstanding wine.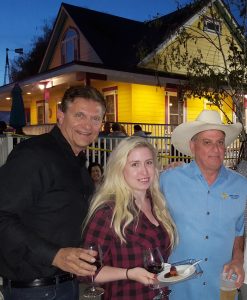 It's also the 20th anniversary of their Zinfandel party, held March 17 and 18 at the winery. More the two dozen restaurants offer generous samples of their signature dishes, four bands perform at various areas on the Tobin James grounds, and – best of all – every wine that Tobin James makes, from its Ballistic Zinfandel to the Fat Boy Zin (Christopher's favorite), will be open for unlimited tasting.
"Tobin James was the 15th winery in Paso Robles back in 1987," confirmed Lance Silver, co-owner of Tobin James Cellars along with his wife, Claire, and the winery's namesake, Tobin James. "We're still doing things the same way, we just have more vineyards. We're making the same amount of wine we did eight years ago, which is 50,000 to 70,000 cases. We reached the small winery ceiling."
When Lance and Claire moved to Paso Robles 20 years ago and became partners in the winery, Tobin James had five wines on its tasting menu. Now, they bottle 38 different wines.
Tobin James also has the largest wine club in the world. More than 25,000 wine enthusiasts have signed up to receive twice-yearly shipments of wine at greatly discounted prices. Not bad for a winery that does no advertising, marketing or PR.
"We don't submit wines for scores, you won't see us in the media," confirmed Lance.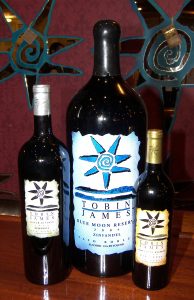 What you do see is happy people in the tasting room, which has a wild west theme and even features an authentic bar imported from the Midwest, reportedly one that Jesse James used to belly up to before he was shot. In fact, the winery's wine club is known as the James Gang.
"Our Zin party is our advertising," said Lance, who noted that they charge patrons $99 to attend, but it costs the winery $200 per person.
"We over-deliver on the party," admitted Lance."
Once again, Lance and Claire will do battle with Toby in the annual Chili Cook Off to see whose chili is the best—the Silvers' California style chili, or Toby's Cincinnati Chili.
One thing we were curious about was what effect, if any, the torrential rains will have on the vine crops this year.
"The last few years of the drought we had a lower yield, but now the ground is soaked, so if the rains are subsiding and we don't get late spring showers, it could be a perfect growing season," noted Lance.
Which for us means a perfect drinking season!
Tobin James wine is available at the Pavilions on Bayside, Hi Times Wine Cellars, and select local restaurants.
Visit TobinJames.com for more information.
History of Tobin James Cellars
Christopher once asked Toby what goes into making great wine, and he said it takes three things: "Pizza, cigars, and beer."
That comes from the early days when Toby and others would dine on pizza, drink beer and smoke cigars while tending the wine while it was fermenting.
So how did Tobin James Cellars start?
According to information from the winery, Tobin James Cellars was launched when a Paso winery had an extra six tons of grapes it could not use. Toby, at that time an assistant winemaker, asked if he could have the grapes and make wine for himself. The owner said yes, and a year and a half later, Toby began to win medals for his first zinfandel vintage, the 1985 "Blue Moon" Zin.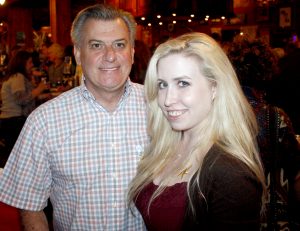 After making his wines at another local winery for several years, Toby built Tobin James Cellars in 1993 on the site of an old stagecoach stop, which explains the winery's wild west theme, complete with saloon décor and an antique 1860s Brunswick mahogany bar from Blue Eye, Missouri.
Tobin James Cellars sits among 71 acres of vineyards. In addition to the tasting room and winemaking facilities, there is a three-room guest house that can be rented by wine club members.
Lance and Claire Silver met while attending UNLV, married, and moved to Whittier after their twin daughters were born. They met Tobin James in 1996 on a quest to either buy an existing winery or start a new one. The trio clicked, and the Silvers soon moved to Paso to begin a new life in the wine business.
You can often find Toby, Lance and Claire in the tasting room, interacting with guests and making sure everyone has a good time—which at the Tobin James winery is pretty much a given, hence the size of their wine club.
The staff is friendly, the ambiance fun and upbeat, and – best of all – the wine tastings are complimentary, which is a rarity in the wine business.
But then, the Tobin James business model is a rarity. The owners' hands-on approach and their true dedication to making great wine shows in every sip.