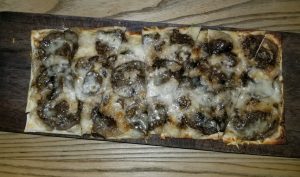 Zinque open a year ago in Lido Marina Village, and for a time was the only dining option available at the revamped and remodeled outdoor mall on the water in Lido Village.
Since then, several other restaurants have opened with more on the way, but that's a good thing, because they'll continue to make Lido Marina Village an attractive dining destination.
Zinque's menu is fun and interesting. It ranges from small bites such as Marcona almonds and deviled eggs to charcuterie and cheese plates to flatbreads to entrees such as steak frites, quiche and smoked salmon carpaccio.
We dined there this week and ordered the mushroom flatbread ($13), lasagna with tomato, basil, and three cheeses, the potato gratin ($9), and French fries ($5).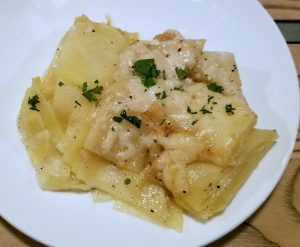 "I love the flatbreads to enjoy with a glass of wine and a dessert," said Catherine. "They are a light option on a cracker-like crust which allows the flavors of the toppings to really hit your palate. I've had all three flatbreads and you can't go wrong with any of them. They use gruyère cheese, which adds a little more flavor than the usual mozzarella. My top pick is still the mushroom flatbread with wild mushrooms, gruyère and herbs."
"The fries are also a great option," added Catherine. "You get a medium sized bowl of fresh crisp fries that aren't too thin that they don't still have that soft potato filling. They are served with ketchup and a tasty Sriracha mayo."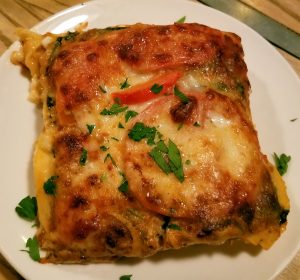 "The lasagna is nice, it has a slight basil-tomato crust and the portion is generous," said Christopher.
We were stuffed by the time we finished so we didn't have room for dessert this time, but based on other visits we can recommend the apple almond tart topped with a large scoop of Tahitian vanilla ice cream, and for chocolate lovers the warm brownie with ice cream.
For more information, visit lezinque.com.