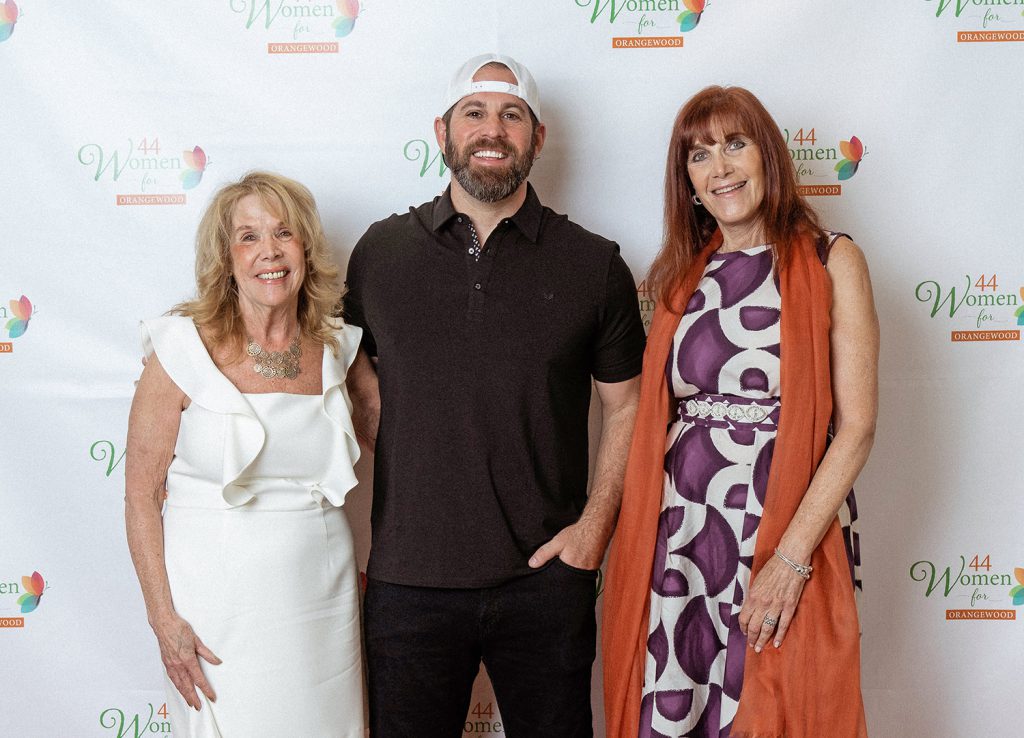 There was magic in the air at the Balboa Bay Resort on Wednesday, June 7 when 44 Women for Orangewood auxiliary hosted "The Magic of Giving" scholarship luncheon to benefit Orangewood Foundation.
Through ticket sales, sponsorships, an online auction and an exciting opportunity drawing, more than 280 attendees helped raise more than $400,000 to support Orangewood Foundation's programs and services for youth in foster care that focus on life skills and employment development, housing, education, and health and wellness.
A substantial portion of the proceeds were raised during the Scholarship Ask hosted by Mike Shummard. During the ask, local residents Shirley Pepys, Renee Pepys Lowe and Dan Houck matched donations up to $75,000.
After a video was shown featuring student success stories from Orangewood, Shummard noted that the Orangewood Foundation had been nominated for Best Nonprofit in California.
"Because of these stories, this is the pinnacle of what Orangewood is all about," said Shummard. "Most of us have no idea what these kids have gone through. Their mom and dad gone, they are placed in the system. Did you know that 56 percent of foster kids don't graduate high school. But when you look at the Samueli Academy, 100 percent of those kids graduate high school and go to college. So let's create magic and change lives."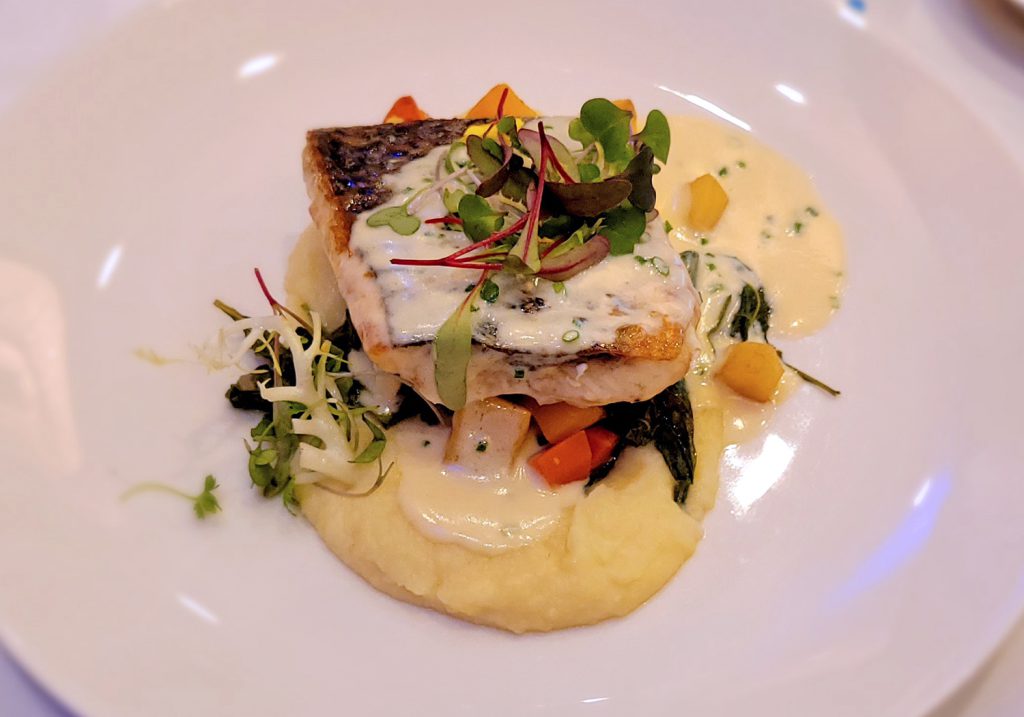 The luncheon itself began with a Farmer's Market salad, followed by a choice of oven roasted striped bass, glazed boneless short rib, or spiced tofu "scallop." Dessert was a decadent chocolate trilogy with flourless chocolate cake, milk chocolate mousse, and white chocolate mousse with berry coulis.
This year's scholarship luncheon was led by co-chairs Samueli and Judy Nicholls, and featured an impactful program that included a gourmet lunch and an opportunity drawing for a jewelry set donated by Twila True Fine Jewelry & Watches.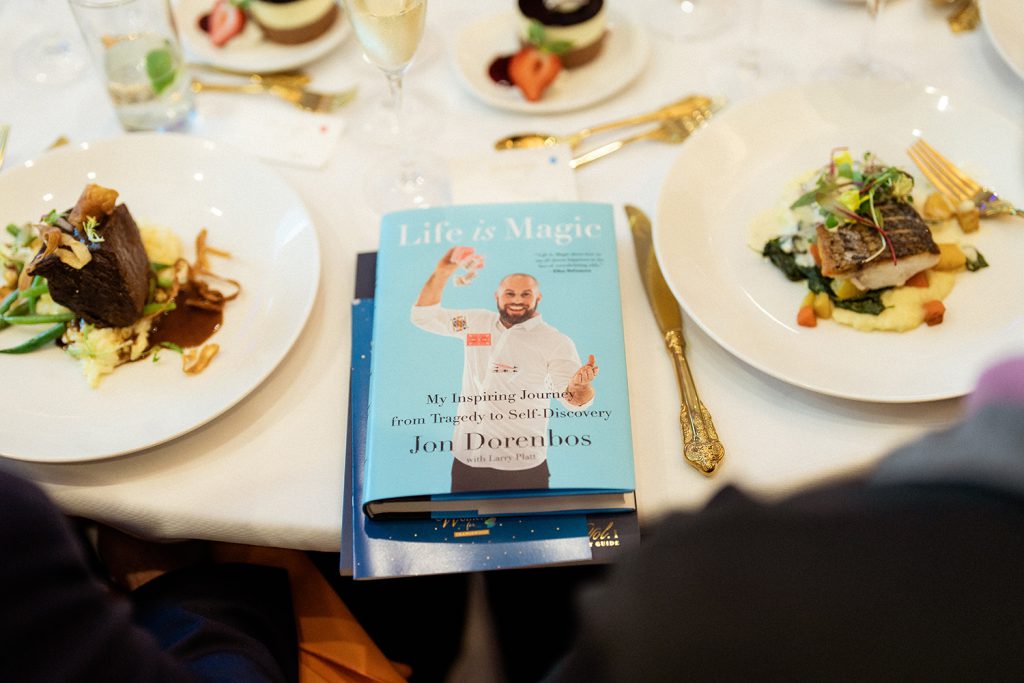 "We are grateful for the incredible support of donors and sponsors who made this year's Scholarship Luncheon both deeply impactful and memorable as we gathered to make a difference for Orange County's foster and community youth," says Susan Samueli, co-founder of 44WFO and a co-chair of the 2023 event. "It is our honor to host this luncheon each year and create more opportunities for Orangewood Foundation to make the greatest possible impact for young people striving to reach their full potential."
Founded in 1999, 44WFO focuses its efforts on providing mentoring and education, increasing community awareness about the youth Orangewood serves, and hosting annual fundraising events. Named for 44 of Samueli's closest friends, the auxiliary's membership has more than doubled in size since inception and includes some of Orange County's most philanthropically minded and dedicated women.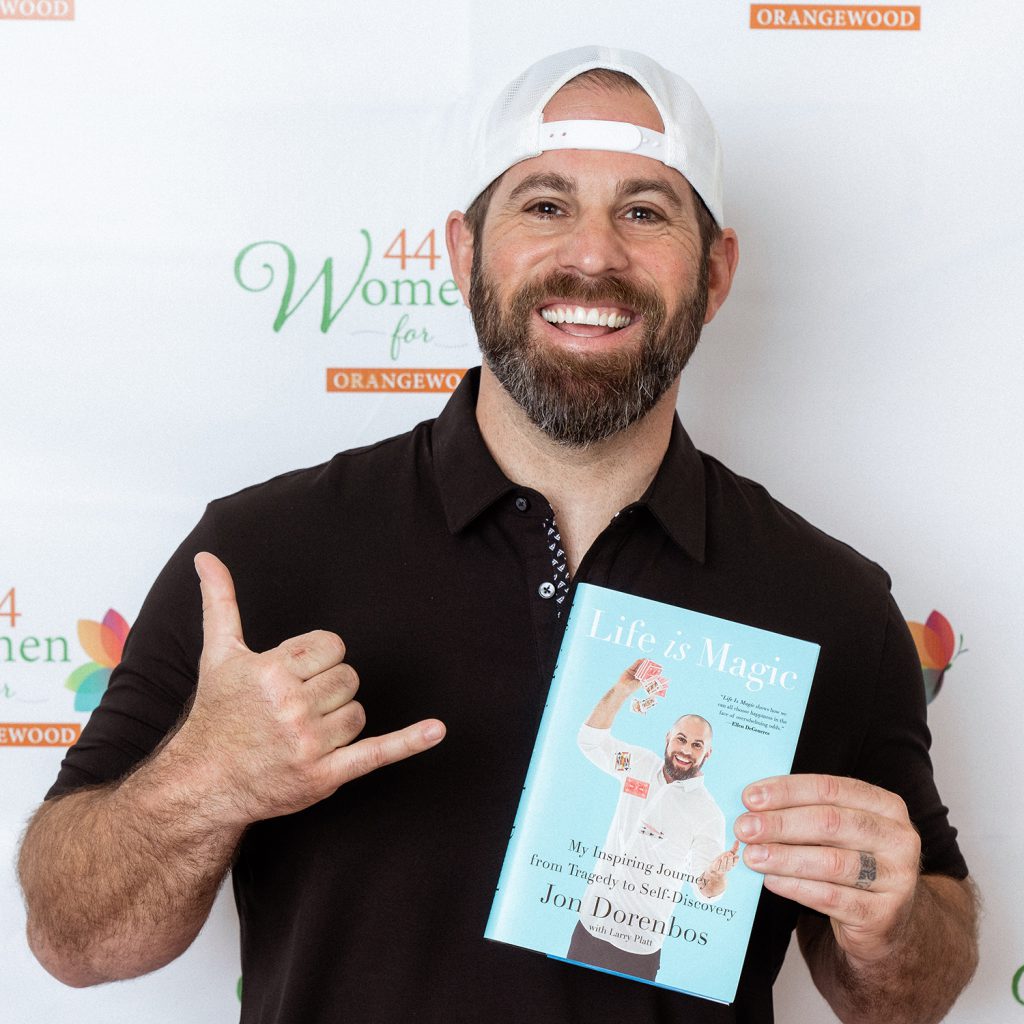 A highlight of the luncheon was special guest Jon Dorenbos, a two-time NFL Pro Bowl player and "America's Got Talent" finalist who served as the luncheon's keynote speaker and entertainment. The author of "Life is Magic," which chronicles his journey from tragedy to self-discovery, spent time in the foster system as a child and shared his powerful personal story at the event along with an engaging magic show.
After graduating from the University of Texas El Paso, Dorenbos was signed by the Buffalo Bills into the NFL as an undrafted free agent. He spent 11 years with the Philadelphia Eagles, and was twice recognized as a pro bowler. He retired in 2017 after 14 years in the NFL due to a life-threatening heart condition requiring open heart surgery.
Dorenbos turned to his first love, magic – or more specifically sleight-of-hand card rticks – which had fascinated him since he was a young boy. He got so good that he made it to the finals on season 11 of "America's Got Talent" and became a regular guest on "The Ellen Show."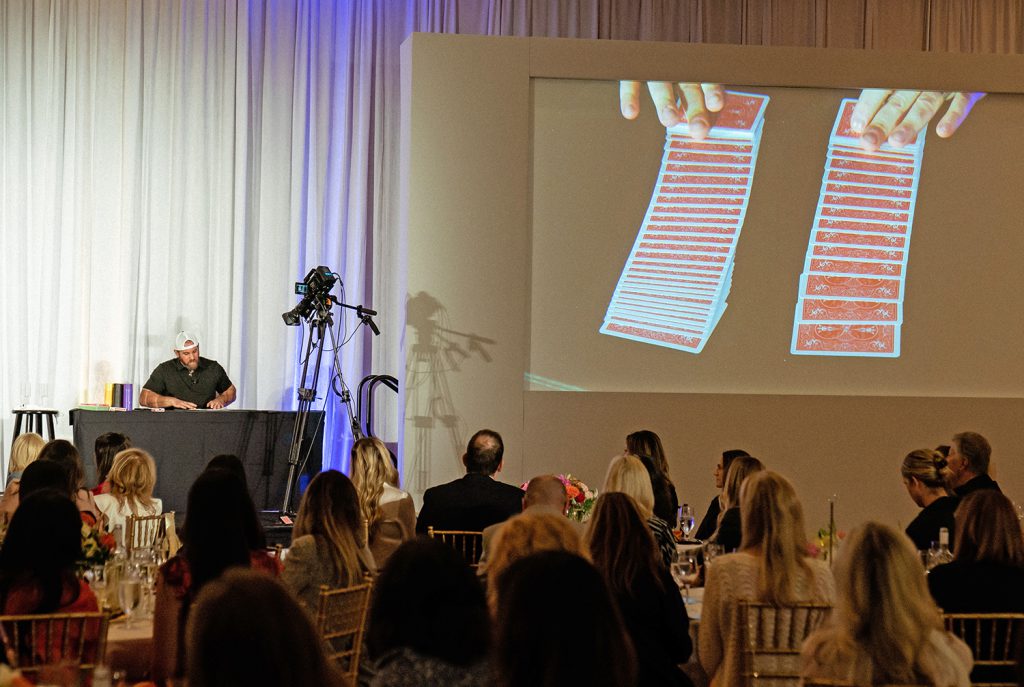 Dorenbos took the stage to the sounds of AC/DC, pumped with energy and enthusiasm. He told stories about growing up and playing in the NFL while dazzling the audience with his impressive card manipulation (as shown on a large video screen via a closed-circuit camera).
As Dorenbos noted in his book, "For me, performing magic has never been about the trick. It's been about the adrenaline rush of connecting with an audience and making their day better."
His dazzling and enjoyable 40 minute show did indeed make our day better.
"The overwhelming generosity and passion demonstrated at this event empowers us to find new and innovative ways to support teens and youth in need," says Chris Simonsen, CEO of Orangewood Foundation. "Thank you to the 44 Women of Orangewood for being incredible partners and organizing this wonderful event, and to all supporters who wholeheartedly share our belief that every young adult exiting the foster care system deserves to go as far as they can dream."
The 19th Annual Scholarship Luncheon was made possible with the support of numerous generous sponsors including the Samueli Foundation (Magna Cum Laude); IRA Capital, Donald and Constance Sperling, and Toshiba TABS (Valedictorian); Stumpf & Associates APC, The Yvette and Kevin McCarthy Family Trust, F&M Bank, Greg and Julie Dunlap, Friends of Orangewood, and the Anaheim Ducks and Honda Center (Salutatorian).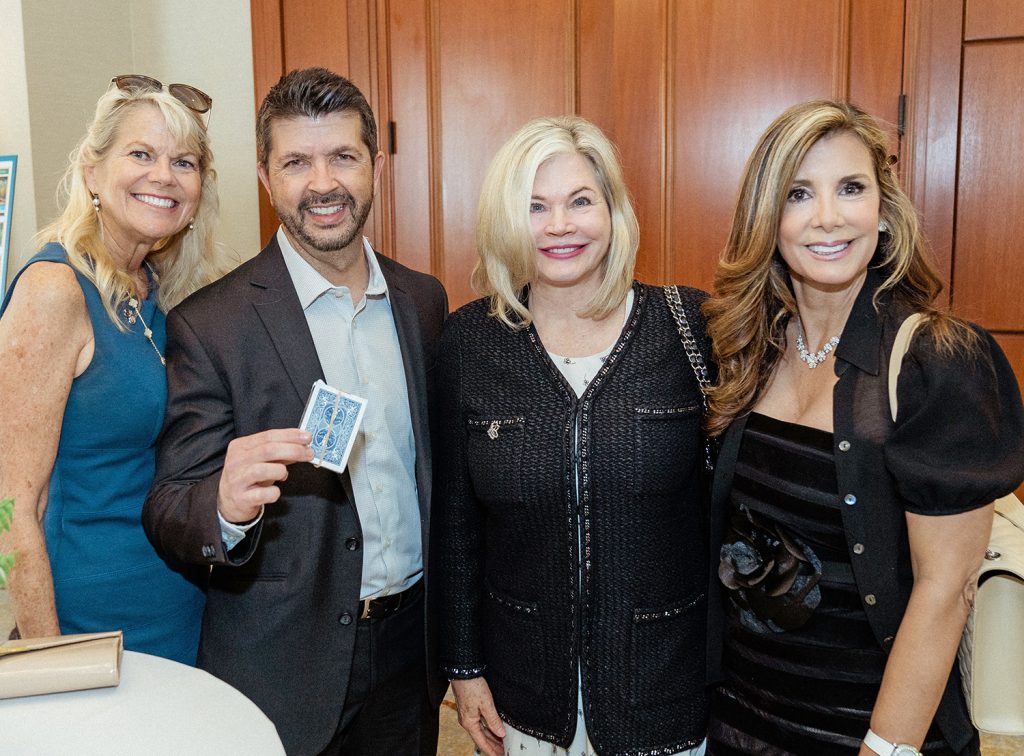 Other sponsors included Best Best & Krieger LLP, Cecily Burke, Vande Bossche Financial Planning & Wealth Management, Lisa Stelmar, The Gordon Foundation, and Shannon Tarnutzer (Dean's List); The Bob Cluck Family, Kirksey & Co. Furniture Planning, Original Tommy's World Famous Hamburgers, Carey Clawson, Nancy Chase, South Coast Helicopters, and Modern Luxury Riviera Orange County (Honor Roll); Fletcher Jones Motorcars, Newport Beach Dermatology & Plastic Surgery, The HON Company, Skincare2000pro.com, Ronald M. Simon Family Foundation, The CDM Company Inc, Barbara Fleming CFP, Morgan Stanley Long Beach, Tahira K. Neal, Extraordinary Lives Foundation, and Epictrends (Textbook).
Established in 1981, Orangewood Foundation is a privately funded 501(c)(3) nonprofit that serves nearly 2,000 foster and community youth annually. The organization is committed to helping youth prepare for independent adulthood, providing various programs and services that focus on health & wellness, housing, life skills & employment, and education. Orangewood Foundation's mission is to strive for equity for its youth by valuing and supporting the life that each individual envisions. To learn more, please visit orangewoodfoundation.org.
To learn more about 44 Women for Orangewood auxiliary, please visit www.orangewoodfoundation.org/44women.