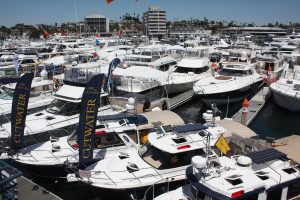 Imagine sitting on the deck of your own yacht bobbing on the water of Newport Harbor, cruising to Catalina aboard a swift sailboat, or fishing along the coast in your own trawler.
Now imagine going to the 45th annual Lido Boat Show and having an up close and personal encounter with the boat of your dreams.
More than 200 boats of all shapes, sizes and price points, including trawlers, cruisers, sport fishers, sailboats, catamarans, and motor yachts, will be in the water ready to welcome visitors to the Lido Boat Show, held April 19-22 at Lido Marina Village.
This year's show features the newest vessels to reach the Western United States. There are also exhibitors on hand shoreside and in the water to showcase innovative products and services that make owning and operating a big boat more enjoyable.
"Visiting a boat on dry land or in a convention hall only goes so far," said Duncan McIntosh, whose Duncan McIntosh Company produces the boat show. ""Nothing beats the emotional connection of being on the water."
McIntosh conceived of the boat show when he was a boat dealer looking for a way to sell more boats. He convinced Don Koll, the developer who owned Lido Marina Village, to let McIntosh hold an in-water boat show at the docks next to Lido Marina Village.
"He thought it was a great idea, and here we are almost a half-century later," said McIntosh, who noted that there are larger boat shows in Florida and Maryland, but the Lido Boat Show has the largest yachts, which makes it stand apart from the rest.
"We have a nice deep channel, so we can bring anything in here," he said. "The biggest has been 160 foot. We also feature the newest models arriving for the first time on the west coast."
McIntosh said this is a good time to buy a boat, no matter if you're buying down or working your way up.
"Some people want a boat for a specific use such as fishing or diving or going to Catalina. Generally, a boat is a platform for having fun."
McIntosh said that over the past several decades the boats themselves have not changed as much as the technology.
"Boats now have a longer range and better electronics," he said. "It's amazing the technology that's out there for boaters. You can check on your boat from your cell phone."
Show hours are noon to 7 p.m. April 19; 10 a.m. to 7 p.m. April 20 and 21; 10 a.m. to 5 p.m. April 22.
Tickets to the Lido Boat Show are $15 for adults and Free for children n12 and under. $5 discount for members of the military.
Visit newportinwaterboatshow.co for more information.
 Parking & Directions
Catch the shuttle from a free parking location, just blocks from the show. Parking at the structure in Lido Marina Village will be a minimum of $30 per vehicle per day.
There will be free parking available at Hoag Health Center at 500 Superior Ave. with free shuttle service to and from Lido Marina Village.
Additional Free Parking (with validation) will be available at the Vue Newport parking garage located at 2240 Newport Blvd. Validation tickets will be available at the Vue Newport booth located next to the food truck. Shuttle service will be provided Friday through Sunday. Pizza Press is offering free giveaways on Saturday at Vue, while Hamptons is offering free food samples 10:30 a.m. to 2:30 p.m. on Sunday.