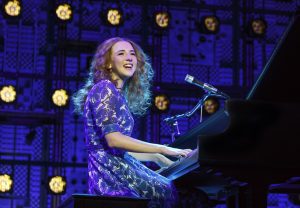 "My life has been a tapestry of rich and royal hue / An everlasting vision of the ever-changing view / A wondrous, woven magic in bits of blue and gold / A tapestry to feel and see, impossible to hold."
The lyrics to "Tapestry" by Carole King are, like the other songs on her 1971 album, "Tapestry," as memorable as they come.
The "Tapestry" album won four Grammy Awards and spent 15 weeks atop the Billboard 200. It was listed on the Billboard 200 for over 300 weeks between 1971 and 2011, the longest by a female solo artist.
The album sold 25 million copies worldwide. Count me among the many ardent "Tapestry" fans who still own an original 33 rpm record version of the album.
"Tapestry" may have catapulted King to worldwide acclaim, but she was penning songs many years before that.
In fact, it's King's early life that's profiled in the hit musical "Beautiful" (a song title from "Tapestry") that comes to Segerstrom Center for the Arts Oct. 4-16.
Like "Tapestry once did," "Beautiful" has been breaking records—the box-office kind. The show opened on Broadway at the Stephen Sondheim Theatre in January 2014 to critical and public acclaim, and recently became the highest grossing production in the Stephen Sondheim Theatre's history.
The show's synopsis: Long before she was Carole King, chart-topping music legend, she was Carol Klein, Brooklyn girl with passion and chutzpah. She fought her way into the record business as a teenager and, by the time she reached her twenties, had the husband of her dreams and a flourishing career writing hits for the biggest acts in rock 'n' roll. But it wasn't until her personal life began to crack that she finally managed to find her true voice. "Beautiful" tells the inspiring true story of King's remarkable rise to stardom, from being part of a hit songwriting team with her husband Gerry Goffin, to her relationship with fellow writers and best friends Cynthia Weil and Barry Mann, to becoming one of the most successful solo acts in popular music history.
"Beautiful" features an array of songs written by Gerry Goffin/Carole King and Barry Mann/Cynthia Weil.
"Beautiful" stars Julia Knitel as Carole King and Erika Olson as Cynthia Weil. They joined the touring company in September.
"Carole King was only 16 years old when she sold her first song, so in that spirit, we've cast two wildly gifted young performers as 'Beautiful's' leading ladies for the second year of the tour," producer Paul Blake said.
"Julia Knitel has been the Carole understudy on Broadway for the last year and has proven how brilliant she is every time she's played the role, which is reinforced by the ovation she gets from audiences – I can't wait for audiences around the country to get to see her in action as Carole. Erika Olson joins the tour as Cynthia Weil, fresh from Carnegie Mellon's prestigious Theater Program. She's talented, spunky and great fun – just like the real Cynthia Weil, the great songwriter and best friend of Carole."
Tickets start at $29. Visit SCFTA.org or call (714) 556-2787.