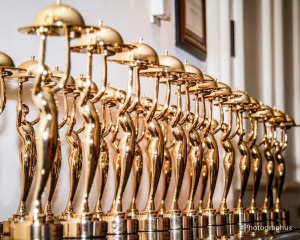 Awards in two dozen food categories were presented by the OC Restaurant Association to restaurants throughout the county at the fifth annual Golden Foodie Awards, held on Sunday, Sept. 25 at the Fairmont Newport Beach.
Golden Foodie Awards are for Independent and/or Chef driven restaurants located in Orange County.
Here's the list of nominees, with the winner of each category in bold. Congratulations to Newport Beach winners Moulin, Provenance, The Winery and Bluefin.
BEST AMERICAN CUISINE
THE RANCH
370 COMMON
SOCIAL COSTA MESA
Presenting the award: Chef Ashley Guzman and Chef Alan Greeley
BEST MEXICAN CUISINE
COYOTE GRILL
URBANA
SOLITA
Presenting the award:  Marcel Vigneron and Judy Walker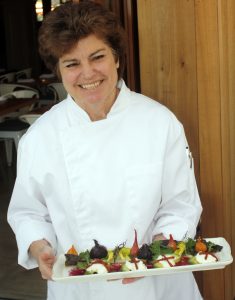 BEST VEGETARIAN CUISINE
FALASOPHY
MEAD'S GREEN DOOR CAFE
PROVENANCE
Presenting the award: Marcel Vigneron and Judy Walker
BARTENDER OF THE YEAR
GABE WHORLEY – IRONWOOD
DAVID VALIANTE – SOCIAL COSTA MESA
JOSE ZEPEDA – HOPSCOTCH TAVERN
Presenting the award:  Tim Sample & Stephen Didsbury
BEST PIZZA
ANGELINA'S PIZZERIA
TJ'S WOODFIRE PIZZA
RANCES CHICAGO PIZZA
Presenting the award: Stacy Zeller and Tony Reverditto
BEST ITALIAN FOOD
ANTONELLO RISTORANTE
PREGO RISTORANTE
PIZZERIA ORTICA
Presenting the award:  Stacy Zeller and Tony Reverditto
BEST FRENCH CUISINE
MOULIN BISTRO
PASCAL'S
BISTRO BLEU
Presenting the award:  Karl Kruger and Danica Dias
BEST INDIAN CUISINE
ROYAL KHYBER
CLAY OVEN
NATRAJ CUISINE OF INDIA
Presenting the award:  Karl Kruger and Danica Dias
2016 CHEF OF THE YEAR
CHEF MARK MCDONALD – OLD VINE CAFE
CHEF ZOV KARAMARDIAN – ZOV'S
CHEF CARLOS SALGADO – TACO MARIA
Presenting the award:  Chef Michael Rossi & Chef Andrew Sutton
2016 PASTRY CHEF OF THE YEAR
CHEF JORGE SOTELO – NAPA ROSE
CHEF ASHLEY GUZMAN – IRENIA
CHEF AMELIA MARNEAU – MARCHE MODERNE
Presenting the award:  Chef Rachel Klemek & Karen Diedrich
BEST FOOD INFLUENCER
OC COMESTIBLES
GRUB TRIBE
THE FORK REPORT
Presenting the award:  Andrew Harris and Cathy Thomas
BEST BURGER
BURGER PARLOR
MICK'S KARMA BAR
25 DEGREES
Presenting the award:  Anna Grieco & Ashley Richardson
BEST BEER SELECTION
HOPSCOTCH TAVERN
PROVISIONS MARKET
GRITS FULLERTON
Presenting the award:  Chef Chris Tzorin and Chef Pacal Olhats
BEST MEDITERRANEAN CUISINE
ROSINE'S
D'VINE
KENTRO GREEK KITCHEN
Presenting the award: Neil Saavedra & Aarti Sequeira
BEST CALIFORNIAN CUISINE
NAPA ROSE
SEALEGS
DRIFTWOOD KITCHEN
Presenting the award: Neil Saavedra & Aarti Sequeira
BEST SEAFOOD
BLUEWATER GRILL
WATERMAN'S HARBOR
THE RANCH RESTAURANT
Presenting the award:  Stan Frazier & Chef Geeta Bansal
BEST SERVICE AWARD
VILLA ROMA
THE WINERY RESTAURANT & WINE BAR
THE HOBBIT
Presenting the award: Bill Beedie and Penny Davidi
BEST NEW RESTAURANT
Presenting the award:  Wing Lam and Stephane Bombet
BEST DESSERT
MIXED BAKERY
CUCINA ENOTECA
ANQI
Presenting the award:  Wing Lam and Stephane Bombet
BEST STEAK
SELANNE STEAK TAVERN
THE RANCH
HANNA'S
Presenting the award: Koire Rogers & David Valiante
BEST WINE LIST
THE RANCH
THE WINERY RESTAURANT AND WINE BAR
CUCINA ENOTECA
Presenting the award: Michael Jordon and Charlie Plummer
BEST COCKTAILS
Presenting the award:  Nick Ortega & Jennifer Muenzenmayer
BEST ASIAN CUSINE
STARFISH
ANQI
KRAVE CONTEMPORARY ASIAN FUSION
Presenting the award:  Dennis Kuhl & Greer Wylder
BEST SUSHI
BLUEFIN
HAMAMORI
TEN ASIAN BISTRO
Presenting the award:  Dennis Kuhl & Greer Wylder