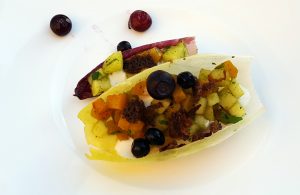 By Christopher Trela & Catherine Del Casale | NB Indy
 It's always a treat for us to dine at Pelican Hill Resort, especially when we're invited to a media event to sample cuisine from multiple Pelican Hill restaurants.
Last Wednesday, we attended a special VIP preview of the Resort's annual Festa dell'Autunno, which includes special guest chef dinners and the Italian Street Festival on Saturday, Oct. 8.
We sampled cuisine from Andrea Restaurant Chef Jonah Amodt, Pelican Hill Executive Sous Chef Marco Criscuolo, and Guest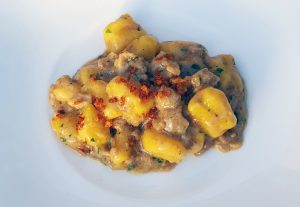 Chef Filippo Gozzoli from Armani Hotel Milano, and were reminded why Pelican Hill Resort is always at the top of our "Best Restaurant" list.
For example, Chef Amodt served barrel-aged acquerello risotto with porcini mushrooms, gnocchetti sardi with truffle sauce, and a refreshing endive and butternut squash salad.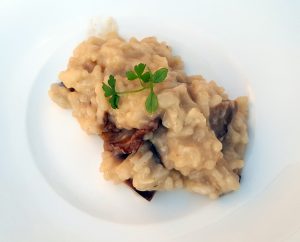 Chef Criscuolo created a polenta cake with pork belly and mushrooms, gnocco fritto with prosciutto and stracchino cheese, and panissa Genovese with chickpea and rosemary, while Chef Gozzoli whipped up guinea fawl ravioli with pumpkin and mustard, creamy cod with oyster leaf and polenta, and ombrina fillet with foie gras.
"One of my favorites was the ravioli with mantua pumpkin, mustard, pippin mushrooms, and sage," said Catherine. "The dish is a perfect combination of sweet and savory, Italy and Newport Beach, and perfect for fall."
Chef Criscuolo and Chef Gozzoli are collaborating on a special "menu by four hands" multi-course dinner with Italian wine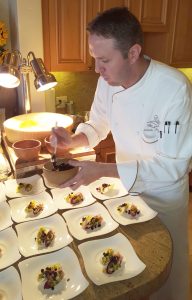 pairings on Oct. 7 and 8 for $225 per person.
Tickets are also available for the Street Festival on Oct. 8, which we think is one of the most fun events of the year in Newport Beach. 
From 2 to 8 p.m., the Resort takes over several bungalows and closes a street to create an authentic Italian festival, complete with live musicians, strolling jugglers and mimes, chalk artists, Italian wines, classic Italian automobiles, flag bearers, and of course multiple food stations serving everything from pasta and pizza to gelato.
You can purchase tickets for the street festival onsite for $150.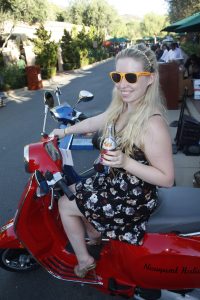 Visit pelicsanhill.com/festa or call (855) 55-FESTA for more information.
If you can't make it to Pelican Hill for Festa, the resort has plenty of other tasty culinary offerings this fall, starting with a $7 Weekday Burger Fix at Coliseum Pool & Grill. Enjoy a classic American burger for lunch or dinner Monday through Friday for only $7. Visit coliseumnb.com.
Or try the BBQ & Corkage-Free Combo at Pelican Grill served Sundays through Wednesdays between 5 and 10 p.m. It features a barbecue platter with smoked, dry rubbed baby back ribs, mac & cheese, collard greens and warm corn bread. Bring a bottle of wine to enjoy with dinner, and no corkage fee! Visit pelicangrillnb.com
And then there are La Dolce Vita Dinners at Andrea. It's a three-course affair with salad, a pasta dish and gelato for only $35 per adult and $15 per child, served Sundays through Wednesdays. Visit andreanb.com.