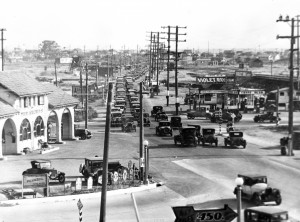 By Christopher Trela & Catherine Del Casale | NB Indy
Legends keep getting better with age.
For proof, look no further than A Restaurant on Coast Highway, which is celebrating its 90th anniversary with new menu items served in an old-school steak house ambiance that fits perfectly in Newport's culinary scene.
Flash back some nine decades: The Arches was a gas station and café located half way between San Diego and Los Angeles. It became a hangout for celebrities such as Gary Cooper, Tyrone Power, Frank Sinatra, Humphrey Bogart, John Wayne and many others. Even Shirley Temple reportedly dined there in 1936 after cutting the ribbon at the dedication ceremony for Newport Harbor.
The gas station is long gone, but the separate restaurant that was constructed there has lived on. The Arches restaurant (well, at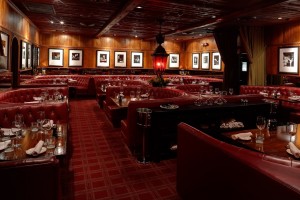 least its name) relocated and eventually closed. However, the original structure was purchased several years ago by Hollywood director and producer McG (who grew up in Newport Beach) along with a few friends and investors who wanted to see the Arches concept continue.
The building was gutted and rebuilt into a modern version of a classic steak house, complete with red leather booths and wood trim. In a nod to its history, the restaurant was christened A Restaurant.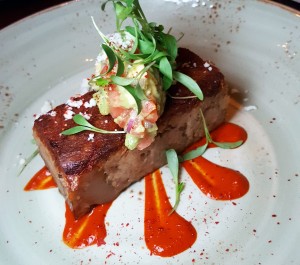 The restaurant has been a hit with both locals and visitors. It has a lively lounge scene and bustling booths of happy diners.
"The vibe is great, it feels good here at night, people love it," Jordan Otterbein, A Restaurant's operating partner, told us. "And the cuisine—we talk about it all the time, the food is so good here, people love it. There is an increasing appreciation for what Jon (chef Jonathan Blackford) is doing."
After dining at A Restaurant recently, we don't just appreciate Chef Jonathan's cuisine, we worship it.
We began with two terrific cocktails, then Chef Jon brought us several new items for us to try, starting with the crispy suckling pig appetizer: a pig that's roasted for several days, then shredded and pressed into a cube.
"This is one of the most interesting and delicious dishes I've encountered," said Catherine. "The slightly salty flavor of the pig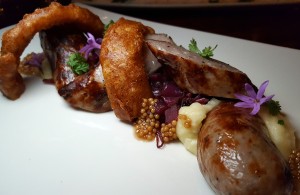 with the guajillo pepper puree and refreshing avocado salad is a great combination."
We also had the spring garlic sausage, which is not usually listed on a menu as an appetizer.
"This is one of my favorites," said Catherine. "The sausage was mild and came with giant beer battered onion rings, Bavarian red cabbage and Yukon mashed potatoes."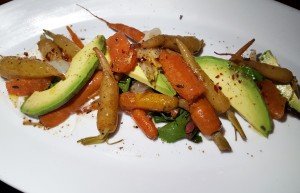 "I enjoy making sausage, and we always try to have one on the menu," said Chef Jon.
We don't usually order salad, but the roasted carrot salad caught our attention.
"This isn't your run of the mill salad, it has mixed baby carrots, avocado, cara cara oranges, yogurt, fennel, cilantro, lime and garam masala," noted Catherine. "The salad was the perfect size (not too much that you won't be able to add an entree and dessert to your meal), and the flavors melded nicely, from earthy to citrus."
One of the highlights of the meal was the Japanese A5 Miyazaki beef, which as the menu noted is "some of the highest quality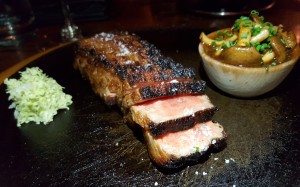 beef in the world." It is served rare only, and is $15 per ounce, with a minimum of two ounces. It's available as an appetizer, or as an entrée.
"Oh wow…wow," was all Christopher could mutter after tasting the A5 beef.
"This is a must try," stated Catherine. "The beef almost melts in your mouth and the flavor is indescribable."
Something you don't find on a regular menu too often is rabbit, but Chef Jon is offering braised rabbit Bolognese with rigatoni and a poached egg.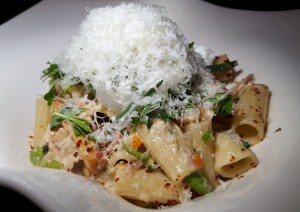 "We've never had success with rabbit, but we made a rabbit bolognaise and we are selling the heck out of it," said Chef Jon. "I'm trying to do things that are technical, yet familiar and approachable."
Christopher thoroughly enjoyed the dish, while Catherine savored her block cut New York steak (wagyu beef), which she claims is one of her top three steaks of all time.
We managed to save room for dessert, and a dessert port.
"The year is barely three months old, yet I think we just had one of our most memorable meals of the year here at A Restaurant," said Christopher. "I give A Restaurant an A plus."
"I agree," said Catherine. "I'm ready to go back for more."
For more information, visit ARestaurantNB.com.