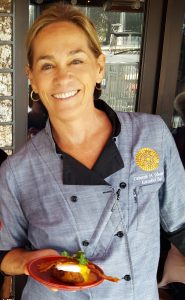 By Christopher Trela & Catherine Del Casale | NB Indy
 What's more fun than celebrating a birthday? Celebrating it with a media brunch at SOL Cocina!
That's what Christopher did on Saturday, October 1, when we were invited to try some of the new brunch items and cocktail concoctions on the fall SOL menu.
We've dined at SOL for dinner, but enjoying brunch on the cozy patio overlooking the yachts docked in Newport Harbor offered an entirely different experience.
"This may be my new favorite brunch spot," enthused Catherine after sampling several dishes. "The Chilaquiles verde features corn tortillas (that aren't soggy!), sautéed in a medium-spicy tomatillo salsa with quest fresco, topped with Huevos Mexicanos, creme, cotixa cheese and onions with meat. The dish is very authentic and goes perfectly with their frozen mimosas."
"I also have a new favorite drink, the Frosé, aka frozen Rosé with a little bit of tequila and house
margarita juice," added Catherine. "The other great thing about this drink is that all proceeds go to benefit City of Hope and breast cancer research, so I suggest ordering more than one to support a great cause. Another very interesting drink, perfect for the fall and still very refreshing in this unusually warm weather we're having, is the Pumpkin Spice Margarita made with Corralejo Blanco, pumpkin, pumpkin pie spice, fresh lime and agave nectar, and dusted with cinnamon."
Executive Chef Deborah Schneider brought us one of her signature dishes: crab and shrimp cake with a poached egg on top, covered with hollandaise sauce and a sprinkle of chipotle with orange and fresh lemon.
"Hopefully there's not too much kick to it," said Chef Schneider when she set it on the table. "Normally we serve two of these on top of black beans. It's very populr—we sell a lot of these."
Another hit was the Souffle Carlotta, which is reminiscent of French toast. This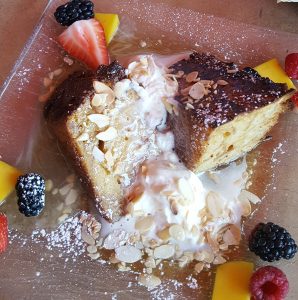 rich and creamy bread pudding is spiked with Patron Citronge and lemon zest, sautéed in butter and drizzled with agave syrups, accompanied by fresh berries and mango as well as vanilla whipped cream, almonds and powdered sugar.
"All-in-all, I don't think you can go wrong in ordering any brunch dish at SOL Cocina," stated Catherine.
"I agree—this has been a terrific birthday brunch," said Christopher. "Next time, let's borrow a Duffy boat, cruise to SOL, and order brunch to go."
"Now you're talking," smiled Catherine.
For information on SOL Cocina, visit SOLCocina.com.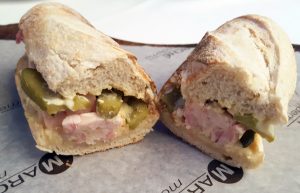 Marche Moderne
Hard to believe we've never had lunch at Marche Moderne in South Coast Plaza, one of the most popular French restaurants in OC.
It was launched by Florent and Amelia Marneau several years ago after they each plied their culinary crafts at different restaurants (Florent as chef at Pinot Provence, Amelia as pastry chef at several local bistros), and the accolades have been coming nonstop.
We had a lunch meeting at Marche Moderne with Todd Quartarero, co-founder of the Newport Beach Film Festival and publicist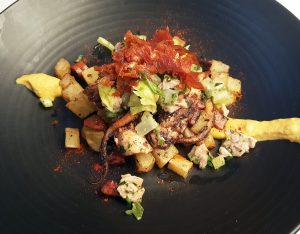 for such luxury brands as Tiffney, but the talk meandered from business to pleasure as we all sampled several superb dishes that showed why Marche Moderne is at the top of the list when it comes to a memorable dining experience.
We started with a special foie gras pate on a baguette, and pommes frites, followed by grilled hanger steak for Catherine and roasted wild Spanish octopus for Christopher.
"This may be the best octopus I've ever had," declared Christopher. "It's incredibly tender and flavorful."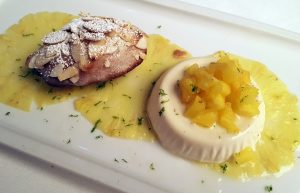 We ended the meal with a wildflower honey and Tahitian vanilla panna cotta with lime zest, fresh pineapple, toasted almond, and a fresh Madeleine.
It was a relaxing way to mix business and pleasure. We vowed to return soon for dinner.
For more information, visit MarcheModerne.net.