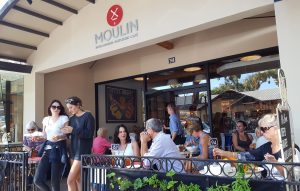 By Christopher Trela & Catherine Del Casale | NB Indy    
We're always looking for good spots to dine before seeing a play at Laguna Playhouse, especially some place we can get in and out of quickly, since we're often on a tight schedule.
We finally found the perfect spot: France.
Actually, it's the new Moulin bistro that took over the spot formerly occupied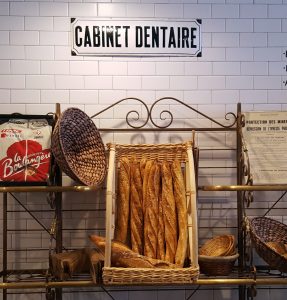 by Scandia Bakery. Moulin is a scaled-down version of the flagship Moulin in Newport Beach, but while it may be smaller, it's still packed with the same terrific and authentic French ambiance, with food to match (sandwiches, pastries, coffee, wine).
We've been fans of the Newport location since it opened two years ago, and were excited when owner Laurent Vrignaud told us several months ago that he was working on the Laguna location.
Christopher snuck into Moulin a couple of days after it opened and was delighted with what he saw, and tasted (one of Moulin's signature sandwiches).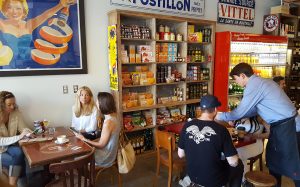 Moulin has a cozy patio plus inside seating, where you can watch the chefs make waffles and crepes, which you can enjoy in the restaurant or order to go–although Laurent suggests you sit and linger on the patio to really savor your meal and the ambiance.
Laurent told us he wanted to create an authentic experience that feels like you've been transported to France, and he's succeeded on every level. In fact, Moulin recently won a Golden Foodie award for Best French Restaurant, cementing its popularity.
We decided to dine at Moulin before seeing the new Laguna Playhouse show, "Billy and Ray," a comedic romp through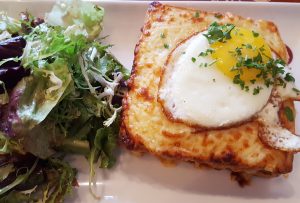 Hollywood's Golden Age centered around the writing of the script for the film noir classic, "Double Indemnity" by director Billy Wilder and novelist Raymond Chandler  
We arrived at Moulin an hour before curtain and was immediately greeted by Laurent, who was testing his waffle maker (and tested his waffles on us).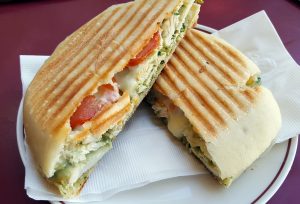 We ordered a croque monsieur ($10) and a croque madame ($11), plus blood orange soda and two glasses of champagne. We grabbed a small bistro table and began to unwind while waiting for our order.
"You know, sitting here and looking out the window at the patio and the street, it almost looks like we're in Paris, and it sure feels like we are," noted Christopher.
"I agree, and Moulin is a perfect place to stop into while strolling around downtown," added Catherine."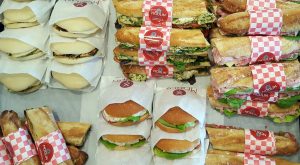 Our order arrived, and Catherine dug into her croquet monsieur.
"I haven't had one of these since I was in France—it's to die for!" exclaimed Catherine. "And blood orange soda is my favorite, so I'm in heaven right now."
"No, you're in France," joked Christopher, "but in 10 minutes we need to come back to this country and get to Laguna Playhouse."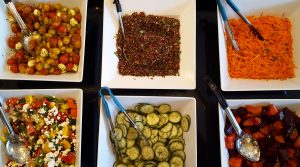 We left our car parked downtown and strolled to the theater, arriving in plenty of time to get our tickets and find our seats.
We knew little about the show, but we both found it interesting and humorous as the characters of Billy Wilder and Raymond Chandler battled each other, and themselves, in their collaboration on "Double Indemnity."
"Billy Wilder, played by Blake Ellis, was my favorite character," said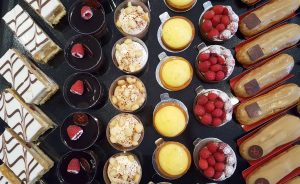 Catherine. "He was crass, superficial and passionate, but was able to keep a depth of character just below the surface. The play gave insight into what it was like in 1943 Hollywood to try to step out of the box and circumvent the studios rules on portraying sex, violence and suicide in movies. I suggest watching the film they are working on in the play, "Double Indemnity," before watching the play to add another layer to your knowledge."
The play did indeed spark our desire to watch "Double Indemnity" again, but this time with more knowledge of the back story, thanks to "Billy and Ray."
"Billy and Ray" runs through Oct. 30. Visit LagunaPlayhouse.com for more information.
For more information on Moulin, visit www.MoulinBistro.com.