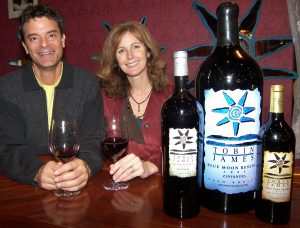 This weekend I make my annual spring trip north for the Vintage Paso: Zinfandel Weekend. This three-day celebration features more than 100 wineries hosting events and pouring their best zinfandel wines—the signature varietal that Paso Robles is known for.
Among the wineries I plan to visit is my favorite Paso vintner: Tobin James Cellars, which last year celebrated its 30th anniversary of making outstanding wine.
Tobin James hosts a special zinfandel party March 16 and 17 with some two dozen Paso restaurants offering generous samples of their signature dishes and four bands performing at various areas on the Tobin James estate. Best of all: every wine that Tobin James makes, from its Ballistic Zinfandel to the Fat Boy Zin and the coveted Blue Moon Zin, will be open for unlimited tasting.
"Last year, because of our 30th anniversary, we added a Blue Moon lounge in one of our barrel rooms and served only Blue Moon," Tobin James co-owner Lance Silver told me. "It was quite the hit, so we're bringing it back this year."
Tobin James has also become quite the hit. Not only have they been rated the top winery on Trip Advisor for seven straight years, their Fat Boy zinfandel (my favorite) has been rated the top zin in the world on the popular Vivino website—ahead of Turley and Rombauer.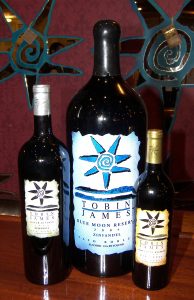 My other favorite is the Tobin James Dusi zinfandel, sourced from the Dusi vineyard, which is 80 years old but has vines planted in different years, which all ripen at different times.
"We pick those grapes over a six-week period," explained Silver. "We get to be winemakers and wine blenders because we're basically using six different Dusi grapes."
Silver said that Tobin James is also releasing its first multi-Rhone grape blend, as well as a Nebbiolo that he's dubbed "PasoRolo."
By the way, Tobin James has the largest wine club in the world with more than 25,000 wine enthusiasts signed up to receive twice-yearly shipments of wine (count me among the happy members). The winery makes three dozen different wines, including eight zins from various vineyards in Paso.
For more information, visit TobinJames.com.